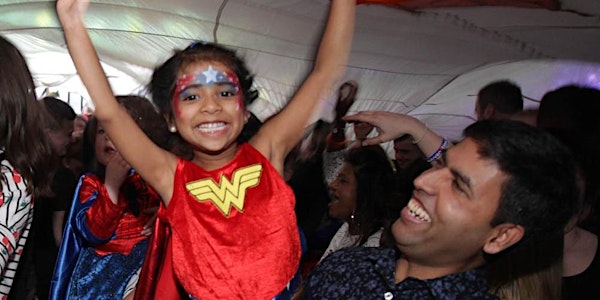 Big Fish Little Fish x Camp Bestival 'Superheroes vs Heroes' Mother's Day F...
Location
Rebel
55 London Road
Southampton
SO15 2WW
United Kingdom
Description
NEWS: pleased to announce this event is part of the Camp Bestival tour this year! At the event will be a Superheroes vs Heroes photo booth and by uploading a photo to social media you will be in with a chance to win one of THREE family passes to the Camp Bestival festival in July this year.
Award-winning family rave crew Big Fish Little Fish returns to Southampton in a NEW VENUE - the excellent Rebel! We'll be celebrating Superhero Mums everywhere on Mother's Day!
Headline DJ Martin 'Liberty' Larner, plus residents Little My & High Eight who'll all be playing (grown up) dance music on the multi-sensory dancefloor with glitter cannons, bubbles, balloons and giant parachute dance.
Craft tables and giant colouring mural, themed crafts and playdoh table. Play area with tents and tunnels and baby chillout space with mats and small ballpool.
Licensed bar, free transfer tattoos, and glowsticks.
Theme: "Superheroes Vs Heroes" - Optional (but encouraged) fancy dress. All things heroic, however you want to interpret that.
For families with younger children (8s and under) though older siblings are welcome. Parents remain responsible for their children at all times. The event is standing/dancing with limited seating. It will be busy with several hundred people and in low lighting (no strobes) conditions. The licensed bar will be open but no glass will be allowed in the event.
Adults are not admitted unless accompanied by a child. A max of 3 children per adult. A max of 4 adults per child (and such groups must be pre-approved by emailing infosw@bigfishlittlefishevents.co.uk before buying tickets). Tickets are non-refundable but if anybody with tickets finds they cannot attend a sold-out event please email infosw@bigfishlittlefishevents.co.uk and BFLF will attempt to put you in touch with people seeking to buy tickets. Each member of your group must have a ticket, adults £8.00, child £8.00 and pre-walking infants free (but must be ticketed). More on the door (if available).
The event will be busy. The dancefloor is for adults and children to dance together. For indoor events low lighting/club lighting rigs (no strobes) are used.
Music level is set and monitored throughout to abide by WHO guidelines. This is far lower than usual clubs levels but given the number of children attending there is a constant level of background noise during the event.
Please be aware that events are standing/dancing with limited seating.
Each event is stewarded and risk assessed in advance.
Buggies must be left in buggy park outside the event space and will not be allowed on the dance floor.
A licensed bar will be open during the event but no glass is permitted.
We may photograph or film small parts of the event and by entering you are giving your permission for these to be used for BFLF promotion purposes.
DJs will be announced in advance of each party via Twitter and Facebook but may be subject to unavoidable change.