★ Big Indie Pitch @ GDC with Immersion ★ PLUS! BIP Junior with Rovio ★

Thursday, March 20, 2014 from 12:00 PM to 4:00 PM (PDT)
Event Details
Big Indie Pitch Returns to GDC and it's brought it's baby brother! 
Fancy getting your game in front of a panel of leading journalists and potential publishers/partners and winning a prize? That's exactly what's on offer at the Big Indie Pitch (and the brand new Big Indie Pitch Junior), a speed dating style pitch event taking place on the Thursday of GDC week.

It's the most fun you'll have at GDC and the most important thing you can do for your games! Oh and it's completely FREE to take part in too - we'll even feed you! 


What do I need to do? 
Getting involved couldn't be easier, just sign up below and come along as early as you can to the developer check-in, open from 12pm.
Due to overhwelming demand and in the interests of giving everyone a fair chance, we've setup a simple pre-filter system for 15 of the available pitch seats. All you need to do is submit your game via this simple form before the end of play on Wednesday March 5th and our team will then check through each submission to create a shortlist, notifying those who've made it by Friday March 7th.


In addition to increasing your chances of a pitching slot, you also get the added benefit of knowing that your game has definitely been looked at by the Pocket Gamer, 148 Apps or the AppSpy team.



If you don't get your game shortlisted at this stage, you can still get a slot by coming along early to the developer check-in at 12pm to register for one of the 15 remaining slots. Should these also be full, there's still no need to fret as there 
will be a walk-up media bar allowing you to meet press 1:1. 
PLUS cocktails and savory bites by the GrilledCheezGuy!  

Introducing...the Big Indie Pitch Junior!
Alongside the main pitch this year we're also going to be running a separate dedicated pitch event aimed squarely at games made for a younger audience. Created in tandem with the brand new Rovio Learning initiative, the Big Indie Pitch Junior will be looking for games that entertain, inspire and educate.

The format will be the same as the regular BIP, with a dedicated panel of media judges alongside the Rovio team casting their eye over submissions and a prize for the winning pitcher.
Although we will keep a few pitching slots available for developers who turn up on the day (on the same first come, first served basis), the majority 15 will be allocated to those who are shortlisted from the pre-filtering process. To register as a developer, simply select the appropriate ticket below.
In order to submit your game for the pre-filtering stage, simply submit your game here by the closing deadline of 5th March. Shortlisted developers who have been successful will then be notified by the 7th March.

Industry spectators are more than welcome to come along and network too - YAY!!!

Check out all the epicness from last year's Big Indie Pitch @ GDC 2013.

It's going to be an amazing time! Here's what to expect:
12pm - DEV CHECK-IN
Space is limited to the first 15 who sign up and meet criteria below, come early. 
Please know that RSVP does not guarantee a spot in the competition.
This event is FIRST COME, FIRST SERVED til capacity, business card required for entry.

12:30pm
OPENING REMARKS
Chris James, Managing Partner, Steel Media and representatives from Immersion and Rovio our fantastic sponsors! 
Introduction to the Judges & Media Bar Journalists:


- Andre F. Bourque, Managing Editor, Technorati
- Andrew Podolsky, CEO, SlideToPlay
- Byron Gordon, Games Reviewer, Technorati 
- Carter Dotson, Editor, Android Rundown
- Chelsea Stark, Games Reporter, Mashable
- Eli Hodapp, Editor in Chief, TouchArcade
- Eric Johnson, Associate Editor, Re/code
- Jean-Baptiste Su, Technology Writer, FORBES-BayLIVE
- Jeff Scott, Editor In Chief, 148Apps 
- Keith Andrew, Editor, PocketGamer.biz 
- Martine Paris, US Events Editor, Pocket Gamer 
- Matt Diener, Games Reviewer, Pocket Gamer 
- Miguel Concepcion, Freelancer, Machinima, OXM, GamesRadar, GameSpot, Esquire, Complex
- Paul Acevedo, Games Editor, Mobile Nations 
- Rob Hearn, Reviews Editor, Pocket Gamer
- Rob LeFebvre, Games Editor, Cult of Mac 
- Rob Rich, Editor, 148Apps 
- Peter van der Linden, Sr. Developer Evangelist, Immersion 

- Sarah Cornwell, Appbackr
- 

Mahmoud Hafez, Appadvise

1pm - 3:30pm
PITCH COMPETITION & WALK-UP MEDIA BAR

4pm
JUDGES VOTE & ANNOUNCE WINNERS! 
Competition Rules:
Only the first 15 who show up on the day of the event and the 15 pre-selected teams meet the following rules are entered into the Big Indie Pitch competition. For the Big Indie Pitch Junior category, only the first 10 who register and the 10 pre-selected teams meeting the following rules will be entered.

Indie mobile game developers only (less than 20 person company), multiple people from the same company will present together

You will have 4 minutes to pitch. Practice your pitch, get it down to 2-3 minutes to allow 1 minute for questions.

 Remember to tell the judge your dev number. Here are tips to prepare:  http://www.pocketgamer.biz/r/PG.Biz/Pocket+Gamer+Connects/feature.asp?c=56813

Come prepared. Business cards, stickers, info sheets, etc. Most importantly, bring your game on a mobile device with a 4G connection.

If you are selected as the winner you will be asked to present your game (2-3 min pitch) to the audience so everyone can see how great your game is! Bring your mobile device adapter to connect to the projector.

There will be a prize of $5,000 of media advertising on Steel Media channels for the winning game in each category. If no clear winner is decided, we reserve the right to split this amongst multiple entrants.

GLHF!!!

***Please note RSVP's are limited to the 4 attendees per company (this does not apply to the event sponsors!) A current business card MUST be presented on entry. The venue operates a strict door policy and will require photo ID to be produced by anyone looking 21 and under. Please bring ID if you are lucky enough to look young!***
THANKS TO OUR SPONSORS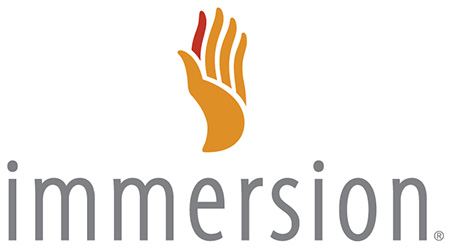 Feel your games! Immersion's Haptic SDK lets developers add tactile effects into Android games, like Rockstar Games' Vice City or Sega's Sonic CD. The SDK is free for game developers, and comes with 124 predesigned effects. Experience effects by downloading this app or visit Immersion's Developer Site to learn more.

Fun first, then comes learning – a simple idea that's changing the way people think about education.
When kids are bored, their learning plummets. When they're engaged, anything's possible. So we're looking for new game ideas to entertain kids and motivate them to learn. Games that parents can also feel good about.
Here's where you come in. If you share our passion for fun learning and have awesome ideas that will engage and inspire kids – we want to hear them! Rovio games have been downloaded over two billion times – so we have a considerable global reach with a highly engaged and loyal fan base. Any new game will get extraordinary visibility through our cross-promotion activities.

Come along and pitch your great ideas to us.
---------

Meet PG at GDC
The Pocket Gamer team are out in force at GDC.
If you'd like to arrange a meeting during the week, contact the team below:

Biz Dev B2B - lisa.bisset (at) steelmedia.co.uk
B2C Sales - alex.rennie (at) steelmedia.co.uk
PG.Biz - keith.andrew (at) steelmedia.co.uk
PG.co.uk - Rob.hearn (at) steelmedia.co.uk
148Apps - jeff.scott (at) 148apps.com
Biz Dev, Partnerships and anything else - chris (at) steelmedia.co.uk
---------
When & Where

111 Minna Gallery
111 Minna St
San Francisco, CA 94105


Thursday, March 20, 2014 from 12:00 PM to 4:00 PM (PDT)
Add to my calendar