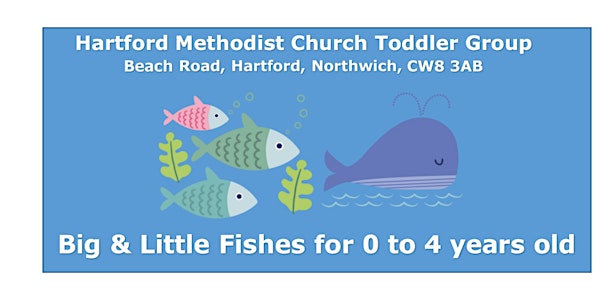 Big & Little Fishes Toddler Group
Location
Hartford Methodist Church
Beach Road
Hartford
CW8 3AB
United Kingdom
Toddler Group in Hartford, Northwich, Cheshire
About this event
Ages: 0-4 years old Day: Friday Time: 10-11:30am Cost: £1.50
Welcome to Big & Little Fishes!
This is a place to make new friends for you and your child. You will meet other parents/carers and volunteers who you can freely discuss life and parenting issues with. Your child will develop their social and motor skills as they ride on various bikes, cars and tractors while they learn to share these with other children. There is a play area with a kitchen and a dressing up box to encourage imaginary play. Those children who are just beginning to walk will be able to use the push toys that will enable them to stand and learn to walk. Babies have a area which they are away from the ride on toys to enable a safe space for them. The session includes singing time and a craft activity.
We ask that parents/carers bring their own drink/snack and toys for their child/children and a mat for their child to lie on.
Booking is one ticket per family.