Description
How infinite is space? What would it be like to live on other planets? How can mould solve mazes? What do cells look like? Join us for Big Little Multiverse to peer through the telescope – and the microscope – to find out.
As part of the Brighton Science Festival, Lighthouse's Big Little Multiverse screens short films that explore the universe and humanity's place within it, telling the stories of those who have ventured into its vastness and marvelled at its scale.
Get experimenting
As well as space exploration we'll be examining the tiniest parts of our universe. Our experiments run throughout the afternoons, and are a chance to get hands-on with science. Sessions include:
Extract DNA from a kiwi (Friday 16 February): What makes a kiwi a kiwi? It's all coded in its DNA. In this simple fun experiment, you can isolate the DNA and see it for yourself.

Build a model cell (Thursday 15 and Sunday 18 February): Get inside the smallest building blocks of all living things by making your own plant or animal 3D cell.

Intelligent slime (Wednesday 14 and Saturday 17 February): Slime mould – sounds disgusting, but these organisms are incredibly smart. Despite not having a brain they are able to make complex decisions, allowing them to find their way through mazes and replicate man-made transport systems. Find out for yourself by testing which substances act as obstacles for the mould to navigate around.
Digital Q&As
Throughout the week, we'll be hosting live online Q&A's with scientists, philosophers, astronomers, physicists, artists, filmmakers and designers.
Films
All five films will be screened on a loop each day – just take a seat and marvel at the wonder of the universe.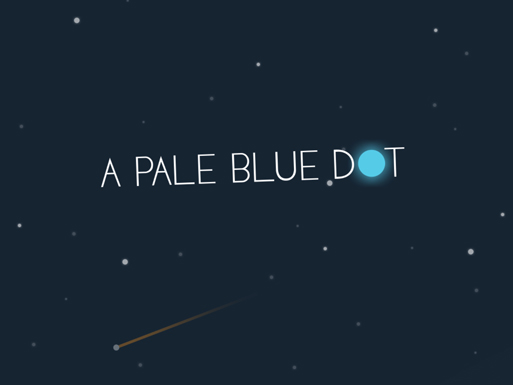 A Pale Blue Dot, 2012 (2 min)
On February 14 1990, the space probe Voyager 1 took a photo of Earth from a record distance of over 4 billion miles. This film visualises astronomer, scientist, and part of the voyager imaging team, Carl Sagan's famed monologue on our place in the universe – as a pale blue dot.
Overview, 2012 (20 min)
How does travelling into Space transform our perspective of the planet and mankind? Through interviews with five astronauts, this short film explores the so-called 'Overview Effect', where astronauts experience feelings of awe, a profound understanding of the interconnectedness of life and a renewed sense of responsibility for taking care of the environment.
The Purple Plain, 2016 (12 min)
The Purple Plain is inspired by the true story of the Mercury 13, the first American women to be tested for space flight – but who never went into space. This film is rooted in their battle, not just against NASA and male peers, but the entire social system of the early 1960s.
Orbit Ever After, 2012 (20 min)
Nigel lives on a dilapidated spacecraft orbiting the earth. He has fallen in love. But there's a problem – the object of his affections is orbiting the planet in the opposite direction. Can Nigel overcome the complications of gravity and his risk-averse family to be with the girl of his dreams?
My Face is in Space, 2012 (20 min)
In 1977 NASA sent a Golden Record into space. It encapsulated everything aliens might need to know about human life on earth; music, sounds, greetings and photographs of its inhabitants – including one of Larry. Larry hopes it will propel him to the status of Earth Ambassador. But one person doesn't believe the hype – his girlfriend. Will he choose her, or space?
Talks
Out of Nothing (Friday 16 February, 1.30pm)
Created by artists David Blandy and Daniel Locke, with the BBC Science presenter Adam Rutherford, Out of Nothing is the millennia-spanning graphic novel that explores humanity's inherent 'dreaming mind' and its impact on our world. David and Daniel will host a lunchtime talk and will be on hand for book signings.
---
Tickets: £3 per adult, kids go free. Please note that if you are buying tickets online you will need to register your free child place. Parents are required to supervise their children at all times.
Stay up to date with the latest info and timings:
Parents are required to supervise their children at all times.