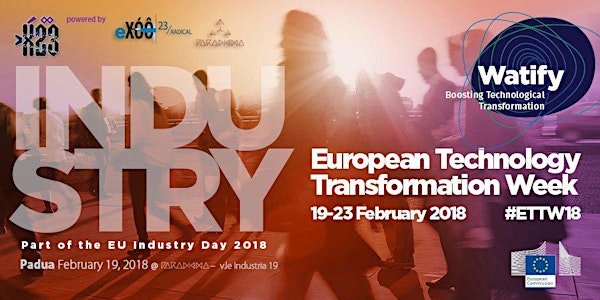 2nd EU Industry Day. The era of micro-multinationals. SMEs making the most...
Informazioni sull'evento
Località
Paradigma Exponential Hub
Viale dell'Industria 19
35129 Padova
Italy
Descrizione
Industry 4.0 will represent the opportunity for SMEs to take further advantage to go global and surpass the multinational giants. Skills, technology and open innovation are the 3 imperative factors to succeed in the market, digital competences will count the most as well as technology and innovation capacity. Mindset will be the differentiating point in succeeding in the 21st century competitive landscape. No surprise SMEs will make the running: they move quickly, understand the market, think across borders, are agile, can anticipate the market needs and introduce new services. Understanding industry 4.0 is key for any EU SME to grow and go global.
The purpose of the event is to discuss how to take advantage of industry 4.0 to go global and surpass the multinational giants. Key-note speeches will tackle how to design, develop and implement the smart, digital factory of the future, in particular in the creative market sector (design, gaming and fashion), by the use of IIOT, big data and cloud, advanced human/machine interaction/interface, blockchain, AR, robotics and smart 4.0 digital skills. While SMEs are the backbone of Europe's economy, their capacity to boost potentials and going global is still affected by a few core issues, namely technology access, digital skills and advanced infrastructures. However, when these key issues are met, SMEs become a new breed of company - the micro-multinationals - able to create a new paradigm in doing business and changing the face of global commerce.
Agenda
9:30 Welcome from the Official Organiser:
Giuseppe Laquidara, CEO X23 Srl; Antonio Guadagnino, CEO Paradigma Exponential Hub
9:40 Welcome speeches from:
Padua Municipality - Arturo Lorenzoni (Vicesindaco): The industrial scenario in Padua post 3rd industrial revolution
Veneto Region - Gianluigi Cogo - Digital Agenda Veneto Region
Social innovation a key driver to the digital transformation
10:15 Key-Note Speeches: Main Topic: EU Technology Transformation
Watify, EU Commission - Eleonora Zoboli: SMEs in the era of Industry 4.0: success stories and food for thought from the Watify Campaign for the modernisation of the European industry".
X23 Srl, main organiser - Marika Mazzi Boém: Micro-multinationals. The Giants of the 21st Century.
Padua Municipality - Enrico Fiorentin: A new vision for a dynamic, young and innovative urban city
Padua Chamber of Commerce - Fernando Zilio: Entrepreneurial ecosystem in Padua
11:05 Key-Note Speeches: Main Topic: Cyber-physical networks, robots and human machine interaction
CNR - Rosanna Fornasiero: New Technologies for the factories of the FUTURE
CISCO - Riccardo Bua: Cybersecurity challenges moving from closed systems to adaptive threat detection and response in an industrial environment (Unwiring the factory / Smart and dumb systems / Endpoint security / Ransomware impact on operations / Securing the environment and remote access control
11:40 Workshop 1: Use cases: powerful digital tools for industry big data analysis and advanced automation

ECOSTEER - Elena Pasquali: "IoT=IoD – Internet of (Very Big) Data" 'Data generated by connected industrial devices will make Big Data much bigger. In this workshop we discuss the opportunities this creates.'
__
12:00 PARALLEL SESSION: The Lean In EU WBAS Community Pitching Battles
9 female startups will pitch their ideas to investors to raise capital; 1 semi-finalist selected to access the Final International Ceremony event in Italy on Dec. 2018
__
12:15 Workshop 2: use cases in the AR field
Antonio Guadagnino - Holotransfer; Case study1: Holotransfer. Digital AR platform
Tommaso Gecchelin - Next; Case study2 : Next Future Transportation. A new paradigm in transportation
Gianpaolo Ferrarin - Eggon; Case study3 : Eggon. Autonomous drive: from public transportation to logistics
12:35 Closing and remarks X23 - Giuseppe Laquidara

• —— – – • • —— – – • • —— – – • • —— – – • • —— – – • • —— – – • • —— –
14:45 AFTERNOON SESSION: SMART CAPITALS FOR SMART COMPANIES
X23; EXOO23|Radical; Scaale Inc.
CROSS BORDER ANGELS SELECTION: 10 top Italian Startups/high-growth companies pitching to global investors (from India, US, Canada, Asia)


Data e ora
Località
Paradigma Exponential Hub
Viale dell'Industria 19
35129 Padova
Italy
Organizzatore di 2nd EU Industry Day. The era of micro-multinationals. SMEs making the most of digital innovation in industry 4.0.
X23 is and European independent, multidisciplinary, private research center founded in 1999, subject to the National Register of the Italian Research at the record n. 60954DHH. X23 is also registered under the Register of Transparency and the Lobbyists of the European Commission and the European Parliament at the record n. 015930817369. We are placed in Italy (Milan, Bergamo, and Rome) and international branches in Europe (Estonia - Tallinn, Portugal - Lisbon, UK - London). A specific department of X23 supplies specialised and technical services to private and public entities, such as strategy, decision design, industrial processes optimisation, projects' incubator and PCM, and analytics. As a certified incubator (Italian Decree-Law 221/2012) X23 operates its own programme i.e. EXOO23|Radical™. Visit X-23.org to in order to apply and enter the programme.
_______________________________________________________________________________________
X23 è un Centro di Ricerca privato europeo, indipendente, multidisiplinare e che si autosostiene, fondato nel 1999, iscritto all'Anagrafe della Ricerca Italiana mantenuta dal MIUR al numero 60954DHH. X23 è iscritta al Registro della Traparenza della Commissione Europea ed al Registro dei Lobbyists del Parlamento Europeo al numero 015930817369. Ha sede, per l'Italia, a Milano, Bergamo e Roma; per l'Europa, in Estonia, Portogallo e Regno Unito. Sotto forma di SME (Small and Medium Enterprise, secondo la definizione EU recommendation 2003/361), un dipartimento di X23 svolge l'attività di Business Support Organisation, ed è registrata come Incubatore Certificato. Proprietaria del marchio EXOO23|Radical™. Visita il sito X-23.org, ed applica alle selezioni aperte per entrare nel programma.