Sales Have Ended
Registrations are closed
Ticket Sales have now ended, please check out our next course at www.actineo.eventbrite.com or contact us at education.actineo.email
Sales Have Ended
Registrations are closed
Ticket Sales have now ended, please check out our next course at www.actineo.eventbrite.com or contact us at education.actineo.email
Description
Tablets have become professional visualization tools: We can create images easier than ever before and immediately share them as a file. In drawing apps, we can use a wide variety of pen tips, zoom into the image, draw on multiple layers, or insert material from other sources into the image.
As a result new challenges arise: On the one hand, special drawing apps offer a confusing variety of possibilities and functionalities. On the other hand, there are practical challenges, such as the unusually smooth drawing surface, as well as technical challenges that have to be mastered: e.g. suitable file formats, import and export of files and exchange with other electronic devices.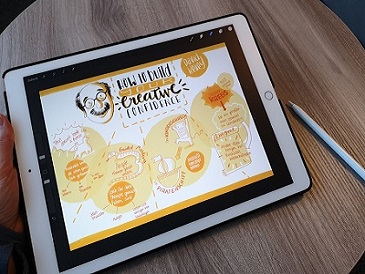 In Digital Sketchnoting we explore the new medium from the visualizer's perspective, discuss the technical basics and offer a variety of different exercises in order to make the full potential of this new medium accessible:
Document lectures with sketchnotes, expand your discussion or meeting with an additional "visual channel"
Record a presentation via beamer screen for big audiences or
Directly use the medium for your own digital presentations.
Perhaps you have already spent a lot of time asking yourself which app is most suitable for visualization? In our training we take this complex decision off your hands and will be using only one app that has been tested by the bikablo visualization team so we can get started together as one learning group.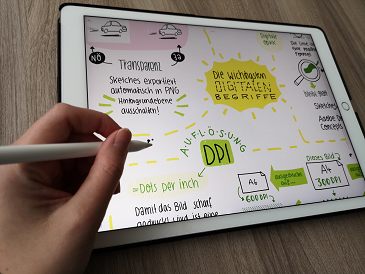 Agenda
What can I do with my app? During the training we work with the app Tayasui SketchesPro. This app is available for both Apple and Android devices. (Users of Windows devices are advised to use the Autodesk Sketchbook app as a substitute but are advised to familiarize themselves with the program beforehand, as we will only use the Tayasui Sketches Pro app for training exercises. However, if you have any questions about Sketchbook, we will be happy to help you.)
You will gain (as a sample of many other apps) a deep insight into the tools that are especially useful for visualization. Step by step we will explore the capabilities of the app.
It is easy to get lost in the many functions and possibilities of the app. It is therefore an important objective to always keep the overall view and control on our image.
"Ice skating" on the screen: What do I have to consider when I am used to felt-tip pens on paper? What drawing-related pitfalls does the smooth screen have and how can I avoid them?
Advantages and disadvantages of digital sketchnoting: Pen selection, zoom, pressure sensitivity, color, integration of images - sources of inspiration or frustration? How do I successfully deal with the vast array of possibilities?
Digital visualization strategies from bikablo for daily practice: The trainers reveal their personal drawing tricks and layout strategies, which we can instantly practice and adopt in our repertoire: Integrate photos, highlight and label details, select pen tips and colors, create background areas for structure and much more.
Exercises in a variety of settings: Visualize in lectures, consulting situations and for documentational purposes - what do I need to watch out for? How do I prepare myself? How can I edit the result later on?
Digital Graphic Recording (optional): What are the advantages and disadvantages of the tablet compared to graphic recording on a large sheet of paper? What happens in the team process when the recording becomes viewable via electronical devices?
Tekkie Talk (optional): What other apps are out there that offer further features? Which functionality is suitable for what? What is behind technical terms such as "vector-oriented" or "infinite canvas"?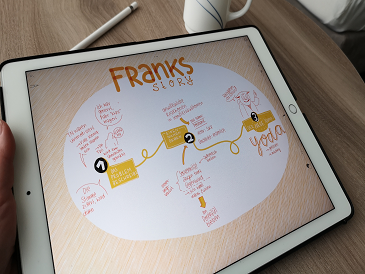 Target Audience
You have up-to-date tablet and stylus pen with a pressure-sensitive screen (e.g. Apple iPadPro, Wacom Companion or Samsung Galaxy Tab, Microsoft Surface Pro 3 or newer).
You bring visualization skills, e.g. from bikablo basics, bikablo Sketchnoting or similar training classes.
You are looking for digital drawing strategies to record and process content from lectures, technical literature or discussions.
You want to digitally present content directly live, for instance as beamer projection or as live screen visualization for video conferences.
Additional benefits
Documentation: As a follow-up, we provide a digital photo documentation with all the trainer's inputs and the results of the learning group.
Orientation for apps: After the training you will receive an easy-to-understand document which describes the features of the most common apps and rates them in the context of sketching and visualization.
bikablo Alumni Community: Anyone who has attended one of our training seminars will receive an invitation to join our online community, which offers a variety of tips, useful links and recommendations. The centerpiece is a forum where the members have the opportunity to discuss visualization issues and share their own icons, key visuals and posters with others.
General information and registration
Language: English
Documentation: For your follow-up you will receive a digital photo documentation of all results.
Trainer and participants: max. 16 participants, two trainers of the bikablo® akademie
Training hours: First day: 10am – 6pm, Second day: 9am – 5pm
Please be aware: This training does not focus on learning the bikablo drawing technique or practicing visual vocabulary. If you still feel unsure about drawing our "analog" bikablo sketchingnoting training or a bikablo basics flipchart training can be a more suitable first step for you. Please send us some samples of your work and we will help you to make the right decision.
Please note that you need to bring your own tools: Suitable tablet (preferably with matt display foil) & Stylus pen (Our trainers use the iPadPro 12". Please contact us if necessary: in exceptional cases we can provide individual participants with an iPad Pro from the bikablo academy (limited availability).)
Cancellations & Refunds
A full refund will be issued if you cancel your registration at least 30 working days before the event start date.
Replacing delegates: this can be done at no extra cost
Postponing a booking to another date: this is free providing it is requested at least 10 working days before the event start date, after which a 20% fee will be charged.
We reserve the right to postpone or cancel this course if there are insufficient registrations. If this is the case, you will be notified 5 working days before the course start date. In this case, you will be offered an alternative date or a full refund. We will not be responsible for any other costs incurred.