Description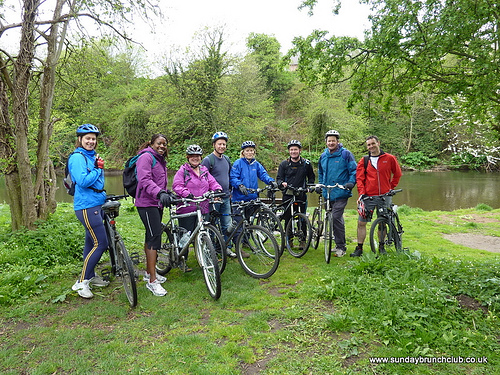 Cycling with the Sunday Brunch Club Edinburgh Cycling Group
Stay active with our popular Cycling Group based in Edinburgh

Ride for fun and fitness

Enjoy beautiful scenery

Meet new people

No routes to plan or maps to buy, just turn up
The SBC Edinburgh Cycling Group is friendly and relaxed
Please note that all cycle rides are subject to change depending upon weather and if the forecast is very poor may be cancelled - so please check this site and your email prior to setting off to attend the cycle if the weather conditions are poor.
Cycle description: East Lothian
We'll meet outside Haymarket Station at 10am and head out along the West edinburgh Cycle Path then throught South Queensferry and across the Forth Bridge to Aberdour. We will stop in Aberdour for lunch then return along the same route. Those wishing a shorter cycle will be able to catch the train back from Aberdour. Total distance there and back will be around 40 miles.
The majority of the route is on quiet roads or cycle paths, although we will need to cycle on some busier roads. Some of the tracks are uneven and are better suited to semi-slick cycling tyres.
Duration: 6-7 hours
What will I need?
Adapted for the weather conditions this is the basic kit. Always bring a waterproof even in the Summer as you just never know!
gloves - essential in winter, optional in summer

waterproof jacket

ideally base layer and wind proof cycling top. Alternatively, t-shirt and light fleece are fine.

ideally cycling shorts or trousers. Other fast-drying, water resistant trousers or shorts are fine too. Jeans are not recommended as they become heavy and uncomfortable when wet.

rucksack or bike bag for snacks and layers

water and snacks (we stop for lunch)

spare inner tubes in case of puncture

bike lock
10am outside Haymarket Station.
Your Safety and Responsibilities
Unfortunately cycling like many sports and road use involves a risk of accidents leading to personal injury, and in extreme cases death. By participating in these activities you should be aware of and accept these risks and be responsible for your own actions and involvement.
The cycle organisers are volunteers, who try to encourage the enjoyment of the cycle ride by all participants. They may help by sharing their experience … but the onus of responsibility for deciding whether or not to follow their route and rely on any advice lies with you. You are responsible for your own decisions and safety, and neither the cycle organisers, nor any other people associated with Sunday Brunch Club accepts legal responsibility for your welfare on the cycle.
Booking cycle rides
Please book your place so we have an idea of how many people to expect.