Bill Hicks' 50th Birthday Celebration

Friday, 16 December 2011 from 18:00 to 22:00 (GMT)
Event Details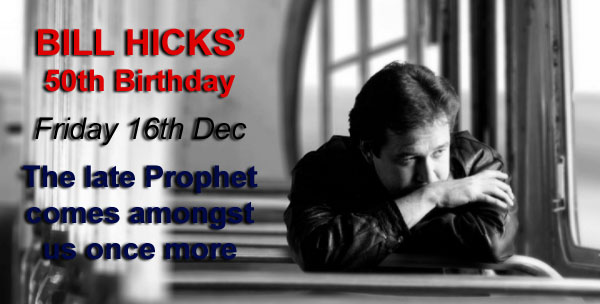 So it's not the most convenient of dates to get lots of people together (the 16th), but it certainly has great significance for those who know of him...and he would have been 50, so letting this date slip by uncelebrated would be somewhat of a heinous crime against what little chance humanity might have left!
So we're going to have a little get together at Brezza, watch American: The Bill Hicks Story and then some of his classic Stand-up with a few beers.
If you know, then we're good, you're clearly going to be there...
...if you don't know about Bill, then this evening could change you're life!!
He's the comics-comic, an agent of evolution, lover of all the people...as relevent now (if not more) than he's ever been. He will always be known as a stand-up comedian...which he was...kinda...but...well, here's what I reckon:
His ability to question everything, right down to the most fundamental level continues to inspire me again and again. He was a true hero of our time, with something to teach us all...people often misuse the word 'legend' when describing well known figures, but in this case it's completely right in every sense of the word...maybe the closest thing we've had to a modern day prophet...
He was always in search for something deeper; never scared to hold his own opinion and fight his corner; he delighted in telling others how he saw things, in holding a mirror up to society and questioning 'is that really what you believe, what you think...look again, are you sure?'. He formed his own point of view on absolutely everything, never just taking things as they were portrayed...always taking a microscope to them...striving for clarity of vision.
He was often seen as a very angry person and probably offended quite a lot of people...but those who he antagonised had misunderstood...he may have always been rocking the boat and had little regard for boundaries, but this is how he was able to give such insight & spread so much joy...the dichotomy of his search for an absolute truth.
I often feel both sides...a deep rage that pushes you to dismiss the very fabric that constitutes the reality around you, the falseness, the tragic materialistic nature of it alland there's those of moments of irreverent elation at the wonderment of the world we live in...either way, the important thing is that life is for living; the message that underpins everything Bill did...
Life has a lot to throw at us and sometimes requires that we take it seriously...but those instances are much fewer and further between than you might think. So the next time you find yourself letting things get to you, taking stuff too seriously, stop and take a moment to think of Bill and that really...it's just a ride...it's just a ride.
When & Where

Brezza Italian Coffee House, Bistro and Bar
10 - 14 Wellington Street
S1 4HS Sheffield
United Kingdom


Friday, 16 December 2011 from 18:00 to 22:00 (GMT)
Add to my calendar