Billy Bottle & The Multiple present: The Other Place (A Vox-Popera) \ The A...
Description
THE OTHER PLACE
A Vox-Popera by
Billy Bottle and The Multiple
On the evening of 7th May, 2015, a pint of milk mysteriously appears at the gates of Parliament.
Set in the week running up to a UK general election, The Other Place tells the true story of two musicians from Devon as they make their way slowly to Westminster. On high streets, market squares and seafront promenades, they perform the same song, forty-nine times over, and at each stop they start conversations with whoever they meet, asking them 'Who's got the Power?'
At the end of a long and winding journey, they arrive at Parliament Square on a milk float to make their delivery: a symbolic reminder that the power doesn't belong to the inhabitants of Westminster, it is given to them by the rest of us.
This journey through the foundations of British democracy inspired a sequence of songs whose lyrics come from the words of the voters (and non-voters) that Billy and Martine met on their journey. It is a celebration of gentler kinds of power and an invitation to the audience to make their voices heard.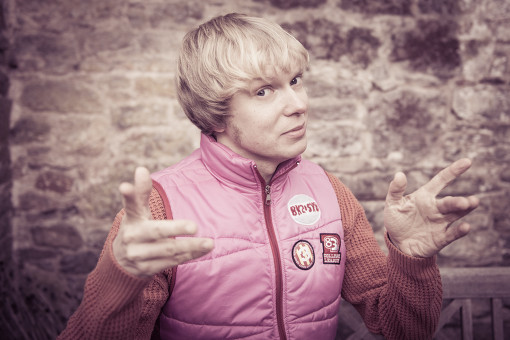 Following on from their critically acclaimed album, Unrecorded Beam (the poetry of Thoreau), The Multiple features Martine Waltier, Roz Harding and Billy Bottle, (all mainstays of Mike Westbrook's Uncommon Orchestra) plus flautist Vivien Goodwin-Darke (from the psychedelic rock band, Magic Bus) and recording artist and producer Lee Fletcher (of Unsung Productions) on soundscapes. Like the best art rock, they combine folk, jazz, pop and minimalism in an engaging and meaningful way.
Complete with wobbly camera footage and the sounds of the streets, this performance is a real democratic party in action!
Billy Bottle: Voice, Keyboards, Guitar.
Martine Waltier: Voice, Violin, Guitar, Percussion.
Roz Harding: Alto sax, Recorder, Percussion.
Vivien Goodwin-Darke: Voice, Flute, Percussion.
Lee Fletcher: Synths, Soundscapes and Percussion.
Born in Darlington, Co. Durham, Billy Bottle was raised on Moorland walks, summer carnivals and industrial grit.
"A diary in four dimensions" - Kate Westbrook
"Utterly Weill" - Dougald Hine
Watch:
https://www.youtube.com/watch?v=bKXzE7P2y-w
https://www.youtube.com/watch?v=Dk1B1-8ZFog
https://www.youtube.com/watch?v=5gtNfDWg368
"Vigorous and unequivocally hip" - All About Jazz
"His own pastoral brand of whimsical psych-folk" - Jazzwise
Organiser of Billy Bottle & The Multiple present: The Other Place (A Vox-Popera) \ The Art House \ Sat 2 July 2016 7.30pm