Description
What:
About this event
Following-on from our more formal workshop events and roadmap activities, we have organised an informal networking drinks event for those interested in learning more about Building Information Modelling (BIM) and how Geomatics / Survey / Geospatial are intrinsically related.
Come along for a FREE DRINK, courtesy of the 2016 Geovation Challenge: 'Underground Assets' >more
Organisers: This event is organised by Survey4BIM and BIM4Infrastructure (UK), in partnership with the AGI's Asset Management SIG and the 2016 Geovation Challenge.


---
Why:
More about BIM & Survey4BIM
Over the next five years, building information modelling (BIM) will drive not just transformation of the built environment, but also the geospatial industry itself. Its successful implementation is dependent on collaboration across all participants. The survey profession needs to be at the forefront of BIM for Geomatics.
The vision for BIM is clear, but its implementation in a geospatial context is not. These challenges are technical and, to a certain degree, cultural and ones where the geospatial profession has a significant and unique contribution to add. If BIM does not address the geospatial challenges, there is a risk the geospatial industry will not only miss a huge opportunity to be a key player in BIM, but become complicit in watching it fail.
The Survey4BIM believe BIM is a huge opportunity for the geospatial industry — not only to deliver commercial benefits for clients, for your business, for the UK industry, but to deliver the social benefits which BIM can enable.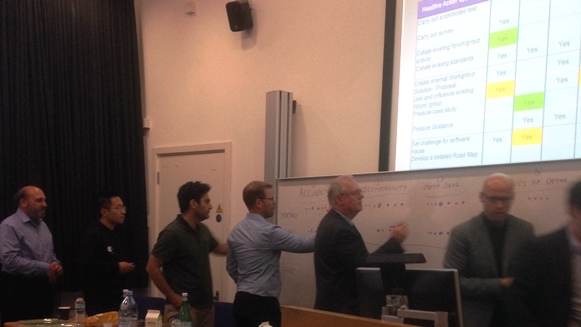 Photo from one of our recent workshops
---
More abour Survey4BIM
What is this group about?
Survey4BIM is a cross-industry group open to all organisations involved in the survey, collection, management, processing and delivery of geospatial information within a BIM context.
The groups make up is reflective of the sector, involving clients, contractors, consultants, suppliers, sub-contractors, institutions and other bodies.
Our mission is to provide a forum for survey organisations and industry professionals to collaborate and share their journey putting "BIM into practice", and to provide best practice guidance documents on survey matters relating to BIM.
Goals
In order to achieve this, the Survey4BIM Management Committee has identified seven goals:

1 - Provide leadership in establishing how surveyors provide an integral and continuous role to the BIM process and the importance of geospatial information.
2 - Share knowledge and learning between its members
3 - Establish collaborative links to Universities and academia – education of the full supply-chain
4 - Produce and publish best practise guidance to organisations, clients and industry professionals on survey matters relating to BIM in the form of Technical Notes and Guidance Documents.
5 - Coordinate the Survey4BIM related activities undertaken by survey bodies and institutions.
6 - Promote survey related case studies, which demonstrate best practice and the integrated management of geospatial information across all stages of the asset lifecycle.
7 - Represent the surveying profession in wider discussions on BIM and act as a partner to the Cabinet Office BIM Task Group