Event Information
Location
* This is an on-line event *
Sydney
Australia
Description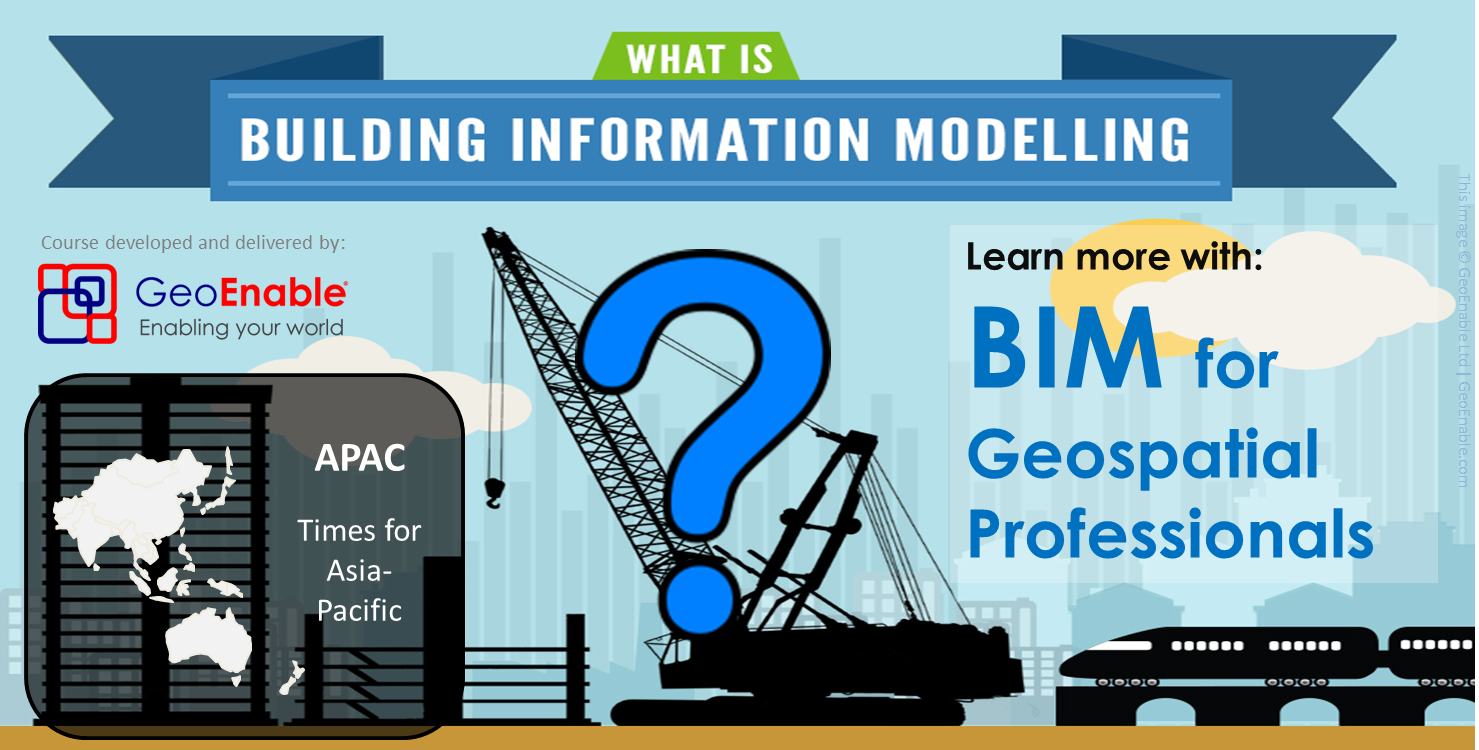 • Sorry, this course is now full. If you would like to hear about future dates for this course - contact us.
Are you looking to sharpen your understanding of BIM and Digital Engineering?

Want to understand how Geospatial Professionals can add value to BIM?

Want to understand how to 'Geo-Enable BIM' and 'BIM-Enable Geomatics Engineering'?
Due to demand - this is the second chance to enrole for this on-line training course.

If we also offer this course online for: The Americas and as a classroom course in the UK
---
• Who is this for? This course is for existing Geospatial and Geomatics Professionals, such as CAD modellers, GIS, mapping, survey professionals, who wants to learn more about BIM and Digital Engineering.
• Your experience level with wider BIM concepts: Novice (little experience) to Advanced beginner
• Course Format: Online live Webinar with tutor. Interactive with questions and reminder assessment questions throughout. Digital training material available online after course.

2 on-line sessions, plus follow-on calls after session (for 6 weeks, 1 per week) to help embed what has been learnt.
• Not Technology / CAD: This is not a '3D CAD Modelling' course. This course teaches the principals, concepts and business drivers behind BIM and where the opportunities are for geomatics and geospatial professionals. There is reference to the UK's BIM standards – however principals are universal.
• Course Location: Online - interactive with live Tutor (not recorded content), via GoToWebinar.
• Course Times: These times are preferable to times zones in Asia-Pacific (APAC), but you can participate from any location, except UK or RoI where we teach class-based courses. Time shown is in Australian Eastern Standard Time (AEST). Session 2 is taken 7 days after attending this Session 1 (as below).
Session 1 - 05 Sep 2016 - start time: 09:00 Sydney | 11:00 Auckland | 08:00 Tokyo | 07:00 Hong Kong | 07:00 Kuala Lumpur


Session 2 - 12 Sep 2016 - will be held at the same time of 09:00 Sydney time (AEST) (23:00 GMT/UTC)
• Exclusive Session: Places are limited to ensure best learning outcomes with a small group.
• Course Duration: 7 hrs total. Consisting of 2 sessions (on different days) of 3.5 hours each.

• Course Fee: The fee shown on this page are for the whole course - for both Sessions 1 & 2. The fee is £350 GBP (British Pounds) excluding taxes - this is approx. equivalent to A$ 600 AUD.
• Alternative payment methods: If you need to use a Purchase Order (PO) number and be invoiced, pay directly via a direct bank transfer (wire), or pay directly via PayPal - contact us.
• Have Questions? For more information please call +61 2 8011 4360 and ask to speak to Matthew Neil, our Global Training Coordinator.
---
Testimonials:
"GeoEnable provides very impressive BIM training. The tutor was extremely knowledgeable and shows real expertise and experience in BIM field, and he is willing to help at all times even after the course. Very pleased with the service and will fully recommend." Carol Han - DDC Engineering Solutions Limited

"...It is very important to identify where this sharing can be free and where it should be tightly controlled. GeoEnable, helped us with reviewing our existing information systems and helped us align it with all business processes. This was absolutely critical. GeoEnable assisted us with the improvement of information governance and formal processes which in return significantly enhanced access to Argent's GIS and other information resources." Lilia Wydra, GIS Manager – Argent (Property Development) Services LLP

... I am now able to confidently set up map services for clients and also introduce them to many of the features available in Wed GIS and BIM. GeoEnable guided me through the process involved and has provided ongoing support." Jeremy Murfitt, Director - Everything is Somewhere Ltd
---
What we cover on over the course of Session 1 and Session 2:
Overview to Building Information Modelling (BIM) and Digital Engineering concepts


Overview to Whole-Life Asset Management (PAS 55 & ISO 55000) concepts


Geo-Enabling BIM – location data providing context and a common reference

Common Data Environments (CDEs) Vs Spatial Data Infrastructures (SDIs)


3D Visualisation - requirements for 'BIM Level 2'

What is meant by 'BIM Level 2', 'BIM Level 3' etc

Open BIM Data Standards e.g. IFC, COBie

Introduction to UK Government BIM Standards - BS/PAS 1192 Suite

How Geospatial adds value to BIM

Data and Asset Classifications (Taxonomies)

Web GIS as a way in - opportunities to link with BIM concepts

Collaboration and Information Sharing - what's the best approach?

Where Information Management skills are used

How GIS, CAD and Survey data is adding value

The challenges of understanding across teams - how we tackle them

Making the business case for 'Geospatial' (inc. CAD & survey, not only GIS)

Understand how 'Geospatial' and spatial is part of BIM

Information Management (IM) and the value of GIS skills

High-Accuracy Data Collection - integrated workflows (ZenoCollector used as an example)

Metadata - how do we embed this?

Information Portals - Mapping Portals and others for 'BIM'

The changing role of GIS, CAD and survey professionals

How to embed innovation and improvement

Understanding your role and how you add value to your organisation
---
EMBEDDING LEARNING OUTCOMES
This course is an online seminar, split into 2 sessions, with the option of follow-up calls for 6 weeks (1 per week) to help you accelerate embedding what you have learnt in your business. We encourage you to take these follow-up calls to gain greater value from your learning experience.
---
About GeoEnable:
At GeoEnable we are focused on democratising the power of better information management and integrated insight into everyday business decision-making. GeoEnable is a leading Information Management and Geospatial consultancy. Read more at www.geoenable.com.

---
Bespoke Training:
If your organisation has specific learning and development objectives, we can tailor this programme to suit your needs. To discuss the tailored training options available to you with one of our training account managers, please use contact us.
---
Our Partnerships: We are official partners with Esri, Leica Geosystems and Mitra Innovation.

Building Information Modelling (BIM) for Geospatial Professionals: Online
---
Date and Time
Location
* This is an on-line event *
Sydney
Australia