Location
Near London Bridge
London
United Kingdom
Description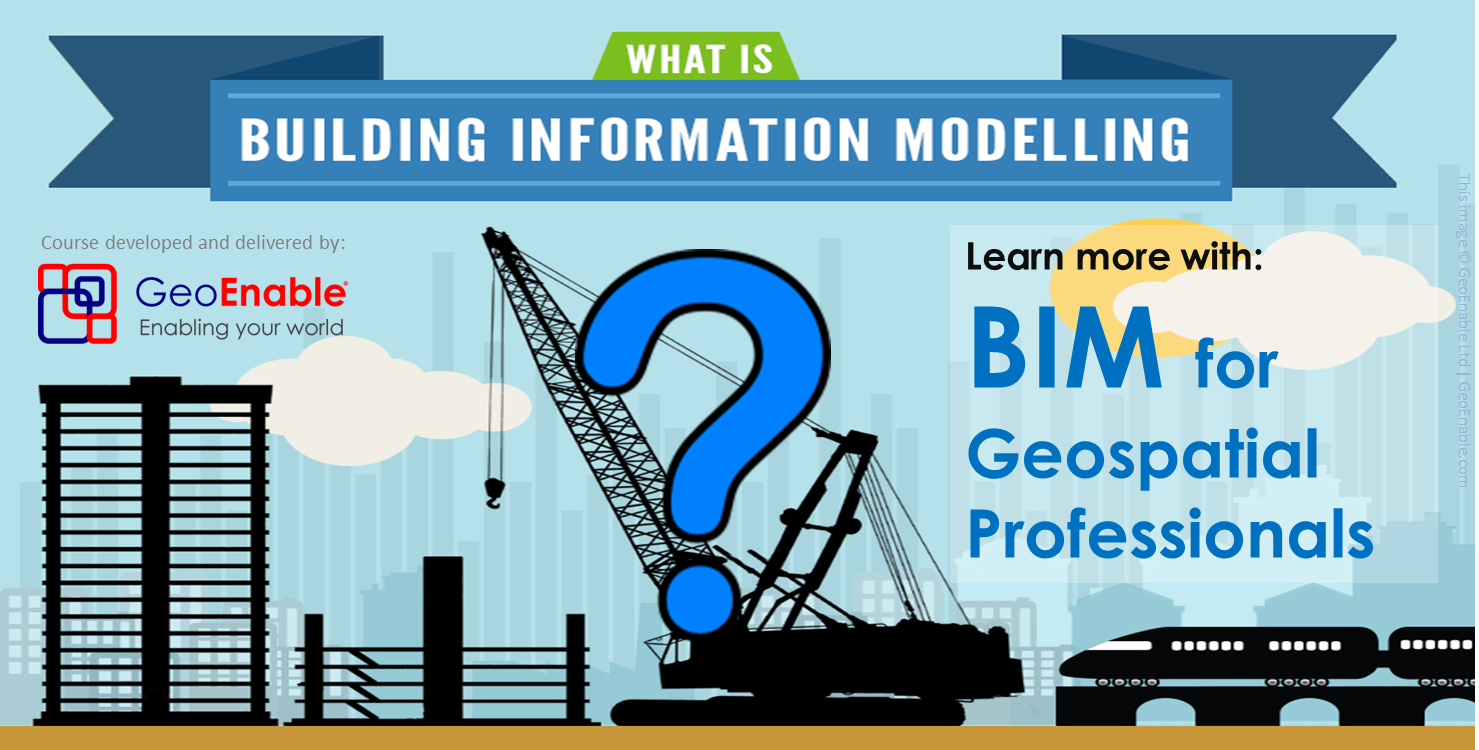 Are you looking to sharpen your understanding of BIM and Digital Engineering?
Want to understand how Geospatial Professionals can add value to BIM?
Want to understand how to 'Geo-Enable BIM' and 'BIM-Enable Geomatics Engineering'?


Not close to London? We can offer the course on-site at your offices for your whole team - contact us
---
Who is this for? This course is for existing Geospatial and Geomatics Professionals, such as CAD modellers, GIS, mapping, survey professionals, who wants to learn more about BIM and Digital Engineering.
Your experience level with wider BIM concepts: Novice (little experience) to Advanced beginner

Course Style: Classroom Seminar (tutor taught with interactive sessions) and Post-course online Consultation. This course is not a hands-on technical training session.


Course Location: This course is held in Central London (close to London Bridge)
Exclusive Session: Places are limited to ensure best learning outcomes with a small group.
Breakfast & Lunch included: This course includes a continental breakfast on arrival (08:30 to 09:30), a hot buffet lunch and tea & coffee throughout the day.
Alternative payment methods: If you wish to use a Purchase Order (PO) number and be invoiced, or recieve a PayPal invoice - contact us. You also avoid online payment fees by paying us directly via a bank transfer (wire), contact use for full details. We are VAT registered.


Have Questions? For more information please call 0845 224 3951 (+44.20 8133 4436 outside the UK) and ask to speak to Matthew Neil, our Global Training Coordinator.
---
Testimonial:
"GeoEnable provides very impressive BIM training. The tutor was extremely knowledgeable and shows real expertise and experience in BIM field, and he is willing to help at all times even after the course. Very pleased with the service and will fully recommend." BIM for Geospatial Professionals Attendee (Dec 2015)
---
Timings
13 Sep 2016
08:30 to 09:30 - Arrivals and Complimentary Breakfast

09:30 - Course Start

13:00 - Lunch (hot restaurant lunch - included)

16:30 - Course End
There will also be short coffee / comfort breaks in the morning and afternoon.
Please arrive no later than 09:15 to allow a prompt start
Venue Amenities
Continental breakfast on arrival. ** Included in training fee **


Coffee, tea, pastries, biscuits and snacks (unlimited servings)

Hot restaurant lunch prepared by in-house chefs. ** Included in training fee **

Free wireless broadband access
---
What we cover on the day:
Overview to Building Information Modelling (BIM) and Digital Engineering concepts


Overview to Whole-Life Asset Management (PAS 55 & ISO 55000) concepts


Geo-Enabling BIM – location data providing context and a common reference

Common Data Environments (CDEs) Vs Spatial Data Infrastructures (SDIs)


3D Visualisation - requirements for 'BIM Level 2'

What is meant by 'BIM Level 2', 'BIM Level 3' etc

Open BIM Data Standards e.g. IFC, COBie

Introduction to UK Government BIM Standards - BS/PAS 1192 Suite

How Geospatial adds value to BIM

Data and Asset Classifications (Taxonomies)

Web GIS as a way in - opportunities to link with BIM concepts

Collaboration and Information Sharing - what's the best approach?

Where Information Management skills are used

How GIS, CAD and Survey data is adding value

The challenges of understanding across teams - how we tackle them

Making the business case for 'Geospatial' (inc. CAD & survey, not only GIS)

Understand how 'Geospatial' and spatial is part of BIM

Information Management (IM) and the value of GIS skills

High-Accuracy Data Collection - integrated workflows (ZenoCollector used as an example)

Metadata - how do we embed this?

Information Portals - Mapping Portals and others for 'BIM'

The changing role of GIS, CAD and survey professionals

How to embed innovation and improvement

Understanding your role and how you add value to your organisation
---
This course is a classroom-based seminar with the option of follow-up calls for 6 weeks (1 per week) to help you accelerate embedding what you have learnt in your business. We encourage you to take these follow-up calls to gain greater value from your learning experience.
---
DISCOUNTED RATES:
We provide discounted fees for individuals who are members of any industry body that is a members of the UKGEOForum (e.g. AGI, RGS, TSA, RICS, ICES), The UKGEOForum is a group of societies and associations that represent the core interests that encompass geography, mapping and the geospatial information handling industry.
We also provide discounts to members of the Institution of Civil Engineers (ICE), BRE or BuildingSMART as well as those who work in the Public Sector and Charity Sector.
---
About GeoEnable:
At GeoEnable we are focused on democratising the power of better information management and integrated insight into everyday business decision-making. GeoEnable is a leading Information Management and Geospatial consultancy. Read more at www.geoenable.com.

---
Bespoke Training:
If your organisation has specific learning and development objectives, we can tailor this programme to suit your needs. To discuss the tailored training options available to you with one of our training account managers, please use contact us.
---
Our Partnerships: We are official partners with Esri, Leica Geosystems and Mitra Innovation (BIMaaS).