Description
"BIM is not a technology – it is a collaborative process supported by people and technology. Software is just a tool which requires input and process and we deploy software to support thousands of processes during BIM". Paul Wilkinson will take us through the process of deciding which software to adopt BIM and what considerations need to be made.
The second part of the event is focusing on data, specifically on managing data effectively. Common Data Environments are typically used to manage data and first up will be Shaun Farrell who will share his thoughts on what a CDE is and what it isn't. Nigel Davies will then take this a step further and talk about interoperability and data followed by Steve Crompton who will discuss the different types of data, specifically Geo data and its use within the industry.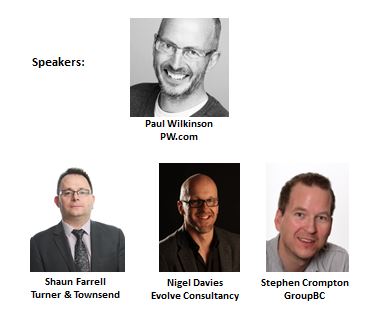 This event promises to be lively one, with lots of discussions around software and data. It is your chance to ask the questions you have always wanted to know the answer to when it comes to data and software. Book your seat today!
There will be a small charge for this event as it is not-for-profit and the charge is to cover the few costs that are incurred – including an appropriate acknowledgement for the speakers.