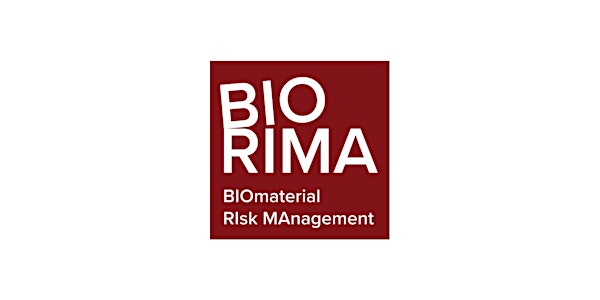 Multiple Dates
BIORIMA Integrated Risk Management Framework & Decision Support System Demo
We are delighted to announce the demonstration of the BIORIMA Integrated Risk Management (IRM) Framework and Decision Support System (DSS)
About this event
You are invited to take part in one of two free, interactive sessions where you will have the opportunity to find out about the BIORIMA project and the purpose, principles and potential applications of the IRM and the DSS we are developing. You will then be able to validate the systems and provide feedback using a questionnaire.
Session 1: Thursday 25th February 15:30-17:00 CET
Session 2: Friday 26th February 9:30-11:00 CET
These sessions will also provide an opportunity for you to find out how you, developers, manufacturers, and users of Nano-Biomaterials (NBM) and associated Medical Devices (MD) and Advanced Therapeutic Medicinal Products (ATMP) can benefit from these main BIORIMA output and results.
For more information, contact francisco.huertas@itene.com
About BIORIMA:
The EU BIORIMA project is an interdisciplinary research initiative with the aim of developing a holistic and sustainable strategy and framework for managing risks associated with nanoengineered biomaterials (NBM) and their use in medical devices (MD) and advanced medicinal therapy products (AMTP). This will include a web-based decision support system to guide potential end-users early on to identify and safely handle any risk that these materials and products may cause, in compliance with existing regulation.
BIORIMA is developing an Integrated Risk Management (IRM) Framework for Nano-Biomaterials (NBM) that are used in Medical Devices (MD) and Advanced Therapeutic Medicinal Products (ATMP).
More than 40 science and industry partners from 16 different countries work together to establish a user-friendly and cost efficient risk management toolbox linked with a decision support system (DSS) to help potential end-users (such as manufacturers and downstream users of NBM and associated MD and ATMP) to select and apply the most appropriate methods and tools for physicochemical characterization, exposure, hazard and risk identification/assessment and management of a particular material, product or device.
The final goal is to enable both industries and regulators to use tools for high-quality data and informed decision-making, to ultimately meet regulatory and customary requirements associated with the existing (EU) 2017/745 regulation that puts an increasing focus on risk management.
For more information, visit the Biorima Website
Organiser of BIORIMA Integrated Risk Management Framework & Decision Support System Demo