Description
BIOVOICES aims to promote the bio-based sectors across Europe through engagement with and between the four key stakeholder groups - Public Administration, Business & Industry, Research & Education and Civil Society - to promote dialogue that identifies challenges and pathways to solutions.
As the UK partner in the EU funded BIOVOICES project, Minerva is promoting dialogue to identify and address the key challenges to the uptake of bio-based sectors and products in the UK. The dialogue is being driven via four regional interactive workshops – Motivation & Mutual Learning Events (MMLs).
Invitees to the MML include start-ups and SMEs producing a range of waste valorisation products, research and development actors working on innovation, policy and best practice developers and regulators, plus NGOs representing interested civil society groups.
Aims of Norwich MML workshop:
Representatives from the four stakeholder groups as identified above, each with the hands-on knowledge and willingness to contribute input and experience from their own perspectives to:
Identify the

Challenges

preventing progression & development of the UK's bio-based sectors and products? [to be discussed across all phases of development]
Focus on the opportunities for the development of the UK Bio-based sector? [to be discussed across all phases of development]
Agree Top level points to progress the UK Bio-based sector?
The invited attendees across the four groups will hear from allied and interested stakeholders, enabling discussion of the challenges impacting, and the opportunities available relating to the three bio-based product development stages – business case, go to market, market acceleration – and identify the common issues that inhibit the realisation of bio-based alternatives. Attendees will then have the opportunity to combine their connected thoughts on the required steps to help overcome these challenges, as well as identifying the support their sector or product will require, and what they can also offer to drive progress.
The co-created content derived from this MML will be combined with the results of the three other planned regional MMLs (South-West, North East, Wales) to be shared at the three national BIOVOICES meetings (London, Scotland, Wales). These meetings are planned for late 2019/early 2020 and are expected to be organised in partnership with the Bioeconomy and the Bio-based sections of Innovate and KTN.
Please register your interest in attending this event via the registration facility on this page. Due to the nature of this event, we cannot guarantee all registrations will be given places at this workshop. All registrations will be considered and you will be contacted by a member of the organisation team to confirm your attendance.
From 15:45 an open networking event will be taking place, if you wish to register to attend this networking event only, please select this ticket option in the registration process.
For further information, please contact: info(@)minervacomms.net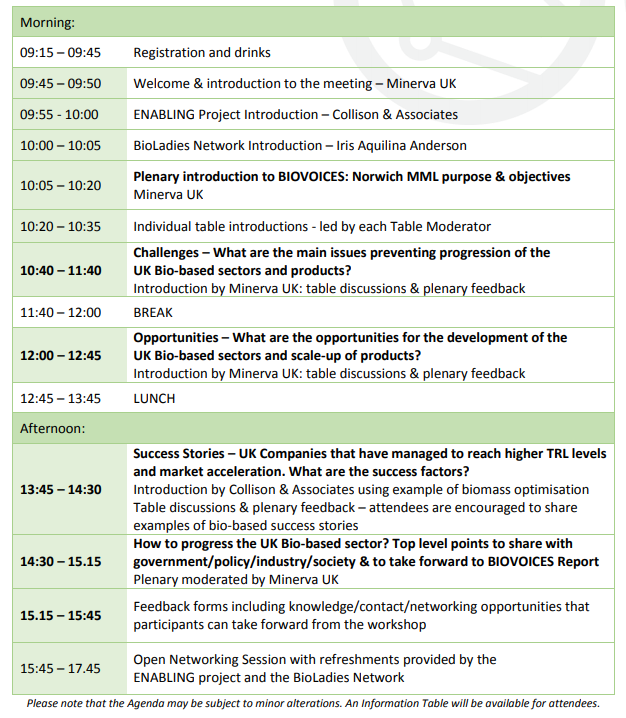 The BIOVOICES project recieves funding from the European Union Horizon 2020 programme under grant agreement No.774331.
Organiser of BIOVOICES Mobilisation and Mutual Learning Event - Norwich