BIPC Bristol Business Information Clinic, 45 minutes 1-2-1 on Wednesdays
One to one business information session for pre-start, start-ups and small businesses with BIPC Bristol .
About this event
Do you have an idea for a new business and want some advice on turning that idea into reality? Our Business & IP Centre information specialists are here to help!
Whether you need guidance for those first key steps, IP support and development guidance or industry & market information, we can help. We'll talk through the sort of information you may find useful and help you get the most out of our resources.
This service is for business planning and support only, we are not able to give legal or specialist advice.
Book your free one-to-one confidential appointment today or email BIPC Bristol at bipc@bristol.gov.uk for more information.
This is a one-to-one appointment with a member of our BIPC team at Bristol Central Library. Your session will last for about 45 minutes. Sessions are available on multiple dates and multiple times, you will be able to select your time slot after you have selected the date.
We can offer one-to-one sessions by Zoom if you prefer, please book your time slot here on Eventbrite and email bipc@bristol.gov.uk to ask for your appointment to be held over Zoom.
In order to provide the best support for you and your business ideas, we will be in contact with you by email before your appointment to find out a bit more about your small business.
Following the meeting, the Business & IP Centre will send you a link to a feedback form that helps us monitor and improve our events.
These sessions are available for people who either live or work in Bristol. We are here to support anyone in the Bristol area with a business idea or small-medium sized business. Not your region? Find your local BIPC to find out how they can help you: https://www.bl.uk/business-and-ip-centre/national-network
Helping you to start and grow your small business with free resources, 1:1 support, advice clinics & workshops
The Business & IP Centre Bristol supports people to start, protect and grow their businesses. Visit Bristol Central Library to access our free market research and intellectual property databases and take part in our regular programme of workshops and events.
FAQs
What is your refund policy?
Our events are free, but places are limited and events are usually oversubscribed. Please give two working days' notice via email if you wish to cancel.
Can I attend if I'm not a member of the library?
Absolutely! Any Bristol based business or person with a business idea is welcome. Though we always recommend joining the library as it's free and will make accessing our databases, books and publications much easier.
How can I find out about any news & upcoming events?
Follow us on Eventbrite and you can also follow us on Twitter and Instagram for the latest news and events. For more information on BIPC Bristol check out our web pages: https://www.bristol.gov.uk/BIPC
Privacy policy statement
After you have attended one of our events we ask that you complete a short feedback form. We will use the information you provide to improve the services we offer in line with our legitimate interests. This information is collected and transferred to us by our third-party processor, Impact Reporting using their Impact Assessment Tool. Impact Reporting will retain your data to save time when completing any future feedback forms we may send you. For more information about how they use personal information, please see their privacy policy online at https://impactreporting.co.uk/legal/privacy-policy/
For information about how the British Library will use your personal data, you can view our Privacy Policy at https://www.bl.uk/about-us/privacy-policy
For information about how Business & IP Centre Bristol will use your personal data, you can view our privacy policy at: https://www.bristol.gov.uk/about-our-website/privacy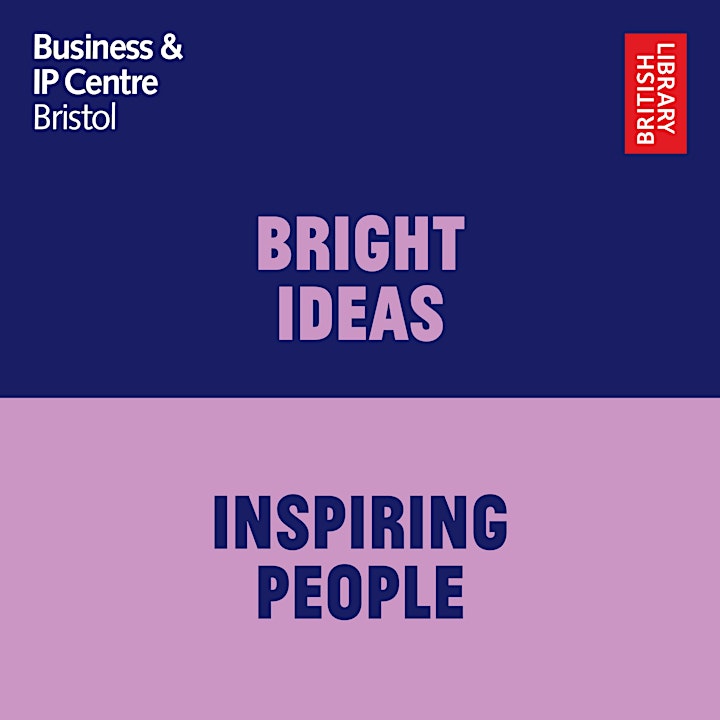 Organiser of BIPC Bristol Business Information Clinic, 45 minutes 1-2-1 on Wednesdays
Bristol BIPC is based at Bristol Central Library and offers a wide range of business information, resources, events and workshops as well as spaces for you to work, meet and research, including free Wi-Fi and places to plug in your devices.
Our trained BIPC staff can support you on your business journey, whether your at the start of an idea or your small business is already up and running. We work with a range of expert partners who offer free clinics, workshops and advice .
Covering the the City of Bristol, BIPC Bristol is part of Bristol Libraries, working in partnership with The British Library.