Description
PLEASE NOTE the start time for Biped's Monitor has been changed to 8:30pm
"Biped's Monitor will create a leafy haven in a secret urban location"
- The Times Review
Arbonauts create a complete world, a surreal performance at dusk in the trees, chapel and avenues of Nunhead Cemetery. An evening of unexpected events that re-imagines and fragments Italo Calvino's magical folktale Baron In the Trees.
Biped's Monitor sold-out when presented in 2012. For 2013, Biped's Monitor will celebrate the opening of Nunhead Festival and the Elephant and the Nun Festival – a spectacular programme of events and festivities that invites you to discover some of south London's secrets.
~

5 nights only - 31st July - 4th August
8:30pm
£15 full price | £12 Early Bird / Concession
The box office will be open from 8PM at the Linden Grove entrance, please arrive in good time to collect your tickets. NO latecomers.
~
"I was intrigued, it was visually beautiful and magical"
"Surreal, haunting, hypnotic, dark, sinister"
2012 Audience Comments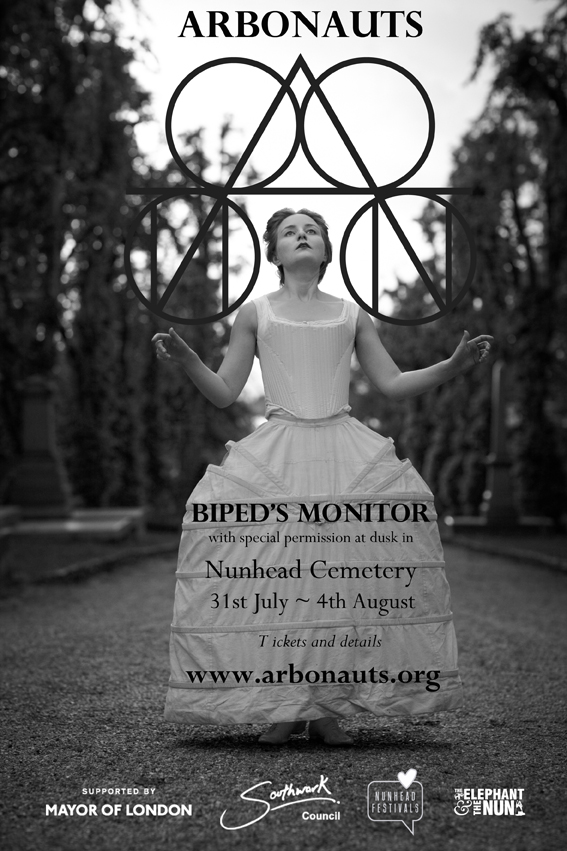 Getting to Nunhead Cemetery:
Linden Grove entrance only.
Rail: Nunhead Station (5min walk) Peckham Rye (20min walk)
Buses: 78, 343, 484, P12
Bike Parking: Cycle racks are available at the Linden Grove entrance
Please visit us by foot, bicycle or public transport where possible.
Access:
Please contact helen@arbonauts if you have any access requirements.
Recommended for ages 12 and over accompanied by an adult.
Late arrivals will not be admitted.
Please dress appropriately for the weather and wear suitable footwear.
~
Arbonauts gratefully acnowledge the support of The Mayors Fund | Southwark Council
Nunhead Festival | Elephant and the Nun Festival