About this event
Join ethical fashion pioneers Birdsong for a Festive Shop event at our studio in Dalston.
Featuring complimentary drinks, chats with the founders and a warm sociable atmosphere for ethical fashion fans.
Jewellery, accessories and underwear will be available to buy. You'll also have the chance to try on samples and be fitted for any pre-order pieces from our collections, available in sizes UK 6 -30. 20% discount on selected lines.
For Autumn/Winter 21, we created a joyful patchwork of our archival prints. We wanted to celebrate seven years at the forefront of sustainable fashion by showcasing designer Susanna Wen's favourite motifs from past seasons.
Try our hand-made wardrobe classics in supple, soft TENCEL™ Lyocell, paired with silky reclaimed slips and weighty organic denims. A mixture of tones, textures, and psychedelic prints meet modern silhouettes. Rich, warming colours in playful combinations. Easy cuts, and adjustable styles, designed for waxing and waning bodies.
See more at www.birdsong.london
Can't make it to London, or not able to access our studio*? Sign up for a digital fitting instead.
*Unfortunately our studio is up several flights of stairs.
-----------------
About Birdsong
Birdsong began life as a feminist brand making slogan tees, shouting about photoshop and hell-bent on paying women workers a fair wage. A commitment to ethical and sustainable fashion is still at our core, but today we've grown to create a collection of original wardrobe staples to totally transform your (out)look. It's about thoughtful clothes in bright colours, edgy silhouettes and art-inspired prints made from natural fabrics.
We create clothing for women who dress in protest – against the fast nature of the fashion industry, the obsessive pursuit of trends and the systematic abuse of women in the production line. We dream up designs in house, and then work with expert makers who face barriers to employment in the UK – from artists and printmakers to seamstresses and painters – and pay them London living wage to bring our creations to life.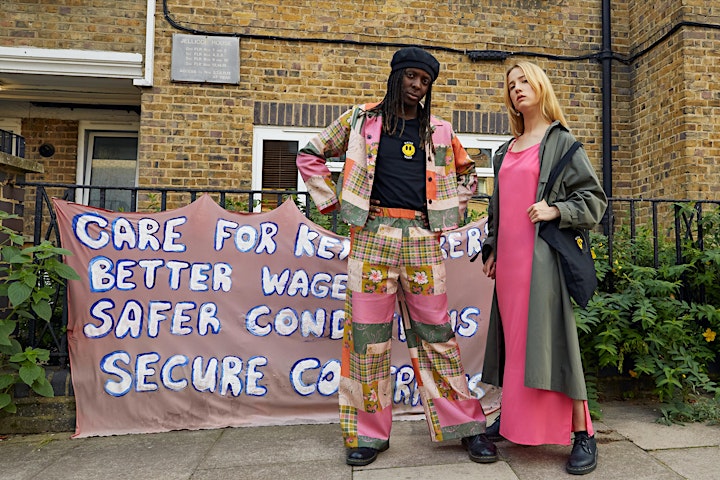 Organiser of Birdsong Festive Shop
Making it happen: "The feminists leading an ethical fashion revolution."
With a mantra of 'no sweatshop, no Photoshop', Birdsong is an emerging fashion brand with ethical and feminist principles at its core. Birdsong revolutionise the way we shop, by sourcing their products from a variety of women's organisations. Their founders Sarah and Sophie, are targeting their generation of millennials who want to look great, but not at any cost.
From refugee seamstresses to octogenarian knitters, the brand brings together women with non-traditional backgrounds. Combining the skills of these women's groups with the talent of young contemporary designers, Birdsong bring their brand to life using street-cast models.