Location
TBC
TBC
Birmingham
WMids
United Kingdom
Become an Accredited Customer Experience Specialist (ACXS™) in Birmingham - Join the DISRUPT CX UK Tour.
About this event
THE FIRST CHOICE CERTIFICATION FOR CX DISRUPTERS.
The Accredited Customer Experience Specialist is:
A new customer experience training and certification program designed specifically for customer experience professionals who need powerfully simple and immediately impactful tools, techniques, frameworks and mindsets that when applied will radically improve the experience that their company delivers to their customers, gaining a lasting advantage in their industry.
following satisfactory completion of the training attendees will be certified as an 'Accredited Customer Experience Specialist' / ACXS™.
It is not:
An exam.
An attempt to convince you that the practice of Customer Experience is a worthy one.
An attempting to bombard you with meaningless statistics.
Just 'Journey Mapping' training.
Death by Powerpoint!
Through engaging in the practical application of ideas, you will be given tools and mindsets that compel change.
Why this program?
This exclusive program gives you a globally recognised certification accredited by The Academy of Customer Experience and BP Group.
It is also being delivered by international keynote speaker and host of Amazon Prime's 'This Week in CX', James Dodkins, more familiarly known in the industry as 'The Customer Experience Rockstar'. James is one of the world's top CX influencers and content creators.
The program has LIMITED SPACES AVAILABLE - this is to ensure you get maximum individual attention whilst benefiting from networking with your peer group.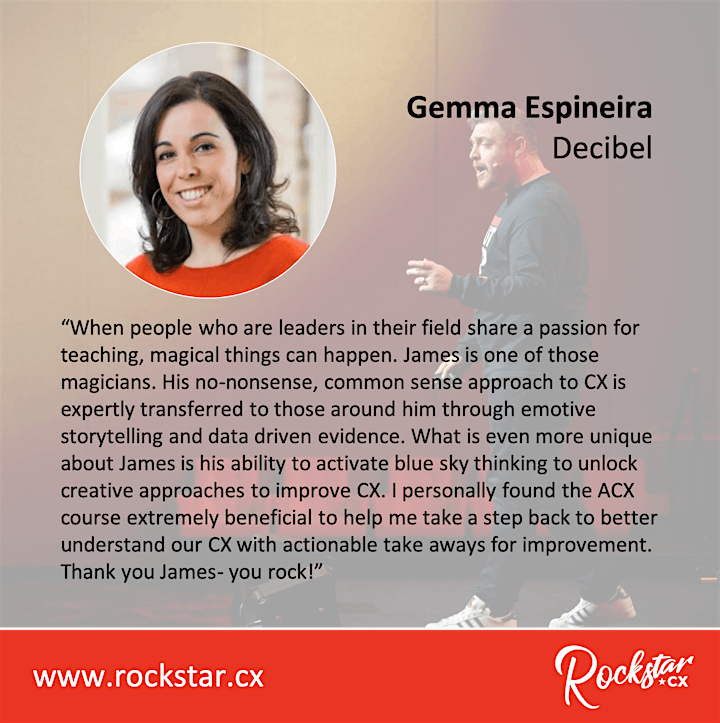 What can you expect over the 3 days?
The program has been carefully designed to ensure that each day delivers distinct learning, building from one day to the next.
Throughout the training we will immerse you into a case study, where you will become part of Amazon's new 'CX Innovation Team' and will learn tools and techniques that will help solve CX problems and capitalise on CX opportunities.
The format of the training is learn-apply-learn-apply, so you learn a concept AND understand and internalise a philosophy.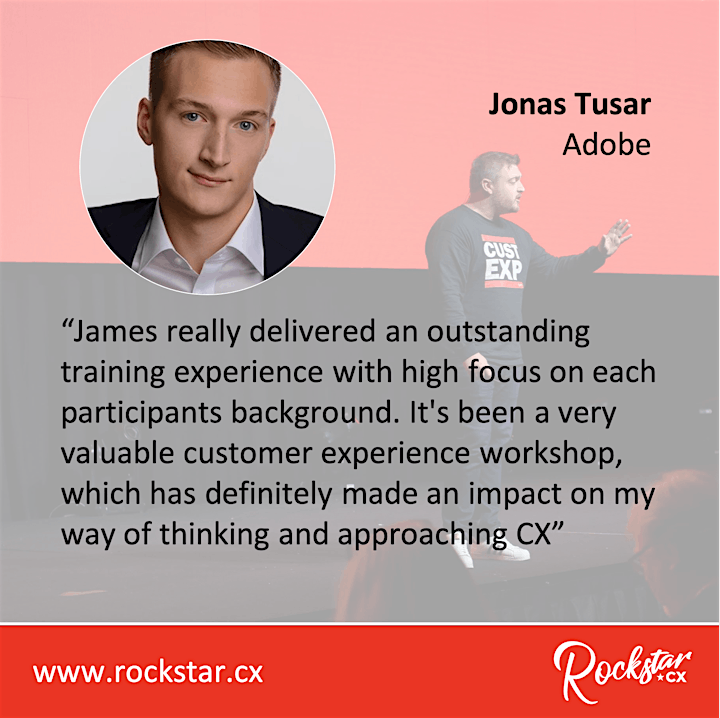 Agenda:
Day 1
Understand who your customers are and how you can connect with them at a deeper level. Look at your business from the 'outside-In' and understand your customers' true needs.
Questions that matter
Psychographic Customer Segmentation
Customer Centric Strategy Matrix
Experience Outcome Canvas
Customer Needs Articulation
Day 2
Take the experience and improve it to deliver customer needs and Successful Experience Outcomes. Learn how to make experiences unique and memorable.
Simple Journey Mapping
Experience Improvement
The 'CX6'
What to take away from an experience
What to add into an experience
Proactive Experience Recovery
Customer Centric Team Structures
Day 3
Learn how to link your improvements to the bottom line. Learn some quick and dirty experience 'hacks' that you can use right away to improve elements of your customer experiences and relationships, and then create a presentation to showcase your solution.
ROXI (Return On Experience Investment)
Experience 'Hacks'
Presentation preparation
Presentation
Evaluation
But wait, there's more!
We are also including some FREE bonus extras into your package. You can look forward to also receiving:
60 minutes free consultation worth £300 with James Dodkins
10% discount on a future project with James Dodkins
ONLY 12 SPACES AVAILABLE - BOOK NOW TO AVOID DISAPPOINTMENT!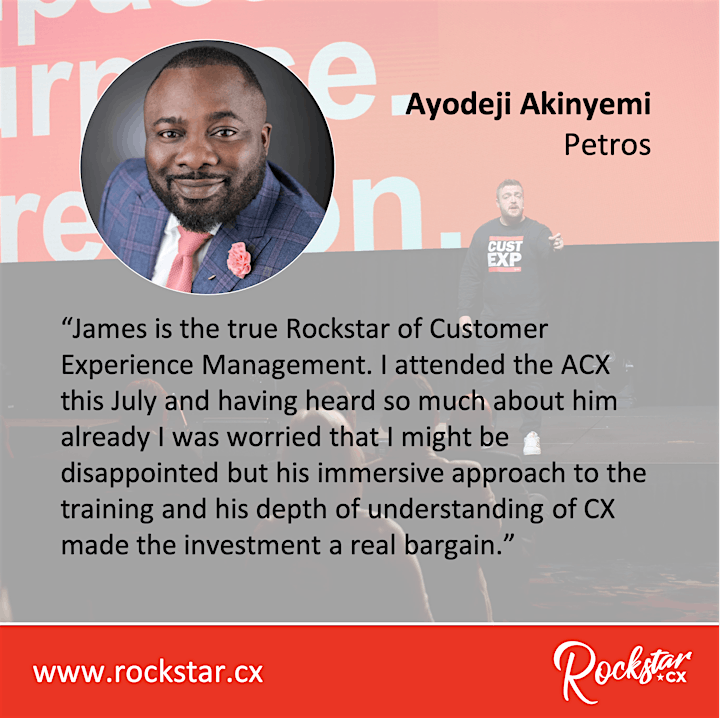 FAQs
How can I contact the organiser with any questions?
Email training@rockstar.cx with any questions.
What's the refund policy?
A 50% refund will be given for any cancellations 2 months before, then 25% 1 month before, and 0% thereafter.
Do I have to bring my printed ticket to the event?
No, but as this is an exclusive event with limited spaces, please bring proof of ID that matches the name registered.
Can I update my registration information?
Yes absolutely, contact training@rockstar.cx to provide any updated information.
Is my registration fee or ticket transferrable?
Yes the ticket can be transferred to somebody else, but is for these dates only.
Please contact training@rockstar.cx to let us know who the ticket is being transferred to.