Description
Hello All
Join me Ian J Preston on the last Wednesday of every month for Coffee & Natter FREE BUSINESS NETWORKING, where we provide the coffee and you bring the natter. September marks a very special month as we take Coffee & Natter to Broad Street!


We are also hugely excited to announce we have Lee Thompson joining us as our Guest Speaker for the afternoon. Lee is a Professional Theatrical Pickpocket with over 30 years experience in mastering the art of physicality and body language. Having performed over 1000 shows with Cirque du Soleil to a combined audience of nearly 4 million people, he is a truly world class physical comedy performer. Following an extensive career in theatre, Lee has made numerous television appearances including a segment on The One Show where he successfully swiped Presenter Matt Baker's wallet, watch and even his tie without him noticing (don't worry, he gave them back). As well as being a multi-skilled performer he has been called upon internationally to consult on personal safety strategies with Police Agencies, Banks, Security Experts, and Film Producers. Lee now uses his unique style of entertainment to enlighten corporate audiences about the effects of non-verbal communication in the business world. Learn how effective communication through breathing, posture, eye contact, hand gestures & tone of voice can be a great asset to every aspect of your business. Forget boring, dreary talks, this truly is a most interactive and fun filled way to discover how well 'YOU' communicate!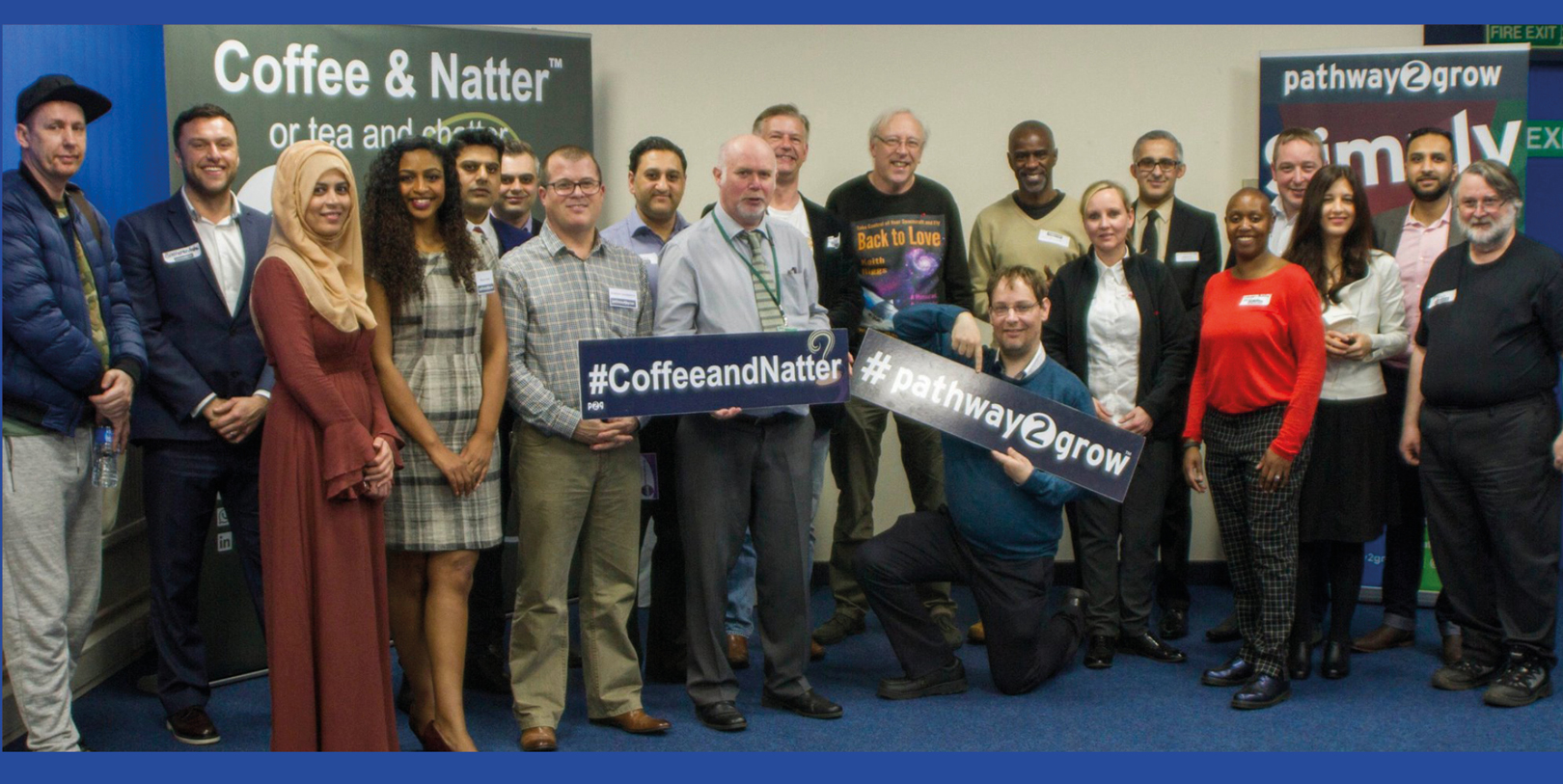 The Agenda for Wednesday 27th September 2017 will be:

13:00 – 13:30 Registration & Networking
13:30 – 14:00 Welcome & Delegate Introductions
14:00 – 14:40 Keynote Speech – Lee Thompson
14:40 – 15:00 Business Clinic - Share, Discuss & Resolve Business Problems
15:00 – 16:00 Open Networking, Photos and Video Testimonials
The Pathway2Grow "Coffee and Natter" business networking event is relaxed networking centred around a guest speaker which will involve a presentation on a topic of interest to anyone seeking self-development & personal and business growth. Attendees are given the option of introducing themselves with a one minute intro to the rest of the floor, however, there is absolutely no pressure to do so!


Our Event is a no pressure, relaxed environment if you wish to network then fine - if not then come and listen to the speakers. We believe we are an event for non-traditional networkers as well as experienced networkers.

We believe in building an online and an offline community and there are plenty of ongoing opportunities to converse and share with a WhatsApp group (send a message to 077633 24145), Facebook Group and also on LinkedIn:

https://www.facebook.com/pathway2grow/
https://www.facebook.com/groups/pathway2grow/
https://www.linkedin.com/groups/8243224

So come and join us to #NetworkLearnGrow!

Regards

Your hosts

Ian Preston - Coffee & Natter Regional Director (Birmingham) - @ianjpreston57

Kasim Choudhry -National Director for Pathway2Grow
and
Safaraz (Saf) - Founder of Pathway2Grow

P.S. Follow Us on @Pathway2Grow @Choudhry_Kasim and @SafarazAli