Description
Join us on the last Friday of each month for Coffee & Natter free business networking in Birmingham, where we provide the coffee and you provide the natter!

The Pathway2Grow "Coffee & Natter" business networking event is relaxed networking centred around a guest speaker which will involve a presentation on a topic of interest to anyone seeking self-development & personal and business growth. Attendees are given the option of introducing themselves with a one minute intro to the rest of the floor, however, there is absolutely no pressure to do so!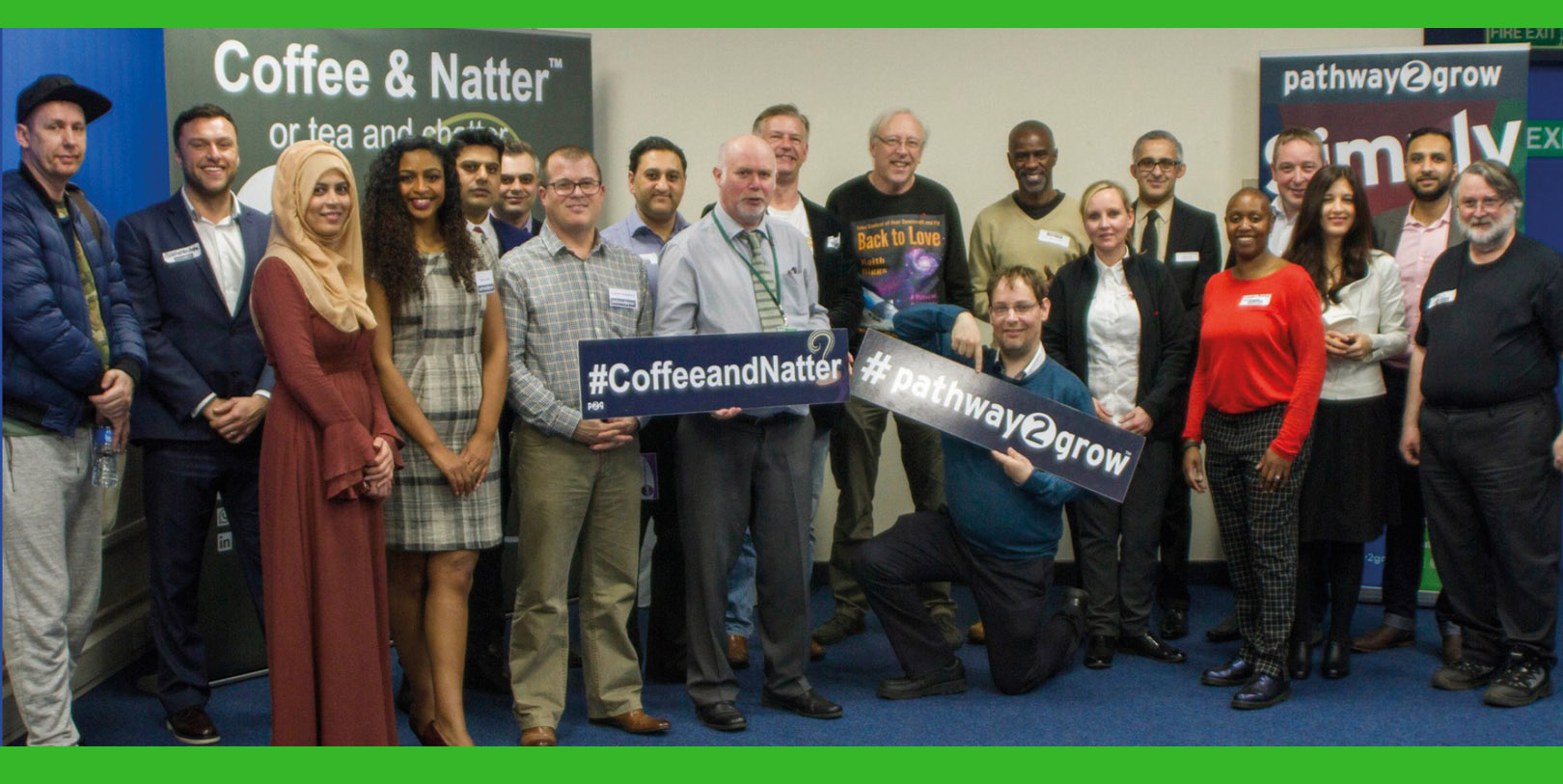 The Agenda for Friday 26th July 2019 will be:

13:00 – 13:30 Registration & Networking
13:30 – 14:00 Welcome & Delegate Introductions
14:00 – 14:40 Keynote Speaker - Ralph Watson "Five Lessons from the Wolfpack - Helping your business hunt success"
14:40 – 15:00 Business Clinic - Share, Discuss & Resolve Business Problems
15:00 – 16:00 Open Networking, Photos and Video Testimonials

Keynote Speaker - Ralph Watson "Five Lessons from the Wolfpack - Helping your business hunt success"
Ralph Watson, international speaker, NLP Master Trainer, coach and author with a tremendous reputation for helping his clients achieve outstanding results. His philosophy and style, based on his fascination and study of the wolf pack in the wild and its connection to high performing teams and individuals, have earned Ralph the title of "The White Wolf." Ralph applies that philosophy as he helps individuals and organisations to achieve true peak performance. He does this by helping them to banish fears and phobias, improve their thinking and decision making strategies, supercharge their confidence, build better connections, develop new hi-impact skills and "Unleash their inner wolf!" To date, he has worked with thousands of people from over 30 countries and across many cultures. During this presentation Ralph will be delving into the mysteries of wolf pack behaviour to help professionals understand how these behaviours relate to the world of business and personal development.
About Coffee & Natter

Our Event is a no pressure, relaxed environment if you wish to network then fine - if not then come and listen to the speakers. We believe we are an event for non-traditional networkers as well as experienced networkers.

We believe in building an online and an offline community and there are plenty of ongoing opportunities to converse and share with a WhatsApp group (send a message to 07583 044 624), Facebook Group and also on LinkedIn:

https://www.facebook.com/pathway2grow/
https://www.facebook.com/groups/pathway2grow/
https://www.linkedin.com/groups/8243224

So come and join us to #Network, #Learn & #Grow!

Regards

Your hosts

Matthew Jenkins - Natwest Growth Enabler - @MattCJenkins21
Kasim Choudhry - Pathway2Grow National Director - @Choudhry_Kasim
and
Safaraz (Saf) - Founder of Pathway2Grow @SafarazAli


P.S. Follow us on @Pathway2Grow
Hosted at Natwest, 2 St Phillips Place, Birmingham, B3 2RB

Located just a few minutes walk from New Street and Snow Hill stations
For more information please contact: Kasim.Choudhry@pathwaygroup.co.uk