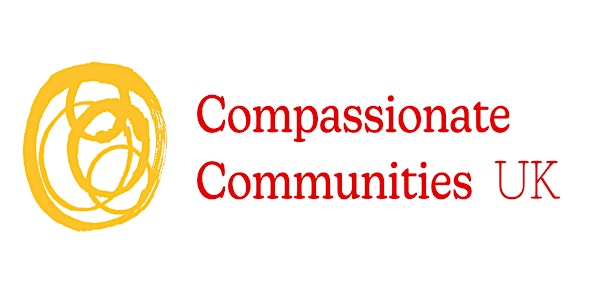 Birmingham Compassionate City Charter - Employers Conference (FREE ENTRY)
Birmingham Compassionate City Charter - Employers Conference Thursday, 17th February 2022 10.00 to 16.00GMT FREE on-line event
About this event
Birmingham Compassionate City Charter - Employers Conference is an opportunity to uniquely improve the health and wellbeing of your workforce.
How people die remains in the memory of those who live on - Dame Cicely Saunders.
Compassionate Communities UK is hosting on on-line event for employers to partake in lectures and discussions around ensuring compassion is included in developing internal work policies, developing their leadership ethos, and engagement within communities.
This does not just relate to someone's last moments, but from the point of potential terminal diagnosis and beyond, into grief for those left behind.
A Compassionate Community is where love, friendship and laughter flourish, particularly in life's most testing times and where our services respond to what matters most to our citizens of our rich and diverse communities. Dr Julian Abel
Employers have a unique position in someone's life, whether that is an employee living with a serious and possibly life threatening illness or a member of their family, a friend or colleague. Companies are, or can be, compassionate communities both internally and within their locality.
Employers are able to make significant differences to the memories of those who live on, not just by having modern compassionate leave policies, but also culturally ensuring that colleagues of those who are ill or grieving are confident in their role as part of someone's natural support network.
Join us in being part of a multi-sector, growing group of people committed to Birmingham becoming a Compassionate City and consider the opportunities and benefits to employers in addition to the wellbeing of your workforce.
This conference is aimed at Birmingham's work to becoming recognised as a CC-UK Compassionate City, but is also open to a wider audience who may want to consider how their businesses can best improve the relationships within their workforce and communities.
LIST OF SEMINARS AND SPEAKER BIOS
Seminar 1: What is a Compassionate Community delivered by Dr Julian Abel
Dr Abel became a consultant in palliative care 2001, working initially at a district general hospital and a hospice. Over the last 10 years he has become increasingly involved in finding ways of building compassionate communities around people at end of life. He has run projects at local, regional and national levels. He is an international keynote speaker and publishes regularly on models on public health palliative care. Dr Abel and Professor Allan Kellehear are the editors for the forthcoming publication of the Oxford Textbook of Public Health Palliative Care.
For the last 5 years he has worked with Frome Medical Practice in Somerset in developing a new model of primary care combined with compassionate communities. The health outcomes of this model have been dramatic, with this being the first intervention that has been effective in reducing population emergency admissions. Compassionate communities is one of the most effective therapeutic tools we have in improving length of life and well being. Along with Professor Kellehear and Catherine Millington-Sanders, he has formed Compassionate Communities UK, which he is Director. The charity has been formed to develop the broader roll out of compassionate communities in both primary care and end of life care. Projects are underway in multiple areas in the UK, and several international projects are under development.
Seminar 2: Compassionate Leadership delivered by Professor Michael West, CBE
Michael West CBE is a Senior Visiting Fellow at The King's Fund, London, Professor of Organisational Psychology at Lancaster University, Visiting Professor at University College, Dublin, and Emeritus Professor at Aston University, where he was formerly Executive Dean of Aston Business School.
He graduated from the University of Wales in 1973 and was awarded a PhD in 1977 for research on the psychology of meditation. He has authored, edited and co-edited 20 books and has published more than 200 articles in scientific and practitioner publications on teamwork, innovation, leadership, and culture, particularly in healthcare. He is a Fellow of many professional associations including the British Psychological Society, the American Psychological Association, the Academy of Social Sciences, and the International Association of Applied Psychologists.
He led the NHS England Policy Research Programme into cultures of quality and safety. He also led the design and implementation of the NHS National Staff Survey. He assisted in developing the national framework in England Developing People, Improving Care - 2016 and the Collective Leadership Strategy for Health and Social Care (2017) in Northern Ireland. He is supporting Health Education and Improvement Wales's ten year strategy for ensuring compassionate leadership across all of health and social care. Michael co-chaired, with Dame Denise Coia, the two-year inquiry on behalf of the UK General Medical Council into the mental health and well-being of doctors Caring for Doctors, Caring for Patients (2019). He also led the review for The King's Fund, commissioned by the Royal College of Nursing Foundation, into the mental health and well-being of nurses and midwives across the UK, The Courage of Compassion: Supporting Nurses and Midwives to Deliver High Quality Care (2020).
Michael was appointed a CBE in the Queen's Birthday Honours List 2020 for services to compassion and innovation in healthcare.
The presentation premise: The pandemic triggered global tragedy, fear, and pervasive uncertainty but it also has offered an opportunity for profound learning. In this presentation I will suggest that the key areas of learning from these difficult times for health and care systems are compassionate leadership, 'real' team working, space for reflection and self-compassion. The session will address the question of how we can develop cultures of high quality, continually improving and compassionate care in the challenging circumstances we face across health, care and other public services and, at the same time, ensure the well-being and growth of those who provide that care? Drawing on the evidence from the experience of the pandemic and from two reviews into doctors' and nurses' mental health and wellbeing across the UK, the session will provide practical guidance necessary to help ensure that compassion, high quality and innovation are at the heart of integrated care systems.
Seminar 3: Stories from Employees delivered by Ian Leech
Ian Leech is the Community Development Manager – St Giles Hospice
Ian lives in Burton on Trent in Staffordshire and helped to care for his daughter Melissa after she was diagnosed with non-Hodgkin's lymphoma in August 2007. Following her death in May 2008, Ian has used his experience to help others, championing the voice of the expert by experience
Ian's role as Community Development Manager is to enable communities to better understand end of life care and bereavement support. His work involves working with volunteers and other staff to deliver projects in communities across St Giles' catchment area. Part of his role is centred on changing attitudes in communities toward death, dying and bereavement. Ian delivers Understanding Bereavement training to businesses/organisations/community groups and schools across the St Giles catchment area. He has also developed a series of Bereavement Help Points, a drop-in community service for anyone who is bereaved. In 2012, Ian was an Olympic Torchbearer.
Ian will share positive and negative stories from people living with a serious illness or who are grieving to demonstrate the impact either can have on the person and their colleagues.
Seminar 4: Compassionate HR Practice delivered by Dr Emma Hodges
Dr Emma Hodges is Chief Executive for St Giles Hospice, Business Development Director for Compassionate Communities UK and an honorary lecturer at Keele University, School of Law. With a professional background in Human Resources and following a stint in the private sector, nearly twenty years of experience in healthcare, Emma has been involved in many areas of service and workforce redesign including introducing community engagement and development at St Giles Hospice.
She developed a keen interest in issues contributing to deprivation and inequality after working with North Staffordshire Regeneration Zone several years ago. This interest has expanded to all areas of structural inequality and policy change. Emma's doctoral thesis completed in 2019 was "A mixed methods study exploring organisational factors influencing the development of services for people with dementia in English Hospices". She has a particular interest in social movement and organisational institutionalism theories and how these can contribute to changing the relationships between people and institutions. She believes that compassion in the workplace is an essential part of a compassionate community and from a HR and CEO perspective can see there are opportunities for change.
Traditional sickness and bereavement policies, are often outdated, inflexible and do not always support the individual or the employer in the long run. In addition, do our managers have the confidence and skills to support employees living with a serious illness or who are grieving? Dr Hodges aims to provide some insight into some of the challenges and approaches that need to be considered.
Seminar 5: Workshops and Next Steps
An opportunity for discussion, reflection and commitment!
TICKETS ARE FREE UPON REGISTRATION
For more information on how to become a Compassionate Community UK member, please visit our Membership website: CC-UK MEMBERSHIP REGISTRATION: https://8bit-chimp.com/join-compassionate-communities-uk/