About this Event
We'll be diving deep and creating you a solid, customised corporate bookings strategy by opening up your mind to all the various ways you can attract more corporate business and give you all the tools you need to put deals together using a proven formula "The Corporate Model".
Led by serviced accommodation entrepreneur Qassim Ali as your tutor for the day, this highly interactive training seminar is perfect for beginners and existing SA business owners who are looking to take their business to the next level. It will open up a whole new way of running a serviced accommodation business. We know what it's like to rely on OTA's like AirBnB and Booking.com to fill your SA units. It can lead to anxiety of when/if you will get any bookings in the coming month and can be very stressful at times, especially in the winter season. Let's be honest, the SA business isn't as easy as most think it is. There's a lot more to it and you need to treat it as a business.
What if we told you there is a better way of doing it, a more strategic way where you don't need to rely on OTA's or live in hope of bookings coming through on a month to month basis. What if there was a way you could land more long-term bookings that would completely transform your business and free you from the shackles of running an SA business and take away the headache? Let me introduce you to 'The Corporate Model'.
What is "The Corporate Moodel"?
After running an SA business for more than 4 years, Qassim realised there was more to this than simply taking on units and advertising on OTA's. Living in Teesside, he realised holiday lets weren't really working, let's face it, who actually visits Teesside for a holiday, NOBODY! He understood his market and seen the potential for long-term contractor bookings. He went on a journey to discover how to attract more direct corporate business and his first corporate booking completely changed the game.
He had an enquiry from an overseas company who needed 6 staff accommodating for 6 months. This was amazing and made life a lot easier with weekly cleans and no more check-ins/outs every other day. The client then decided to bring on more staff BUT the main issue was that most of his units had no availability. They had smaller bookings that were blocking the calendar!!
Qassim then figured a way around this issue and decided to take on more units for the client and got paid upfront, so was able to scale up his portfolio using none of his own money. The Corporate Model was born.
This booking then went on and increased to a total of around 30 staff and they extended for a further 6 months. This changed his business and from this point he went all in on the corporate model and scaled up his SA business by building relationships with corporate clients and sourcing units to order as the requests came in using the Rent-2-Rent model working with agents in the area.
The Corporate Bookings Crash Course
Not only will you gain the skills to attract more corporate bookings in your SA business. Together you will also be diving into how we put these deals together with Qassim's complete corporate model. strategy.
As well as learning some essential sales and marketing skills, you'll also leave with a strategy that is designed to increase long-term bookings, win more corporate clients and accelerate growth in your SA business.
These one-day seminars don't happen very often and there are a maximum of 12 attendees, so Qassim can give you the full attention and support you need to hit the ground running.
What You'll Get...
A brief overview of what Serviced Accommodation is for the beginners
Types of Serviced Accommodation
SA Markets overview
What is The Corporate Model and a detailed explanation on how it works
Why use The Corporate Model
Traditional Model vs The Corporate Model
The 4 Tier Corporate Model Formula
R2SA on Demand
How to work with letting agents so you have an unlimited supply of R2SA deals on the table whenever and wherever you need them
Three things all agents really care about
How to get the agent on board
The agent script and what not to say
The Corporate Model Deal Cycle
In depth 25 Step-by-step process of how to put these deals together using none of your own money
My 20 Top tips & Strategies on how to get Corporate Bookings
Where to find Corporate Bookings
Corporate Bookings Sales Process
How to find Corporate/Contractor demand in Your Goldmine Area
LIVE Construction Lead Data
My Top Secret Software for Nationwide Construction Project Leads
5 Stages of Construction Projects You Need to Understand
Who you need to speak to in the company
What to say and how to say it to get past the "gatekeeper"
Sales Cycle - The stages of the sales process in detail
How to setup a commission only sales team to do all the hard work for you
How to scale it up and get a continuous supply of corporate booking enquiruies.
You will also receive lifetime access to Qassim's Corporate Model Resources Pack which includes which is full of everything you need to get started, including all templates, scripts, and his unique deal analyser and profit calculator to help you secure more deals efficiently.
Oh!!! tea/coffee biscuits and lunch is included it is all about hospitality?
See you soon........QA
Meet Qassim Ali our founder and trainer for this event.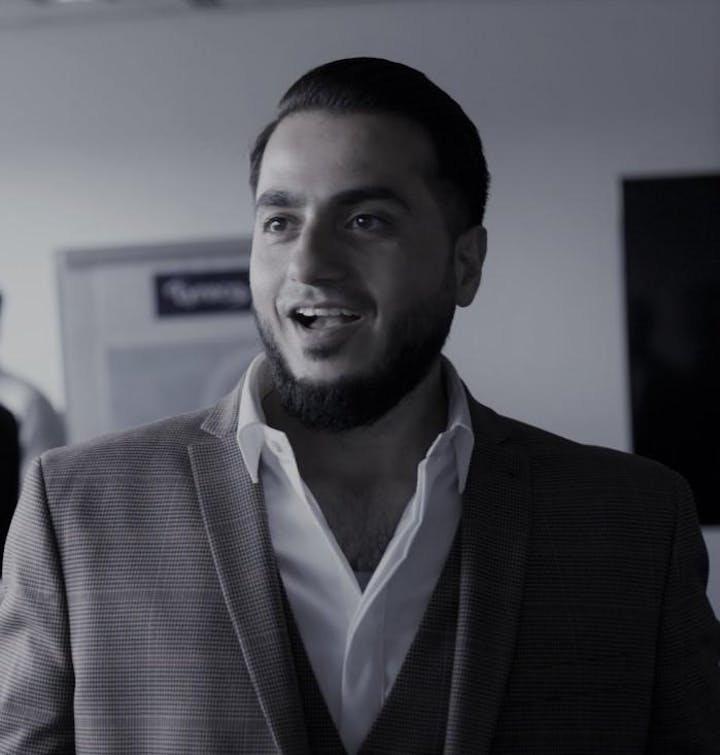 A dynamic young man with a passion for property and helping others achieve. Got a taste of entrepreneurship from the age of 14 which stemmed into him starting his business journey. At 18 he quickly realised his passion for property and built a diverse portfolio of Serviced accommodation and managed rental properties before embarking on a journey to work with people on whole apartment blocks rather than individual units.
The founder of Company Stays and The Serviced Accommodation Network with a clear vision to help people achieve together.
Check out our Testimonials from previous attendees to The Corporate Bookings Crash Course below...