Location
Bramall Music Building
Edgbaston
Birmingham
United Kingdom
Description
TICKETS TO PARTICIPATE IN THE CLASSES AND WORKSHOPS ARE NOW SOLD OUT!
Tickets to observe all the actvities throughout the day including the afternoon concerts, and tickets for the evening concert are still available here. We look forward to seeing you!

Birmingham Harp Day
Saturday 21st January 2017

Supported by

An exhilarating and inspiring day packed full of harp performances and workshops for all ages and abilities
Electrifying performances by Sylvain Blassel, Karen Marshalsay, Tara Minton, Eleanor Turner, Lucy Wakeford and Hugh Webb. Youth and adult ensembles, workshops in electric harp techniques, jazz and how to give your harp a 'Scottish accent', a café full of live music and a wonderful array of exhibitors: Affairs of the Harp, Arty Margit, Camac, Creighton's Collection, Holywell Music, Pilgrim, Poppy Harp and The Harp Studio.
There is something for everyone, from the beginner to seasoned professionals, opportunities for all levels and all types of harp - a warm welcome awaits! You can also sign up in advance to get your pedal harp serviced by Billy Hornby, The Harp Doctor (first come first served) or your lever harp serviced by Pilgrim Harps.

Please visit our website here www.bcu.ac.uk/conservatoire/harp-day to find out more about this amazing day, including opportunities for participation in classes and ensembles.

Contact Natasha Gale for general enquiries and if you would like to book a consultation lesson (places are very limited) with Vera Khait at birminghamharpdepartment@gmail.com or Eleanor Turner at Eleanor.Turner@bcu.ac.uk with any enquiries about performing in Sylvain Blassel Masterclass or our Café Concerts.

We look forward to welcoming you to Birmingham in the new Year!
Eleanor Turner, Head of Harp, BIrmingham Conservatoire

Draft Schedule - Subject to change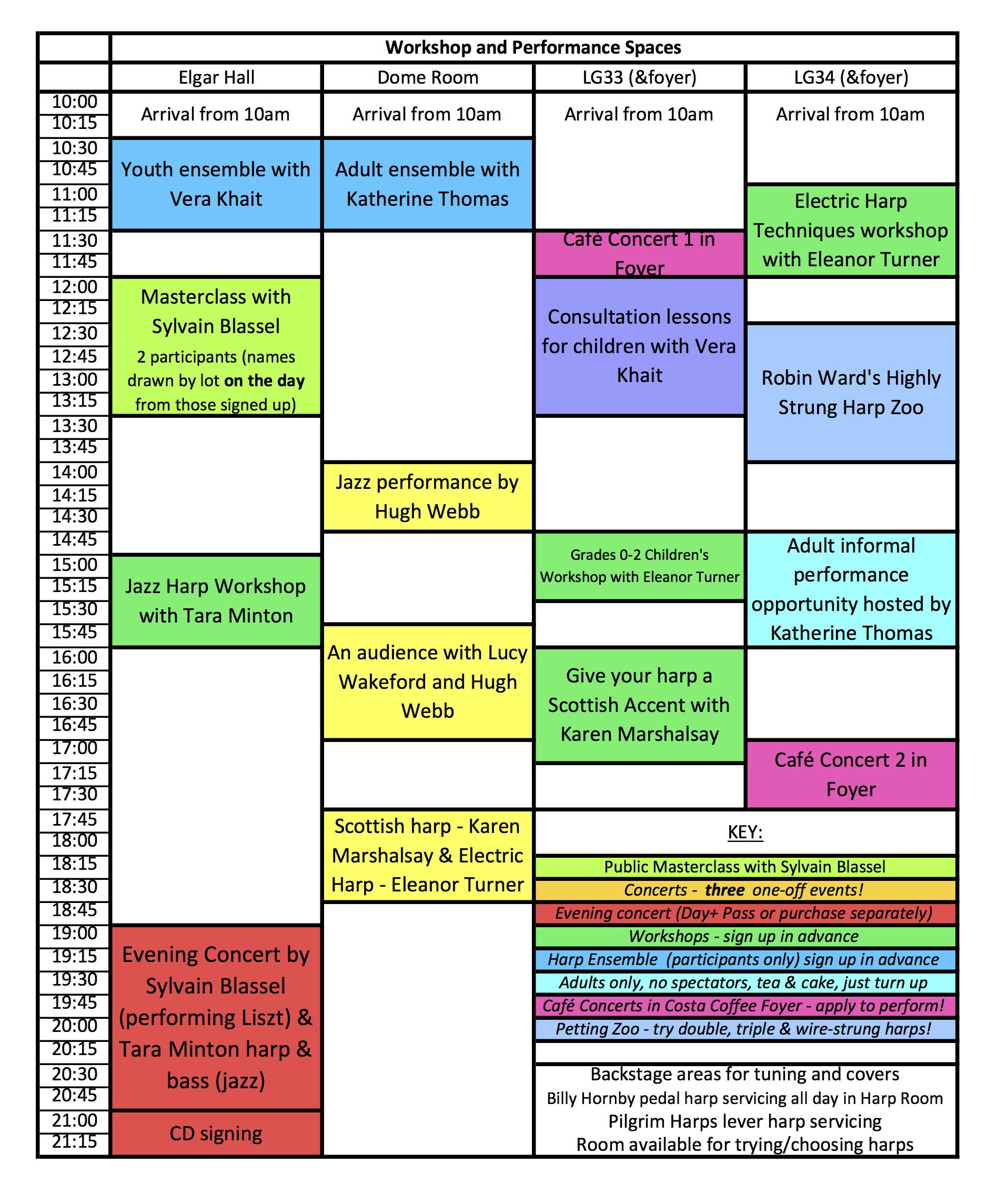 Other notes:
Birmingham University's modern Bramall Music Building plays host to Birmingham Conservatoire's Harp Day, with the Evening Concert in the stunning Elgar Hall promising an exhilarating finale. Costa Café is situated in the Foyer and in the evening it turns into a Licensed Bar. Shopping is brought to you by Affairs of the Harp, Arty Margit, Vining Harps (Camac), Creighton's Collection, Holywell Music (Salvi, Lyon & Healy), Pilgrim Harps, Poppy Harp and The Harp Studio.