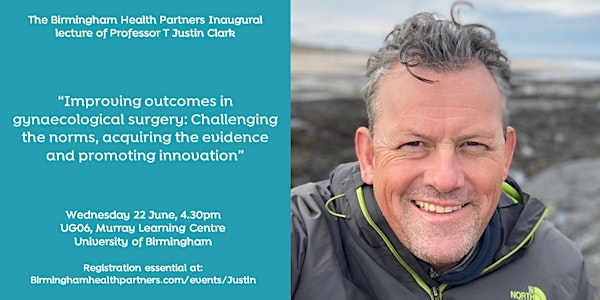 Birmingham Health Partners: Inaugural Lecture of Professor T Justin Clark
Location
Murray Learning Centre
Building R28
University of
Birmingham
B15 2TT
United Kingdom
"Improving outcomes in gynaecological surgery: Challenging the norms, acquiring the evidence and promoting innovation"
About this event
The Birmingham Health Partners Inaugural lecture of Professor T Justin Clark
Improving outcomes in gynaecological surgery: Challenging the norms, acquiring the evidence and promoting innovation
"When I started in Obstetrics and Gynaecology, or rather 'O&G', as a junior doctor, I rapidly became confused regarding the management of women because the advice I received varied so widely. My saviour was the "Cochrane Handbook of O&G", a short tome I picked up from the UoB bookshop, now Costa coffee!!! (I am sure there is some irony in that). For the first time authors hidden within the pages were telling me what we know and what we should be doing as a result. It was a clinical epiphany. I began to realise that for the most part, my colleagues and teachers appeared to be doing their own thing according to their own experience, preferred theory or prejudice. How could this inconsistency be good for the women we care for?
"As I grew older I realised many things, most importantly that Rotherham United were never going to win the Premier League and that Gynae surgery was where all the 'cool' people were. But to my horror, the evidence base in gynaecological surgery was even worse than in obstetrics. The field was full of talented surgeons who loved the new technologies, especially the advent of endoscopic 'key-hole' surgery. However, the benefits and harms of such innovations were given scant regard. This was not because these pioneers did not care about their patients but more because they did not have the expertise to evaluate what they were doing or the infrastructure to undertake meaningful research.
"I have been blessed to have met many brilliant people who have inspired and educated me and allowed me to pursue evidence-based approaches to gynae surgery. When I started, very few big research grants were given out to benign gynaecological practice. Priority was given in O&G to premature babies and female cancers. One can see the logic in this, but, as has been shown by the disproportionate prolongation of surgical waiting lists for benign gynaecology post-Covid, there continues to be huge adverse impacts upon women's lives from highly prevalent conditions causing pain and bleeding. With amazing colleagues I have been able to acquire significant research funding to prioritise the care of women with day to day conditions. The outputs of this work has helped us treat women safely, compassionately and effectively.
"I will describe my journey, the changes I and others have helped make and where exciting future opportunities lie."
Registration is available either as an in-person or virtual attendee. The Zoom link will be sent to registered virtual attendees the day before the lecture.