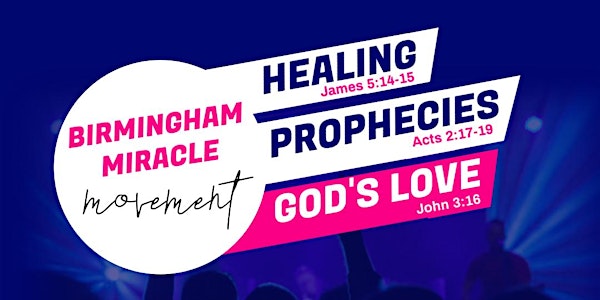 BIRMINGHAM MIRACLE MOVEMENT
Location
Mac Birmingham, Midlands Arts Centre (PINSENT ROOM)
Queen's Ride
Cannon Hill Park
Birmingham
B12 9QH
United Kingdom
COME AND SEE! GOD STILL HEALS BY HIS POWER, STILL BREAKS THE OPPRESSION OF SPIRITUAL ATTACK, SPEAKS THROUGH PROPHECIES & SAVES BY THE GOSPEL
About this event
If you ever wondered,
if God still speaks or if God still heals or if God still loves and sets free or if God exists? Meet us on 14th August 22, to witness the undeniable proofs of the love and power of Christ in our era. The living Word will satisfy your soul. Invite family, colleagues, friends and neibours. It will be an experience of a life time.
1 Corinthians 2:4 "And my speech and my preaching was not with enticing words of man's wisdom, but in demonstration of the Spirit and of power."
- IF YOU ARE IN BIRMINGHAM OR IN THE WEST MIDLANDS,
- IF YOU NEED A CHURCH OF LOVE AND PRAYER TO PRAY FOR YOU,
- IF YOU NEED DIRECT PROPHECIES FROM GOD FOR AREAS OF YOUR LIFE,
- IF YOU WANT A TOUCH OF GOD THAT SAVES , HEALS , SETS FREE FROM OPPRESSION OF EVIL SPIRITS,
- IF YOU ARE HUNGRY FOR THE REVIVAL FIRE OF THE HOLY SPIRIT FOR EXPLOITS IN CHRIST,
- IF YOU WANT TO BE FED WITH THE LIVING WORD OF GOD THAT WOULD STRENGHTEN AND GROW YOUR SPIRIT IN CHRIST,
THEN SAVE THE DATE FOR THE BIRMINGHAM MIRACLE MOVEMENT ! COME AND ENCOUNTER THE LIVING GOD BY THE POWER OF THE HOLY SPIRIT IN CHRIST.
NO ENTRY FEE.
JESUS CHRIST STILL CARES.