Description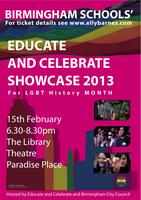 BIRMINGHAM SCHOOLS LGBT HISTORY MONTH SHOWCASE 15th February 2013
Birmingham's very first 'Educate and Celebrate' showcase in celebration of LGBT History Month will take place in The Library Theatre on Friday February 15th 6.30-8.30pm.
In September 2012 Elly Barnes Pink List No: 1 was appointed as Birmingham's LGBT schools advisor with a view to educating young people through the curriculum about the achievements of LGBT people in history and eradicate homophobic language and bullying from our schools.
The concert will showcase student's work from 20 participating schools, including music and drama performances, presentations, speeches, stalls and key speakers. LGBT service providers in the city will be supporting including LGBT Birmingham, Youth Services, the LGBT network at Birmingham City Council and Rainbow voices. Key speakers will include Birmingham Council cabinet members and local celebrities.
The showcase welcomes everyone to attend to see our Birmingham schools in action! Tickets can be reserved on 'Eventbrite' (link)
Adults £5, children and concessions £3. All proceeds go to funding further projects in our schools to eradicate homophobia.
Participating schools include Cockshut Hill Technology College, Turves Green Girls School, Lindsworth School, Perry Beeches Academy, Ninestiles Academy, Parkfield community school, Grestone Primary School and Saltley School.
"Educating through the curriculum is key to creating an enlightened environment in which our teachers and students can thrive and be who they want to be without fear of discrimination" Elly Barnes
Details of the 'Educate and Celebrate' program and up to date information about the event can be found www.ellybarnes.com
Organizer of BIRMINGHAM SCHOOLS LGBT HISTORY MONTH SHOWCASE
Elly Barnes was voted No: 1 in The Independent on Sundays Pink List 2011 for her commitment to LGBT in education and awarded a 'highly commended' by the TES 'Teacher of the Year' 2012.
Elly has developed her 'Educate and Celebrate' training course over the last 4 years drawing on her experiences of implementing the most effective strategies in the classroom and using feedback from delegates to inform best practise.
Elly is the Director and Founder of 'Educate and Celebrate' and the LGBT Schools Advisor for Birmingham City Council. She is a key partner to LGBT History month Schools OUT, an active union member and a regular public speaker and writer on LGBT issues.
"Educating through the curriculum is key to creating an enlightened environment in which our teachers and students can thrive and be who they want to be without fear of discrimination" Elly Barnes
www.ellybarnes.com