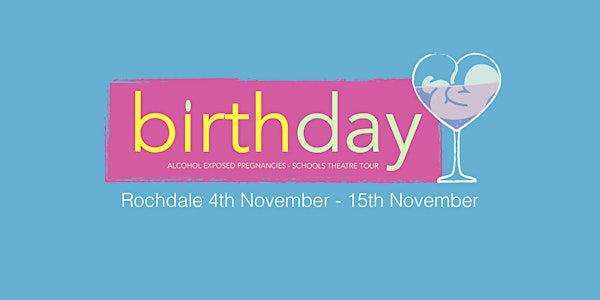 Birthday - Rochdale Schools
Location
Your School
For Your Students!
Description
Birthday - An original piece of theatre promoting healthy relationships with people and alcohol.
About The Work:-
Oldham Theatre Workshop have been commissioned by the Greater Manchester Health & Social Care partnership to create a performance and interactive educational workshop raising awareness among young people of the impacts of drinking during pregnancy.
This piece has been developed to inspire young people to consider the risks of drinking alcohol during pregnancy and take actions together to prevent them. This work is part of Greater Manchester's innovative approach to reducing alcohol in pregnancy and ensuring no more children are born with Foetal Alcohol Spectrum Disorders (FASD).
This FREE performance is exclusively available to schools in the Oldham, Rochdale and Tameside areas.
About The Story:-
Our story has been developed to help young people understand the consequences of behaviour such as excessive drinking and enable them to imagine and explore what their actions could lead to in the future.
At the beginning of the story Amber is a typical, fun loving 15 year old excited about the future, her future. She is approaching her exams, her 16th birthday and a summer of freedom. When Amber and her schoolmates are set the task of writing a letter to their 35 year old selves and imagining what they hope their life might be, she begins to see her current actions through the eyes of her older self and what might become of her.
This is a story about falling in love and learning to love yourself no matter what others expect from you. It's about being true to yourself and thinking about the consequences of your behaviour and actions on your future and the future of others.
About The Workshop:-
Having watched the performance, audience members will be invited to take part in a discussion around some of the key themes and messages in the piece. During this our team will give clear and up to date information about Alcahol Exposed Pregnancies and related issues as well as signposting people and services who can support anyone wanting or needing further advice.
Following our visit we will provide schools with educational resources for further exploration of the key issues.