About this Event
Agenda:
8:00 am - 8:20 am | Breakfast and Networking
8:20 am - 8:25 am | Introduction
8:25 am - 8:50 am - Economic Overview | Presented by Ruchira Ray
2019 proved to be a solid year of economic performance. Will this continue into 2020 or will global headwinds finally catch up with the economy?
Despite robust domestic fundamentals, RBNZ have been quite dovish this year, with an eye to global economic headwinds.  Can we expect more deep cash rate cuts from the RBNZ into the new year or will they take a more cautionary stance?
What is the outlook for employment and wages growth? Is the jobs market likely to sustain the stellar performance of 2019?
8:50 am - 9:00 am | Questions and Answers
9:00 am - 10:20 am - Construction Discussion | Presented by Robert Mellor
How has the population evolved recently, and what are the implications for underlying demand of new dwellings?
Has the downturn in residential property markets bottomed out and will there be a quick or slow rebound? What role will policy play? What will this mean for residential construction activity. When will it rebound?
Non-residential building commencements have weakened slightly in recent months, but will this continue? Which states and sectors will perform best over the next two years?
Engineering work done has continued to trend down, have we already passed the peak in the public infrastructure boom?
What sectors will drive activity and where, and what will this mean for total construction activity overall?
10:20 am - 10:35 am | Questions and Answers
10:35 am- 12:30 pm | Networking Opportunity
Speakers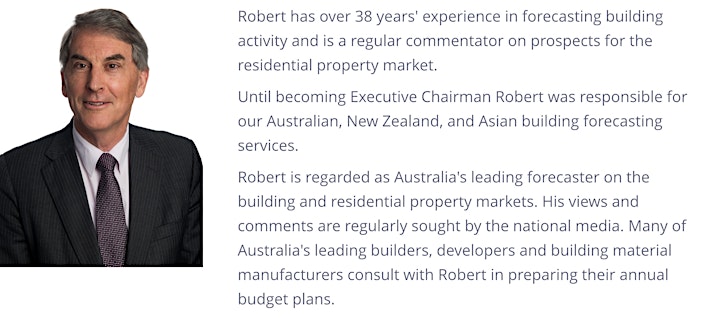 Conference cancellation & transfer policy
If you are unable to attend, a replacement would be welcomed at no extra charge.
**Please note that all cancellations must be in writing.