Description


Pride and Providence: Reflecting With St Augustine on Our Political Malaise
Bishop Dunn Memorial Lecture by Sr Margaret Atkins (

Augustinian Sisters, Boarbank Hall, Cumbria

)
This lecture is free of charge and is open to the public (but please book a place, by clicking on "Register" above).
Programme for the evening (all at Ushaw)
17.30 Drinks reception in the Refectory
18.00 Lecture in the Exhibition Hall
19.15 Close
About the lecture
This lecture is held in memory of Bishop Kevin Dunn, the 12th Bishop of Hexham and Newcastle, who was a great supporter of the development of Catholic theology and Catholic studies at Durham. He personally backed the campaign to raise the necessary £2 million endowment to establish the Bede Chair of Catholic Theology at Durham—the first such in the UK since the Reformation—and had a clear sense of the regional, national, and international significance of this development. A lecture is held every year in his memory.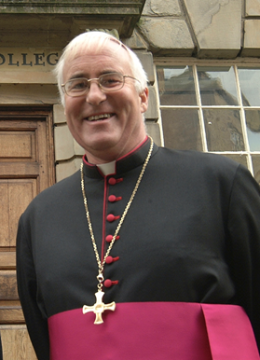 The Bishop Dunn Memorial Lecture 2019-20 is presented as part of the Ushaw Lecture Series, which celebrates the cultural and research significance of the remarkable bibliographical, archival and material-cultural collections at Ushaw, and the wider history of which they are expressions. The lectures cover music, art, drama, poetry and literature, architecture, material-culture, politics, science and theology. The Ushaw Lecture Series is organised by the Durham Residential Research Library, Durham University Centre for Catholic Studies, and Ushaw.
Getting there
There will be a minibus transporting people to the lecture from Durham City - for those who don't have their own transport. To book a place on the minibus, please register by clicking on 'Register' above as normal and selecting the 'with transport' option.
Outward journey: Depart from Durham Students' Union, New Elvet, at 5pm
Return journey: Depart from main entrance of Ushaw at 7.30pm, returning to Durham Students' Union with a stop at North Road
If you need help with transport from a different location, please contact us.
For directions, please see the Ushaw website.