About this Event
The Friends of Castle Park invite you to their second Well-being Triathlon at Sworder's Field Bishop's Stortford. Organised by the 'Champions of Well-being and Fitness' the event offers an alternative to the traditional triathlon. The Well-being Triathlon is aimed for all levels of fitness and is a fantastic way to get active and support mental well-being with a relaxing yoga and meditation session.
The event will commence at 11am with a warm up followed by a 2.5km or 5km walk, jog or run, one hour yoga session and 30 minute meditation. The event is for 16 year olds and over. Tickets are £12 and £2 from every ticket sold will be donated to Grove Cottage. To find out more about the Charity click here https://www.mencapgrovecottage.org/ .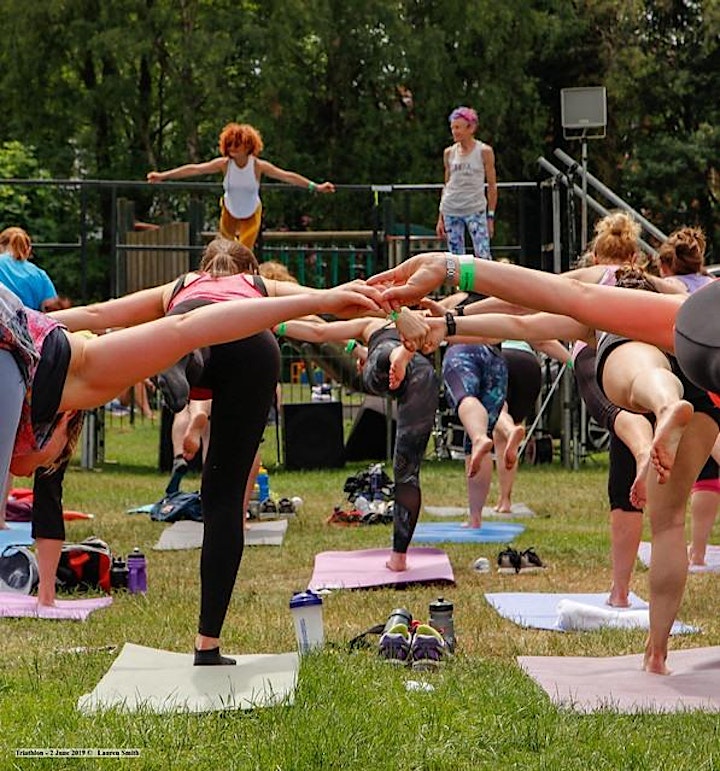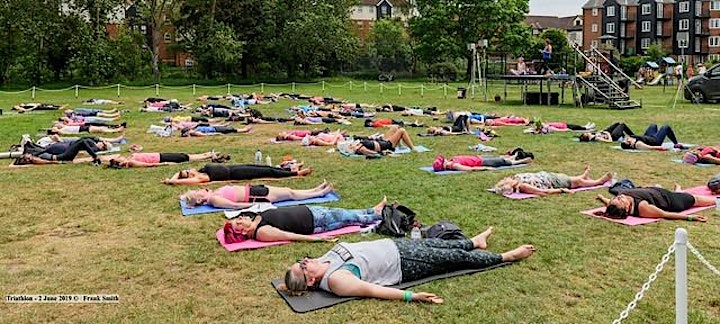 WELL-BEING TRIATHLON – ABOUT THE ORGANISER
The Friends of Castle Park are a group of local volunteers who dedicate their free time to enhancing their local park. One of the main aims is to increase the usage of the park for the greater community and support The National Lottery Heritage Fund in the Castle Park project, working in partnership with East Herts Council, Bishop's Stortford Town Council and the Countryside Management Service.
CHAMPIONS OF WELL-BEING AND FITNESS
Adriana Potts of Adri Dance
Adri is a fitness coach with a passion for Dance Fitness, Yoga, Pilates and Barre. In addition to teaching weekly classes in Bishop's Stortford (including a special class for Falls Prevention), Adri runs workshops, especial events and amazing UK and international retreat experiences. If you want to fall in love with life, feel happy and de-stressed, then come and join her.
https://www.facebook.com/AdriDanceFitness/
Kate MacFarlane of Coach Kate
Coach Kate Running offers social running groups for women in East Hertfordshire & Essex. There are three groups: Bishop's Stortford, Saffron Walden & Chelmsford. Our aim is to provide supportive, friendly groups, that are open to all, that encourage women to get out running, make new friends and have some fun. We also offer personal run coaching services for male & female runners.
https://groups.runtogether.co.uk/CoachKate
https://www.facebook.com/coachkaterunning/
* Please note- mats are not provided for the yoga or meditation. Please bring your own *
Terms and Conditions
Informed Consent and Liability Waiver Release for Participation in the Well-being Triathlon Event
By registering and attending the Well-being Triathlon , the Participant agrees to and accepts the following:
- You are voluntarily participating in the 2.5 or 5km walk, jog or run, yoga and meditation sessions conducted at Sworder's Fields and Grange Paddocks.
-You recognise that some of the sessions require physical exertion that may be strenuous at times and may cause physical injury and you are fully aware of the risks and hazards involved.
-You understand that it is your responsibility to consult with a physician prior to and regarding your participation in the above mentioned sessions. You represent and warrant that you have no medical condition that would prevent your participation in these sessions.
-You agree to assume full responsibility for any risks, injuries or damage known or unknown which you might incur as a result of participating in these sessions. Such injuries may include, but are not limited to, heart attacks, muscle strains, muscle pulls, muscle tears, injuries to feet, ankles, knees, arms, back, or any other illness or soreness, including death.
-You knowingly, voluntarily and expressly waive any claim you, your heirs or representatives may have against Castle Park or the instructors leading the sessions for injury or damages that you may sustain as a result of participating in the sessions.
-You have read the above waiver and release of liability and fully understand it contents. You voluntarily agree to the terms and conditions stated above.
- This is a release of liability. Do not register for this event if you do not understand or do not agree with the terms laid out here. By registering for this event and clicking the box, you hereby accept and agree to all terms and conditions stated above.