Bishopsland Educational Trust Silver & Fine Jewellery Exhibition & Sale
Bishopsland Educational Trust warmly invites you to an evening celebrating the best silversmiths & fine jewellers.
About this event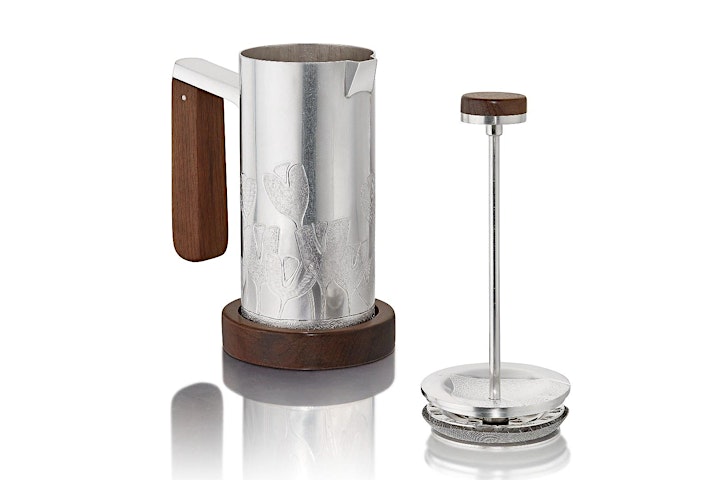 The event is free and includes:
17.00 - 20.00: Enjoy a glass of wine on arrival, watch demonstrations and explore the exhibitors' sale upstairs in the Reception Room
18.00 - 18:45: Guests have the opportunity to sit down for a short lecture by Kirstin Kennedy, V&A, followed by an interactive panel discussion, with the ability to explore the demonstrations and exhibitors' sale before and/or after the lecture.
(Please note: the demonstrations and exhibitors' sale will continue whilst the lecture & panel take place in the Livery Hall)
Kirstin will be joined in the panel discussion & audience Q&A by Leo De Vroomen, Ndidi Ekubia and Alice Fry.
If you have questions about this event, please do not hesitate to contact bishopsland@bishopsland.org.uk
Follow us:
With thanks for photography use to Bryony Knox, Bishopsland Fellow 1999 (Hummingbird Trio Rosebowl. Chased silver with articulated wings & grey glass. 26 x 20 x 20cm) and Sorrel Acacia, Bishopsland Fellow 20/21 (Tulip Cafetiere, sterling silver, imbuia wood, nylon, steel)
Registered Charity No 1093301. Registered Company No 4156143
Organiser of Bishopsland Educational Trust Silver & Fine Jewellery Exhibition & Sale