Description
Singer/Songwriter Bisola takes over the Notting Hill Arts Club to launch her 2nd EP. With a full band in tow to deliver live performances of new songs from the EP as well as putting a new spin on some of her familiar classics, this promises to be an exciting night for lovers of good music.
Bisola will be joined by an amazing line up of talented supporting acts including renown Jazz Saxophonist Samuel Fred, R&B Songstress Nyime and Improv Wordsmith Mr Ekow. The show ends with a dance after party featuring DJ Kelechi spinning a mix of the latest Afrobeats, Gospel music & R&B classics.
A night not to be missed.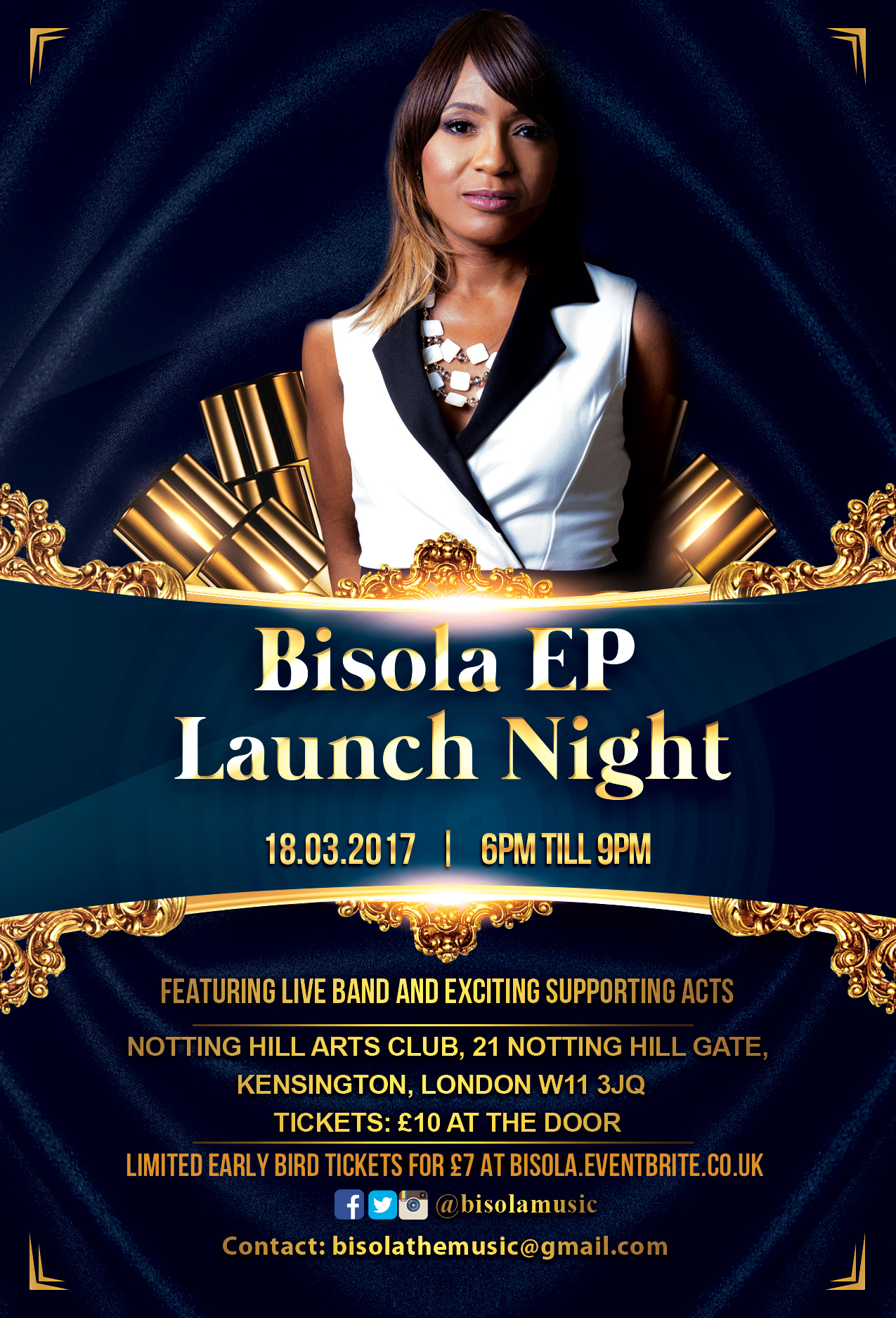 Bisola is an Inspirational singer songwriter known for her life affirming songs and soulful voice. In 2012 she officially released her first single 'Need a little love'.
A year later in April 2013, she released her debut EP 'Holding on to the light' – a collection of heartfelt, uplifting original songs with a refreshing Soul/R&B twist.
Tracks from the EP received radio airplay on Best of British Unsigned, Premier Radio and a host of internet radio stations. Bisola also got a special feature in the hugely popular online entertainment magazine Tomorrow's News.
Her last single 'The Impossible' peaked at No. 5 in the Indie charts (soul genre) in 2014.
Bisola is known for her energetic and compelling performances and has graced the stages of renowned London venues like Hackney Empire, The Bedford, The Ritzy and Smith's and has headlined at the well-known live performance venue – The Goodship.
Achieving runner up position for songwriting in the 2014 Song of the Year competition and recognition as a Semi-Finalist in the 2014 UK songwriting contest has inspired Bisola to continue writing and recording catchy yet thought provoking music.
Her new single 'Million Miles' was released on January 20th and achieved the no.1 spot on a US radio chart show.
Visit http://www.bisolamusic.com to find out more
Follow Bisola on Facebook, Twitter and Instagram on her social media handle: @bisolamusic