Exploring how Emotional Intelligence can help us communicate more effectively
About this event
This is an online event via Zoom. The Zoom link will be sent to delegates via Eventbrite email 24 hours, 2 hours and 20 minutes before the event. Please check spam and junk folders.
This event may be recorded.
EVENT DETAILS
This is the latest event in our Bitesize HR Masterclass series – 30 minutes of expert insight packed full of valuable, practical content specifically designed for HR professionals.
Our expert speaker is Marie Thake, Director and People Development Consultant at Truly Inspired. Marie's session will focus on:
Understanding why high levels of Emotional intelligence will enhance all your employee interactions
Understanding the two aspects of EI and how we can develop both to have inclusive and collaborative communications
Looking at how you can support the employees in your organisation by considering emotions to ensure people feel considered and heard
Understanding how to increase cooperation from your conversations and manage difficult interactions.
Looking at the importance of increasing our empathy to build strong organisational relationships
Future Bitesize HR Masterclass events will start again in September and will be available for booking on the CIPD Thames Valley Eventbrite page.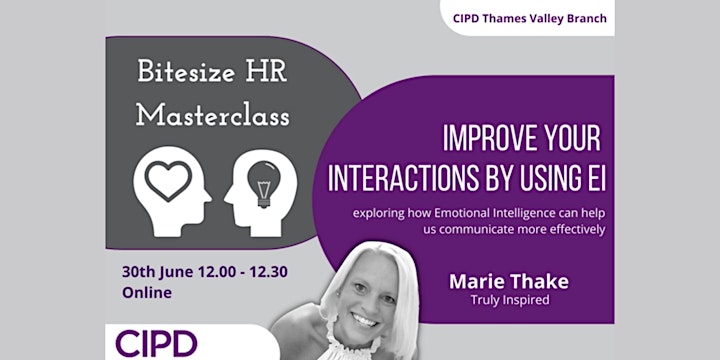 ABOUT OUR SPEAKER
Marie Thake
Marie is a dedicated, passionate professional people development specialist, who runs Truly Inspired, her own Coaching and training business. She partners with organisations to make a difference to employees as individuals and enables them to feel engaged with the organisations they work for, leading them to achieve their own and their organisations' vision.
Marie has been a qualified coach for 15 years and previously worked for companies such as Prudential, HBOS, and The Rugby Football Union. Marie is passionate about enthusing others to learn, through engagement, building trust and understanding what motivates people to perform. She specialises in behaviour change while working with organisations values and learning culture to drive transformation, engagement and change.
EVENT TIMINGS
The session will start at 12.00. For security reasons, it is requested that participants join the live session 10 minutes prior to the scheduled start time and with the same name as registered on Eventbrite as not doing so may cause a delay or non-admittance to the event.
Attendees will be admitted to the webinar in one group at 12.00 (start time). If you are late logging in, it may take a few minutes for us to admit you to the session once the session has started.
We might record the webinar and may share with people afterwards, including the uploading to CIPD channels. By attending the event, you are giving your consent for your image to be used on any CIPD promotional materials.