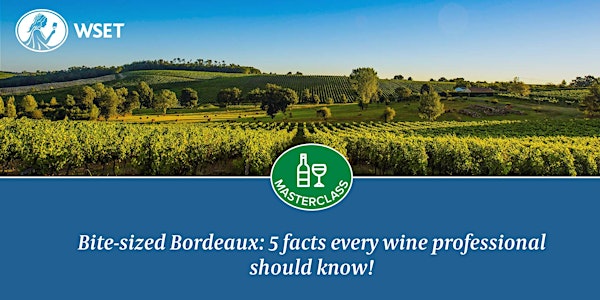 Bitesized Bordeaux: 5 facts every wine professional should know! White wine
Join us for a bite-sized look at Bordeaux white wines.
About this event
Tuesday 19 July 2022 | 12pm EDT | 5pm BST
Think you know Bordeaux's white wines? This 20-minute webinar will highlight the range of whites from dry to sweet. We'll focus on the historical importance of white wines, iconic varieties, and terroirs that make for the region's enormous diversity. Don't miss the 5 things every wine professional should know about Bordeaux's white wines!
This webinar will begin with a summary of the key facts about Bordeaux - map/appellations, grape varieties, main styles, etc. + one slide of Bordeaux Signature.
We will then highlight the modern side of Bordeaux, including: vineyard practice to keep freshness, sustainability story featuring winemaker, lesser-known appellation/value, how to sell, unique food pairing idea.
This event is aimed at anyone that has completed their Level 2 Award in Wines.
This event does not necessarily constitute official WSET course material and should not be used as such.
Sabine Silvestrini, owner and winemaker, Vignobles Silvestrini, and Accredited Bordeaux Educator
Sabine Silvestrini is a 3rd generation oenologist and winegrower of Vignobles Silvestrini. The winery comprises 36 hectares in total in three of the most prestigious appellations of the Libournais: Lussac-St-Émilion, Montagne-Saint-Émilion, and Pomerol. Sabine is also an accredited Bordeaux educator with the Bordeaux Wine School (Bordeaux Wine Council).
About the WSET Events Hub
The Events Hub is the home of WSET's new programme of global events hosted on YouTube. WSET launched the Events Hub in October 2021 to provide free and accessible educational content for wine and spirits professionals, and enthusiasts around the globe.
Subscribe to the Events Hub to stay up to date with the latest live and on-demand webinar content from WSET www.youtube.com/WSETGLOBAL/community