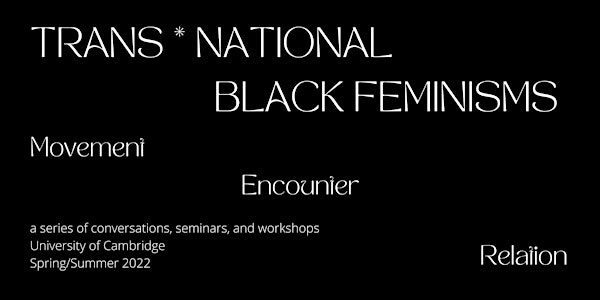 Black Feminism as Common Ground: Blackness in Mexico
Join us for a conversation between Dr Mónica Moreno Figueroa and Drx Tito Mitjans Alayón, part of the Trans*national Black Feminisms series
About this event
The second session in our Trans*national Black Feminisms series, "Black Feminism as Common Ground: Blackness in Mexico" will focus on Mexico as a site through which to think about Black feminist thought and practice as building bridges and connections between varying experiences of Blackness. Mónica Moreno Figueroa and Tito Mitjans Alayón will discuss their journeys into Black feminist thought and practice, their research, as well as the ways in which questions of migration or queerness fit within our discussions of Black Feminisms.
Speakers
Mónica Moreno Figueroa is an Associate Professor in Sociology at the University of Cambridge and a Fellow in Social Sciences at Downing College, Cambridge. She was born and raised in Mexico. An integral part of her academic work has been her commitment to explore different forms of engaged and engaging sociology with a deep concern for social justice. This has taken her to develop links and projects that aim to make racism public as a strategy for its elimination.
Tito Mitjans Alayón has a doctorate in Feminist Studies and Intervention at UNICACH, Chiapas, Mexico. Mitjans Alayón is an Afro-Cuban feminist activistx, non-binary, fantastically fat, Trans masculine historian whose research areas include Black Feminism, Queer and Trans Afro-diasporic Studies, and Critical Studies of the Black Atlantic.