Adinkra symbols originate from Ghana and we will explore their meanings through fun art activities, bold lines, bright colours and text.
About this event
In Partnership with Newham Council for Newham Black History Month, Award winning Artist and SEND specialist Arts educator Antonietta Torsiello will be delivering a Free Art event at Manor Park Library on Saturday 9th October 2021 13:30 - 15:00PM
There will also be an exhibition of the Artwork from 11th - 30th October 2021 displayed at Manor Park Library for the public to visit.
What can you do at the workshop?
Each symbol has a special meaning that relates to life lessons. In this art workshop, which is specifically catered to SEND young people and families but can be enjoyed by everyone. Come and explore the history of Adinkra symbols and create art works about the symbols' meanings.
There will be many different activities at the event. From using enlarged adinkra symbol outlines to decorate, to draw or paint their own outline and decorate it and finally learning the meanings and heritage of the names for each symbol.
See you all there!!
#NewhamBlackHistoryMonth
#BlackHistoryMonth2021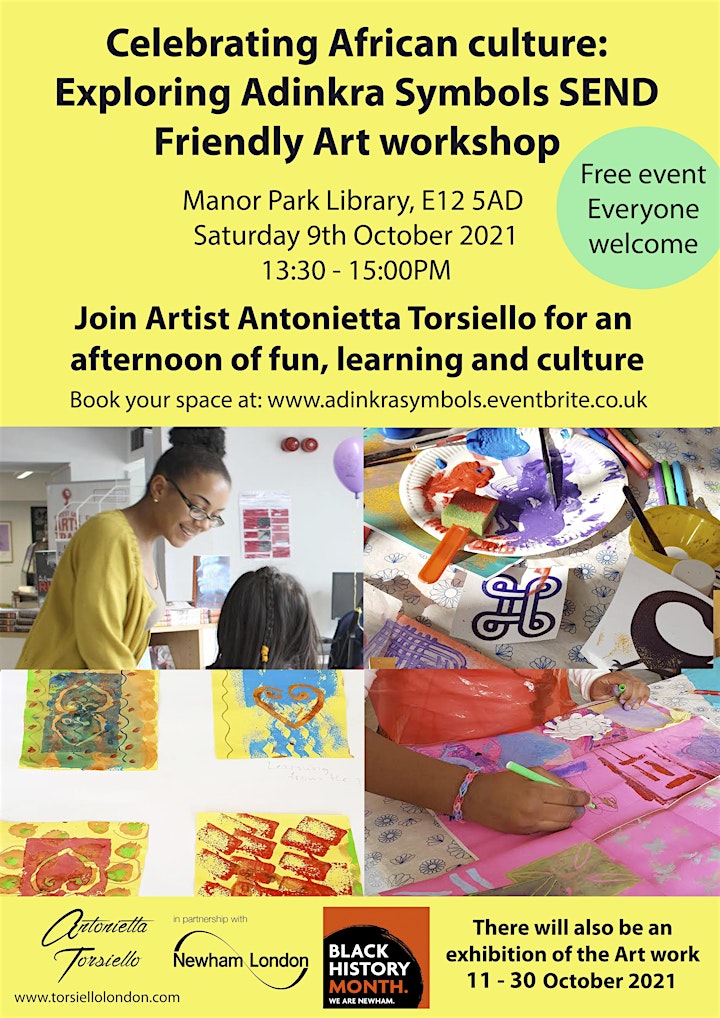 Organiser of Black History Month Art Workshop - Exploring Adinkra Symbols
Antonietta Torsiello is an award winning Artist and Printmaker who has been working with linocut since 2007 and teaching printmaking since 2013.
As well as Facilitating creative and skill based workshops and exhibiting her paintings and framed prints since 2010, with works sold to private collectors. She runs an Art product and hand printed homewares business where she has sold her textiles, cushions, Art prints and greeting cards to customers across the UK and internationally.
She has exhibited her art work with galleries, institutions including the OXO Tower, The UK Foreign and Commonwealth Office, The Prince's Trust, University College London, Credit Suisse Bank, KPMG Bank and Transport for London.
Antonietta is currently delivering innovative courses and workshops, including: lino printmaking, childrens workshops, upholstery, pottery painting.