Refund policy
Refunds up to 1 day before event
Eventbrite's fee is nonrefundable.
Working with Race, Ethnicity and Culture in and Outside the Therapy Room - A Conference for Trainers, Practitioners, Students and Academics.
About this event
Book your tickets now to secure your place. All tickets include access to the recording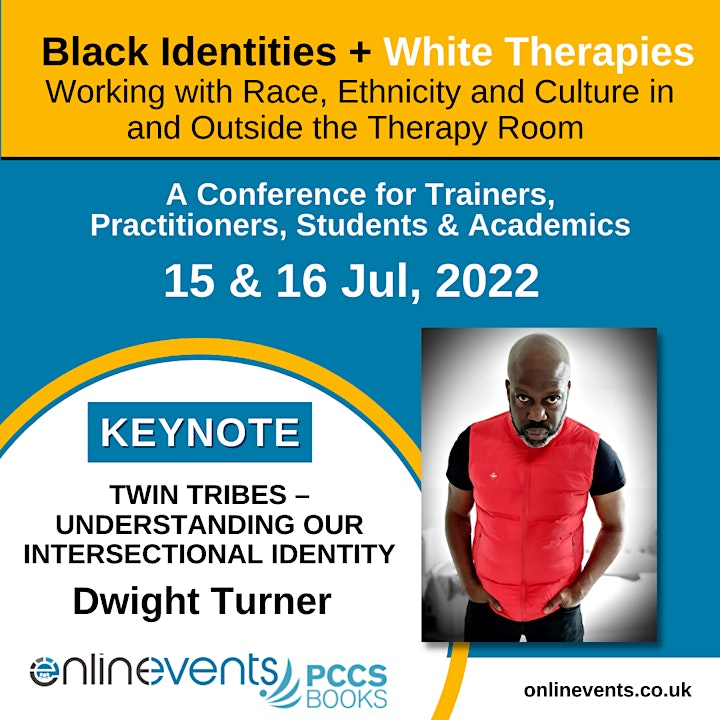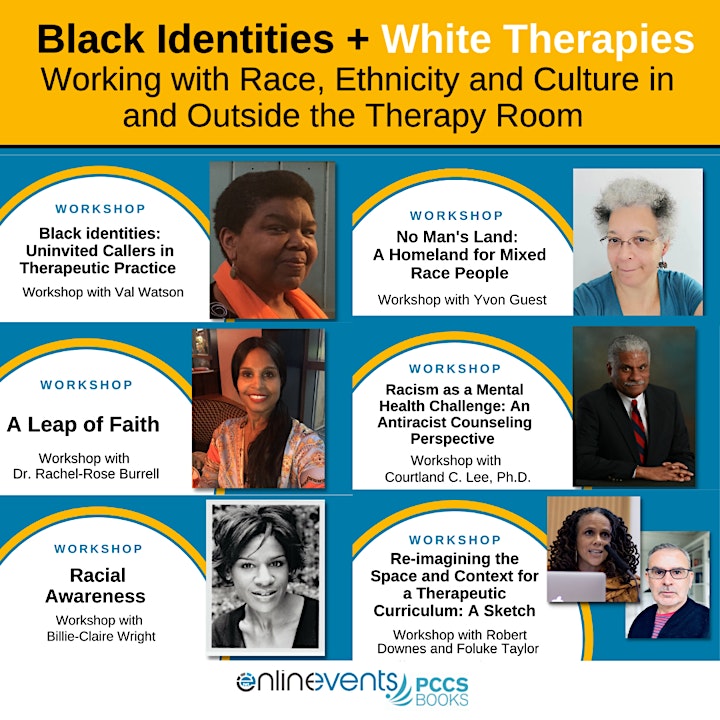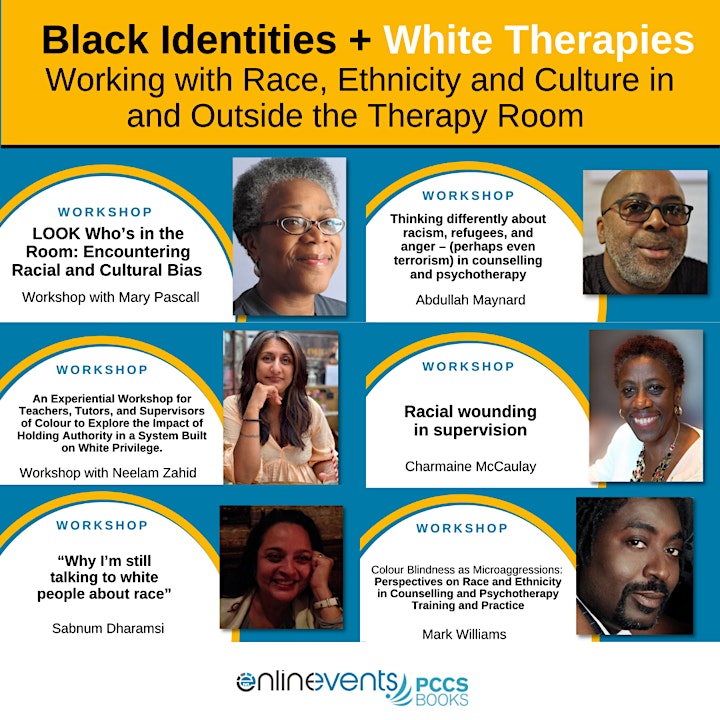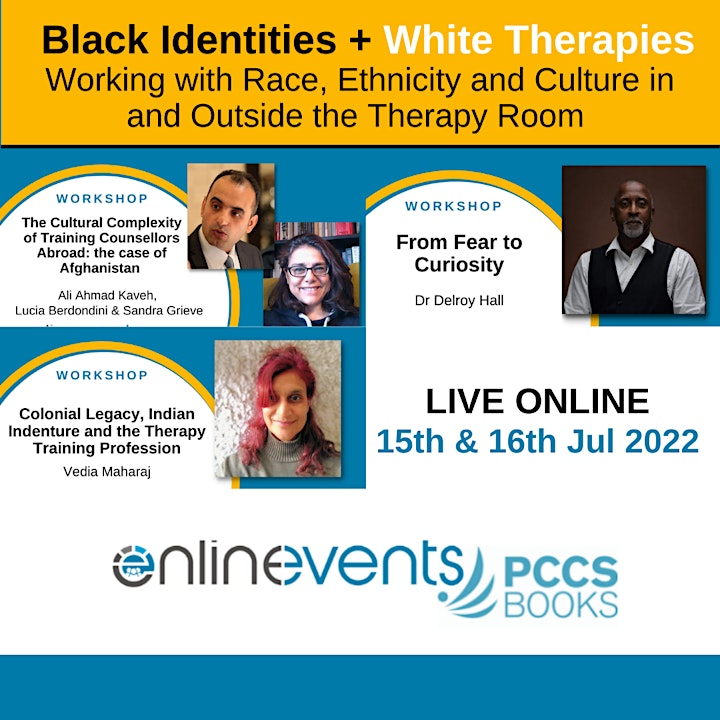 Onlinevents and PCCS Books are delighted to announce a one-day conference, in association with the editors of the recently published book, Black Identities + White Therapies (PCCS Books, 2021).
The online conference will run from 15-16th July 2022. It will offer a combination of keynote speakers, panel discussions and a wide-ranging choice of practical workshops.
Our aim is to provide a space for students, trainers, practitioners and researchers to explore and showcase best practice in:
challenging race discrimination and white fragility within the counselling professions
developing new ways of preparing students to work in our multicultural society
finding new ways to offer therapy to a diverse population
increasing access to talking therapies for people from minoritised racial groups
promoting black, Asian and minority ethnic presence within the profession at all levels.
The conference will open in the evening of Friday 15 July with a panel debate on a topical issue, followed by a social gathering and party for participants.
On Saturday, there will be an opening keynote address, followed by workshops of between 45 and 90 minutes, organised in four streams to reflect the four primary sectors of interest:
Following a break for lunch, we will reconvene for a second keynote presentation, followed by a further choice of workshops across the same four streams.
The event will close with a keynote presentation and discussion forum where participants can reflect and report on what has arisen for them in the workshops and discuss ways forward for the profession.
We are seeking
submission of abstracts to run workshops from practitioners, trainers, students, academics and researchers. The workshops can be either 45 or 90 mins in length. Please send your abstract/proposal to…..
sponsorship for this event to enable us to reimburse all the speakers adequately for their time and keep the ticket prices low.
TRAINING PROVIDERS
We are asking all training providers to email their students details of this conference along with a link to the Student Discount.
To acknowledge your support for the conference we are displaying training providers logo's here on the registration page, also in the resources pack that will be sent to all conference participants and included with the recordings from the conference.
Please email help@onlinevents.co.uk for the details to send to your student group and to share you company logo for the registration page.
STUDENT DISCOUNT
We have a special student discount ticket that is available for only £15.00.
This ticket is available via training providers.
Please send the contact details of your training provider to help@onlinevents.co.uk so that we can send the student discount details to your training provider to distribute to their student body.
Our intention is to let all counselling & psychotherapy students know about this conference as the learning will be vital for current training and future practice.
This workshop will be hosted on the Zoom meeting platform where we will use our camera and microphones to interact with each other as a group.
All the colleagues at ONLINEVENTS and the presenters we collaborate with are committed to working in a manner consistent with the BACP Ethical Framework, which can be accessed on the link below. When registering for this event you are agreeing to be present and interact in a manner that is consistent with this Framework.
https://www.bacp.co.uk/events-and-resources/ethics-and-standards/ethical-framework-for-the-counselling-professions/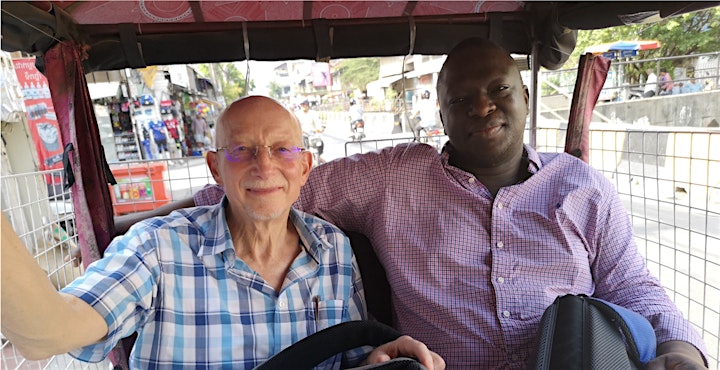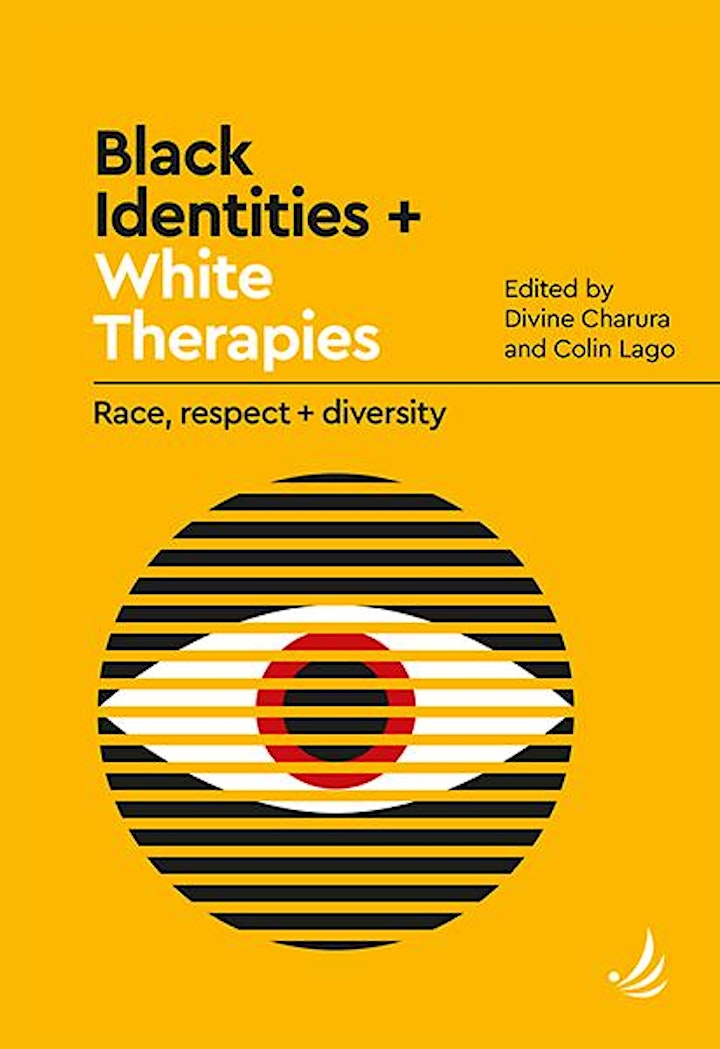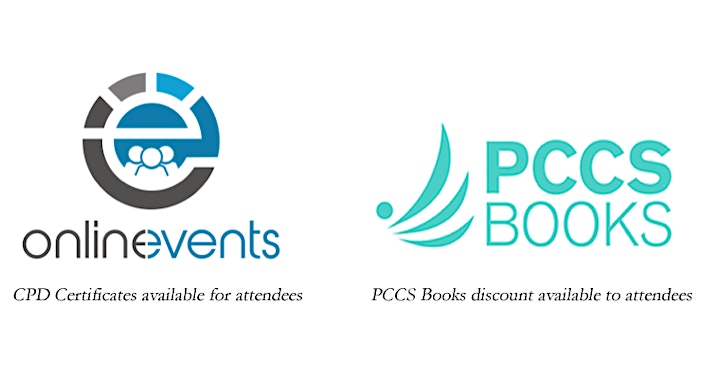 Colin Lago
Colin Lago, D. Litt, was Director of the Counselling Service at the University of Sheffield, U.K., from 1987 – 2003. He now works as an independent counsellor/psychotherapist, trainer and supervisor. Trained initially as an engineer, Colin went on to become a full time youth worker in London and a teacher in Jamaica before becoming a counselling practitioner. He is a Fellow of the British Association for Counselling and Psychotherapy. Deeply committed to transcultural concerns within psychotherapy, he has published articles, videos and books on the subject. To balance professional demands he loves to run, bike and dance!
In relation to this talk, Colin notes that he was fortunate to come into the profession in its early days, 1977, the same year as BAC emerged from the Standing Conference! Colin first came across the work of Carl Rogers whilst initially training as a youth worker in his early twenties, (some seven years before he trained as a therapist). He found Carl's books by accident whilst perusing the college library shelves and was immediately impacted by the resonance inside himself of these ideas 'which spoke to him directly'. They helped to affirm his own confidence in his beliefs and approach to others.
Inevitably, there are many strands to this developing story, as with everyone's biography, but Colin was fortunate in joining with his new colleague who already had worked with Rogers in international gatherings. Inevitably, attendance at international conferences and large group experiences soon followed, enabling Colin to meet colleagues from many parts of the world. Such connections form the background against which this presentation will be based.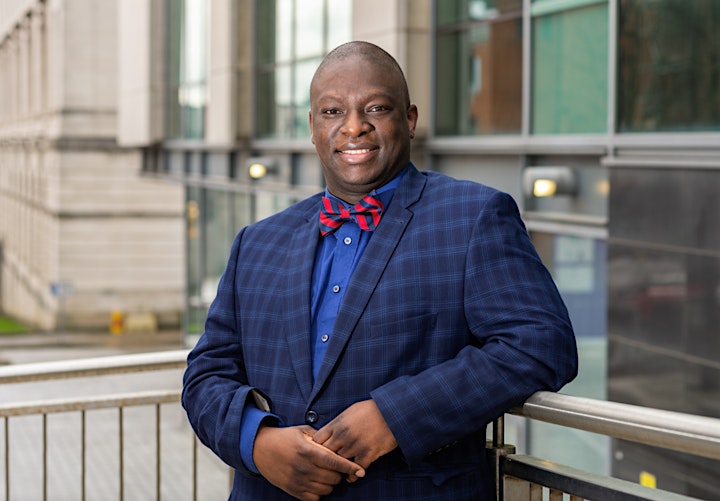 Divine Charura
Dr. Divine Charura is a full Professor of Counselling Psychology at York St John University (England). He is a Chartered Psychologist, and Counselling Psychologist with the British Psychological Society. He is registered as a Practitioner Psychologist with the Health and Care Professions Council in England. Divine is also an Honorary Fellow of the United Kingdom Council for Psychotherapy and an Adult Psychotherapist.
Divine's psychotherapeutic interests are in exploring the therapeutic relationship when working with, loss, diversity, psychological distress, Trauma, love, relationships and their impact of on being. Divine has co-authored and edited numerous books in counselling, psychology and psychotherapy. These include Love and Therapy: In Relationship [co-edited with Stephen Paul] and with Colin Lago has co-edited the following books The Person-Centred Counselling and Psychotherapy Handbook: Origins, Developments and Current Applications and Black Identities + White therapies: Race respect and diversity.
Divine is a lover of photography, art, music and outdoor pursuits.
For divine's Publications please see https://ray.yorksj.ac.uk/profile/2104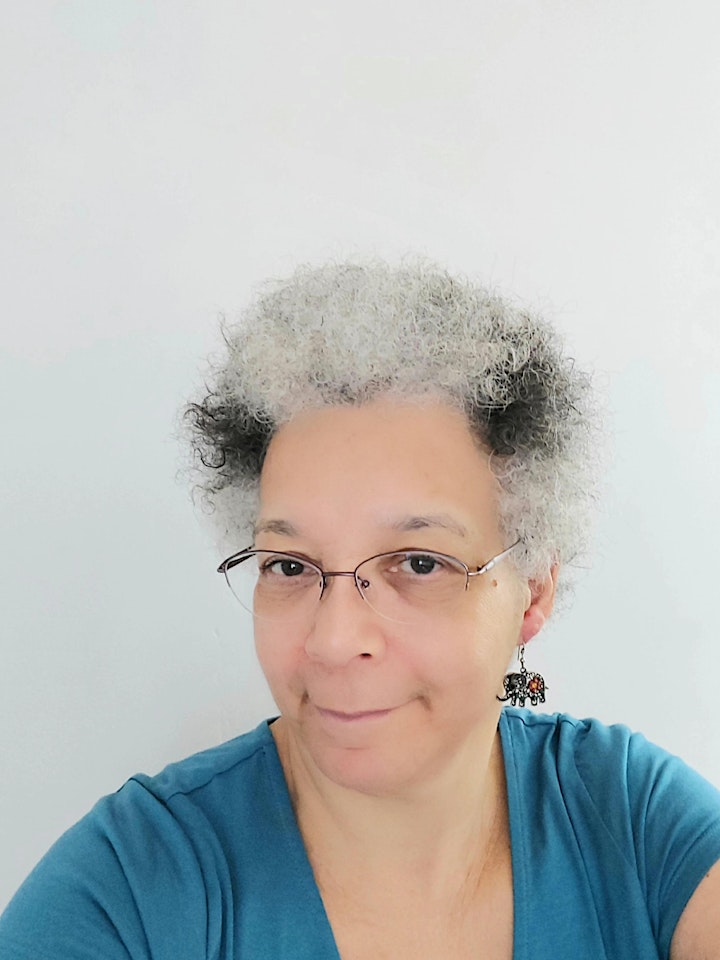 No Man's Land: A Homeland for Mixed Race People Workshop with Yvon Guest
The mixed-race individuals I work with have been coerced into taking on the identity of whichever community they were raised in and forsaking the other, without understanding what is at stake.
When mixed race clients arrive at a place where they want to embrace their mixed heritage another dilemma begins. If they don't want to be allied to either group, when the price of admission is to give up half of their identity, they find themselves in a whole other new dimension: 'no man's land'.
No man's land isn't a physical space. This is an imaginary homeland as suggested by Salman Rushdie. There are many pathways. Dissociation, in order to contend with the day to day struggle of an identity in a constant state of flux, is the psychological defence that takes clients out of a painful reality.
The legacy of eugenics and persistent fear around miscegenation leaves mixed race individuals questioning their right to exist, or whether they do actually exist in the physical world that many others take for granted. These are involuntary journeys but over time no man's land can become a destination of choice. No longer a place of exile and solitude, the realisation dawns, now they get to choose who to invite into their world, and that there are many also seeking to escape identities they have been coerced into.
Yvon Guest
Yvon is a psycho-dynamic counsellor living and working in Bristol. She enjoys working with a diverse client base; mainly people of colour and members of the LGBTQ community.
Yvon worked for many years in the independent sector, where she developed a passion for facilitating the empowerment of societies' most oppressed and marginalised individuals. This, along with her own experiences as a care leaver, led to her undertaking a PhD on the themes of resilience and trauma; which she now incorporates into her counselling work.
In her spare time, Yvon loves going for long walks, family time, and playing with her grandchildren.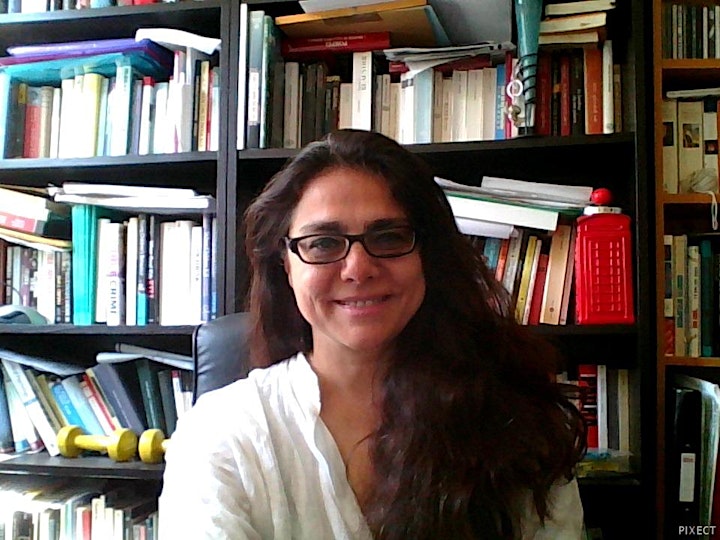 Lucia Berdondini
Lucia is currently Associate Professor and Course Leader of the Distance Learning MSc Humanitarian Intervention at the School of Psychology, University of East London. At UEL she is also teaching on the BSc (Hons) Counselling.
Lucia is a BACP Accredited Gestalt Psychotherapist since 2003 and she has been working with a variety of clients, individuals, couples and groups, adolescents and adults. Her areas of interest are psychosocial intervention in countries in war and conflict; existential therapies; intercultural counselling training. She has been involved in co-creating psychosocial interventions in countries like Afghanistan, Angola, India and Syria.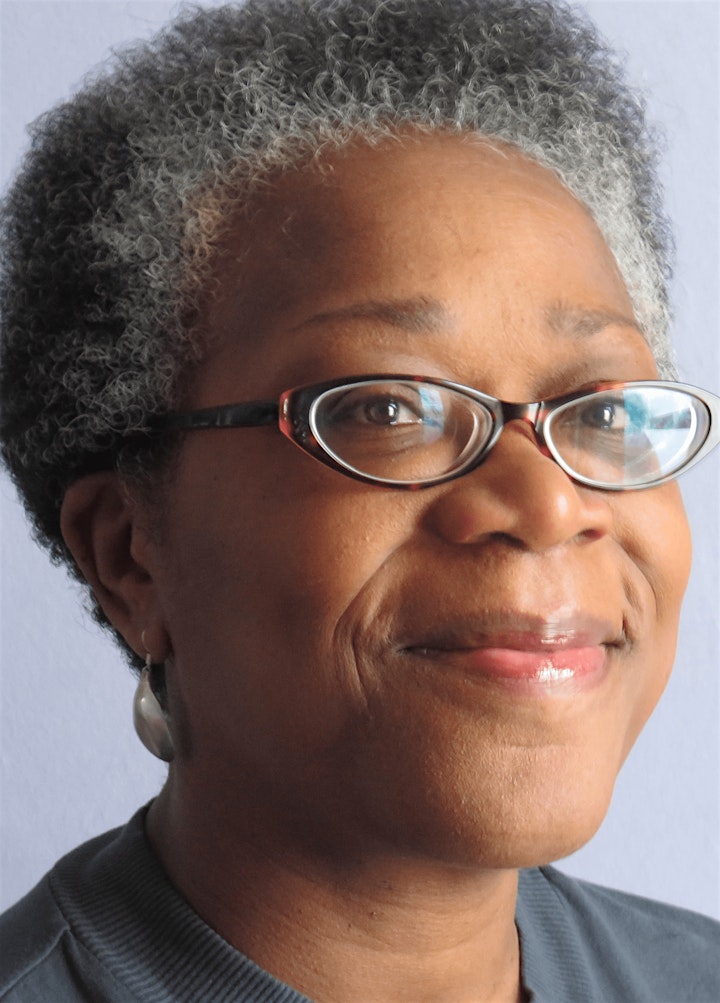 LOOK Who's in the Room: Encountering Racial and Cultural Bias Workshop with Mary Pascall
Facilitated experience for Onlinevents BIWT Conference July 2022
The following is an introduction to my suggested facilitated group experience as contribution to the conference
Join psychotherapeutic counsellor and facilitator Mary Pascall (MBACP, BAATN) for a poignant and embodied exploration of our responses to race, ethnicity and culture. This 90-minute facilitated group experience aims to bring us closer to understanding the impact of racial and cultural bias on first encounter. Suitable for those wanting to actively engage. Please note: video is required. For confidentiality, the session will not be recorded.
Mary Pascall
Mary is a psychotherapeutic counsellor and facilitator in private practice, working with the transcultural relationship through a person-centred lens. Within her practice, she offers one-to-one counselling, plus a tailored programme of online workshops focusing on the significance of race, culture and heritage in therapy settings.
Mary is a registered member of the British Association for Counselling and Psychotherapy (BACP) and the Black African and Asian Therapy Network (BAATN). She is a mentor for the BAATN Each One Teach One (EOTO) mentoring programme. She holds a BACP accredited Post-graduate Diploma in counselling from T he Norwich Centre, Norfolk, which has an 'historical involvement in high quality professional person-centred training', and is a Master Graduate in Black Issues and the Challenge of Racism in Therapeutic and Training Contexts of the Transcultural Academy for Life Knowledge (TALK), founded by psychotherapist/author/trainer Dr. Isha McKenzie-Mavinga.
Website | www.marypascallcounselling.com
Email | marypascall@yahoo.com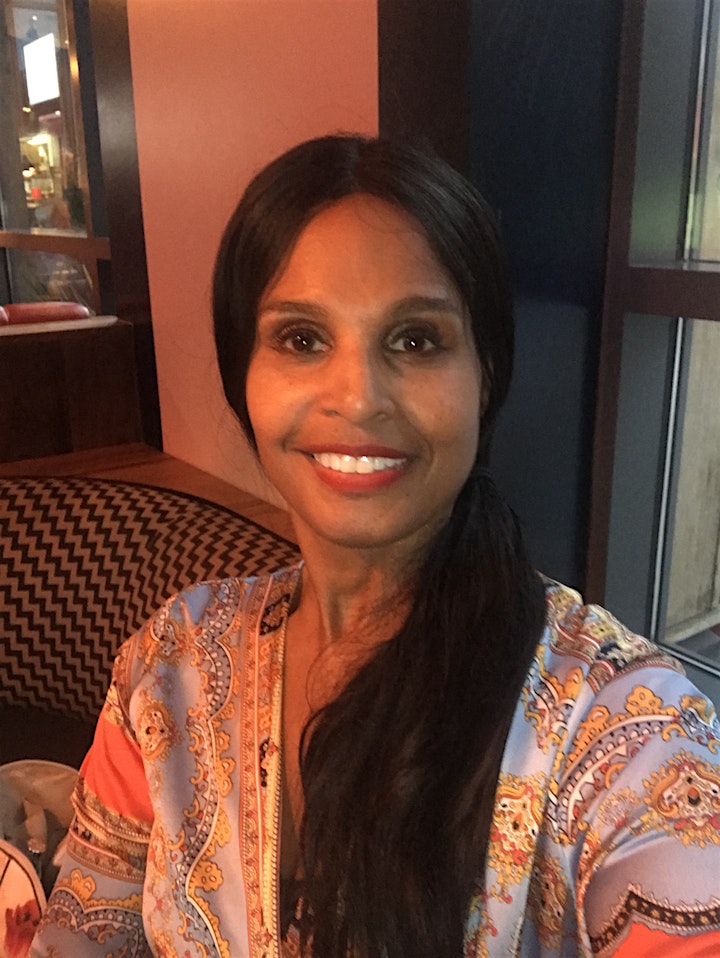 A Leap of Faith Workshop with Dr. Rachel-Rose Burrell
Designed to empower you in your practice, this workshop will include: a brief presentation on the black Christian, exploring key areas of religious faith in therapy, a small group discussion on the challenges and solutions to achieving meaningful and respectful faith conversations within a therapeutic setting, followed by a Q&A session before closing.
Dr. Rachel-Rose Burrell
Dr. Rachel-Rose Burrell is an accredited, registered psychotherapist and author. She has a background in nursing and many years of experience in developing counselling services in the public, voluntary and faith sectors. She is currently Head of Psychotherapist within the Ministry of Justice. Dr. Burrell is a member of the leadership team at her local church and heads up the well-being service which she developed in 2019. She provides teaching and training on a range of topics including mental health awareness for churches, conflict management and counselling skills for leaders.
Dr. Burrell is the founder of Sozo Therapeuo a resource (primarily but not exclusively) for churches promoting, improving and maintaining good mental health awareness and support through education, training and therapy.
Website | www.sozotherapeuo.com
Email | info@sozotherapeuo.com | rburrellm@outlook.com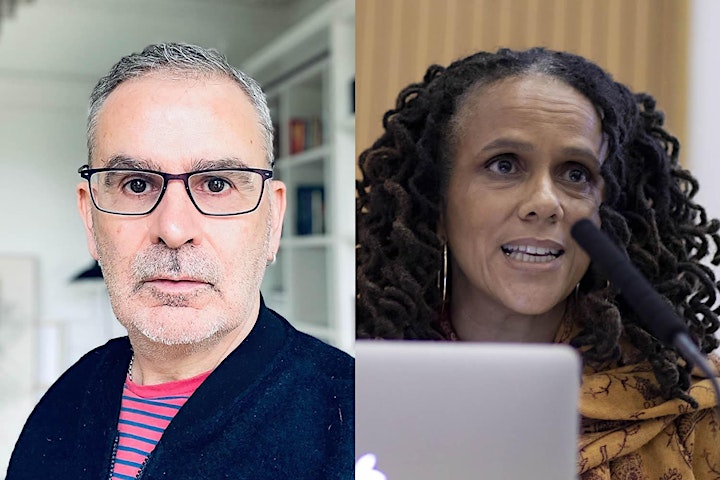 Re-imagining the Space and Context for a Therapeutic Curriculum: A Sketch Workshop with Robert Downes and Foluke Taylor
"Another arrangement of the possible" Saidiya Hartman, Wayward Lives, Beautiful Experiments
There has been a significant absence of deep study when it comes to the construct of race, embodied racialised trauma and what Resmaa Menakem calls 'white body supremacy' in the field of psychotherapy and counselling. So we evoke on going study as a personal and collective practice, as an ethical practice of disrupting the therapeutic project. The primary resource for much of what has been gathered for this 'other-wise' project originates and lives within Black feminism(s).
There is talk of decolonising the curriculum these days. So what might that talk be infused with if we are to practice and think and study 'Other-Wise'? If we take the technology of race and unravel from it and the ways it has shaped the landscape of psychotherapeutic thought, teaching and practice – what might emerge if we truly engage with other modes of embodied cognition, wisdoms and practices beyond the usual suspects and traditions?
Drawing from their own particular carrier bags of theory and practice, (see Ursula Le Guin's Carrier Bag Theory of Literature) Foluke and Robert will share some of what they have gathered to inform unravellings and reckonings from within the enclosure(s) of race. Working with a definition of race as 'technology' they introduce various other-wise technologies of thought and practice aimed at extending the reach, register, resonance, disruption and inclusivity of the therapeutic project. For this workshop they will be drawing from their story Re-imagining the Space and Context for a Therapeutic Curriculum – A Sketch and inviting participants to extend the story. ( Taken from Black Quantum Futurism: Space Time Collapse from Congo to the Carolinas).
There is a website resource to accompany the chapter of the book and Foluke and Robert's project of practicing, thinking and imagining 'other-wise' for participants to engage with.
There is a website resource to accompany the chapter of the book and Foluke and Robert's project of practicing, thinking and imagining 'other-wise' for participants to engage with.
Website | https://other-wise.myportfolio.com
Robert Downes
Robert Downes practices as psychotherapist, supervisor, teacher and student engaged in critical psychological study and practice drawing from a range of traditions: queer theory, black studies, critical theory, intersectional feminisms, relational psychoanalysis alongside the spiritual teachings and practices of the Diamond Approach, the music of Björk and a 20-year long dialogue and extensive hedge school study with friend and colleague, Foluke Taylor.
Robert is currently chair of The Relational School in London and has taught on trauma at the NAOS institute, psychotherapy trainings at Metanoia and body psychotherapy at the Minster Centre.
Published work includes Listening in Colour: Creating a Meeting Place with Young People Robert Downes, Sue Lee, Foluke Taylor-Muhammad (Young People in Focus 2002); Reimagining the Space for a Therapeutic Curriculum – a Sketch, (co-authored with Foluke Taylor in Black Identities and White Therapies: Race Respect and Diversity. PCCS 2021); Queer Shame: notes on becoming an all-embracing mind (in Queering Psychotherapy, Edited by Jane Chance Czyzselska, will be published by Confer Books in late 2022.
Website | https://bodypsychotherapyinlondon.com/
Foluke Taylor
Foluke Taylor is a *therapist and writer currently teaching at the Metanoia Institute in London. She is interested in therapeutic practices that hold open space for thinking (from and into) the position of Blackness, which in the development of psychoanalysis and psychotherapy, has most frequently occupied the position of the unthought. Following the work of Christina Sharpe, the asterisk before the therapist functions as both wildcard and placeholder.
As an (asterisked) *therapist, she practices without prefix to signal both excess, and a black feminist mode of attention to the emergent and yet-to-be. She is accredited with BACP, is a member of the Editorial Board at Lapidus International Research and Innovation Community Journal (LIRIC), and a trustee at Mslexia.
Published work includes How the Hiding Seek (2018); As Much Space as We Can Imagine: Black Presence in Counselling and Psychotherapy (2019); Black Paranormal: A Playlist (in 'What is Normal?' Confer Books 2020); Reimagining the Space for a Therapeutic Curriculum – a Sketch, (co-authored with Robert Downes in Black Identities and White Therapies: Race Respect and Diversity. PCCS 2021) and Otherwise: Writing Unbearable Encounters Through the Register of Race (LIRIC 2021). Her forthcoming book Unruly Therapeutic: Black Feminist Writings and Practices in Living Room will be published by W.W. Norton in 2023.
Website | https://foluketaylor.com/
Racism as a Mental Health Challenge: An Antiracist Counseling Perspective Workshop with Courtland C. Lee, Ph.D.
This presentation will explore racism as a mental health challenge. First, the historical roots of racist ideas and how these ideas have been broadly expressed in the field of mental health will be explored. Second, the impact of racism on mental health will be considered from the perspectives of both victims and perpetrators. Third, an antiracist perspective on counseling with both victims and perpetrators of racism will be presented.
Dr. Courtland Lee
Dr. Courtland Lee is a Past President of the International Association for Counselling. He is also a Fellow of the British Association for Counselling and Psychotherapy, the only American to receive this honor. Dr. Lee is also a Fellow and Past President of the American Counseling Association. He is an internationally renowned scholar having published seven books on multicultural counseling and three books on counseling and social justice. In addition, he has published numerous book chapters and articles on counseling across cultures and issues of social justice. Dr. Lee is the former editor of the Journal of Multicultural Counseling and Development. He currently serves on the editorial board of the International Journal for the Advancement of Counselling. Dr. Lee is a retired Professor of Counselor Education who has held faculty positions at the University of North Carolina at Chapel Hill, the University of Virginia, the University of Maryland at College Park, and the University of Malta.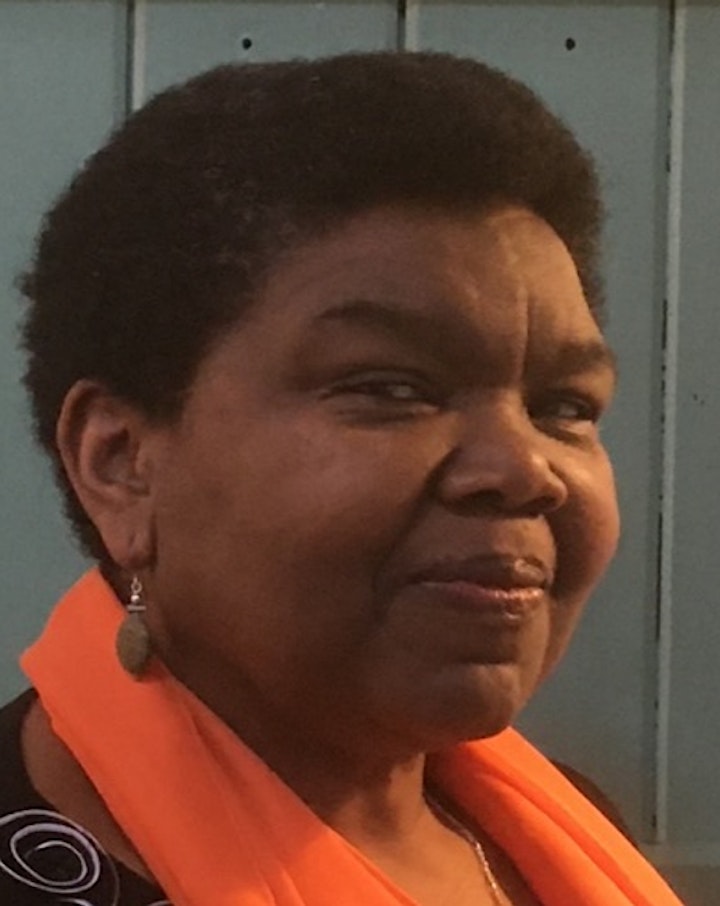 Black identities: Uninvited Callers in Therapeutic Practice Workshop with Val Watson
I have always been aware that otherness, identities and 'race' (yes, I know, a contested term) is 'everywhere' and or 'just below the surface' in almost all therapeutic encounters, even when not named as such. I have an interest in this notion and, depending on my energy levels try to reflect on my part and the responses and parts of others in these encounters.
Through a brief introduction using excerpts of case work, prose and poetry this workshop invites you to explore your responses to the impact of Black identities and the experiences of being Black in therapeutic practice. As an active participant, you are each asked to bring to the workshop one question about this subject that is of interest to you. We will use these contributed questions and our collective responses to stimulate interest, further discussion and exploration during, and I hope, beyond our time together in the workshop.
Please Note: There are no Right or Wrong Answers
Val Watson
Val Watson is an independent counselling and psychotherapy practitioner, supervisor, coach, consultant and trainer. She has worked in education settings for over 30 years, latterly as Head of university counselling service and has extensive voluntary work experience with community-based organisations and projects. She has a passion for racial justice, a continuing interest in community work and learning about equalities issues and change.
Racial Awareness Workshop with Billie-Claire Wright
If we consider the framework for intersecionality, race has perhaps been the single most influential factor that has impacted on my life experiencing. My race cannot be concealed or overlooked. As I enter a room I know that this is what people see before any other factor. How do I wear my race … with pride, shame, privilege, entitlement, guilt? It cannot but be influenced by the responses elicited from the viewer and the world around me. This in turn informs how I connect and engage with you the viewer whether we share the same race or not. By applying this understanding to our work we learn that we are required to constantly review, evaluate and interrogate our own racial stance and experiencing, considering conscious or unconscious biases, prejudices and triggers. In doing so we learn to feel secure enough in our own racial identity to move beyond what we are comfortable with and attempt to make sense of other's racial experiencing. This workshop is one way to consider more closely racial identity and its implications in the work we do.
Billie-Claire Wright
Billie-Claire Wright is a Child & Adolescent Psychotherapist working in CAMHS. She completed a piece of research exploring internalised racism in Black-British Caribbean Practitioners for her MA study.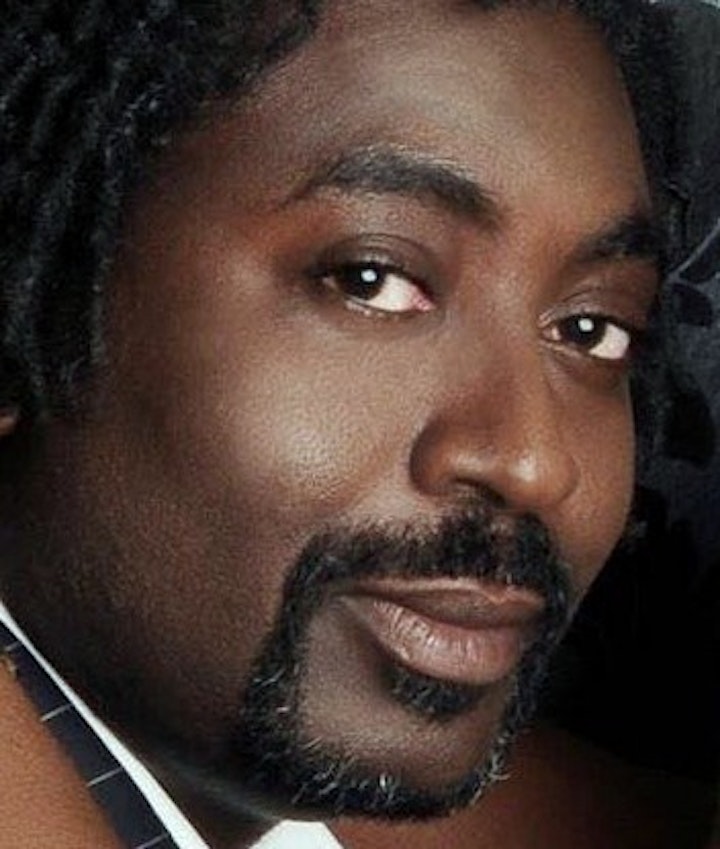 Colour Blindness as Microaggressions: Perspectives on Race and Ethnicity in Counselling and Psychotherapy Training and Practice Workshop with Mark Williams
This hour-long workshop will look to explore the issues of cultural awareness, cultural competence and cultural safety in counselling and psychotherapy training and practice.
In the first instance we can consider the place cultural awareness has in these interventions and the effects of its exclusion or inclusion in practice; as a means of examining cultural efficacy in the therapeutic relationship.
Secondly, the workshop intends to address challenges practitioners encounter to attaining cultural competence in their practices with patients from racially minoritised backgrounds. We ask the question of why / how can we fail to address racialised experiences that are present in the mental presentations of patients and that affect their black identities?
And finally, we look to give definition the idea of cultural safety relating this to the address of racial trauma and its effects on the mental health of individuals from racially minoritised communities.
In my chapter, I have begun to discuss significance historical racism and its effects in the everyday life of racially minoritised individuals. The context within which the self is understand and communicated in the relationships the individual has is persistently framed by those experiences that affect how he/she describes themselves, their sense of value and worth, and links to individual's very sense of existence and purpose in the world. Engaging with definitions and descriptions of inherent beliefs in therapy about what it is to be a person of colour, and a minority in society is fundamental in understanding the psychological issues the individual faces and how this is experienced in their social context.
Mark Williams
Mark Williams is a Senior Lecturer in Social Work with Leeds Beckett University since 2004, with specialist knowledge in mental health social work practice. Prior to taking up post with the LBU Mark worked in statutory mental health services in both Health and Social Care, and within the third sector. Mark was key in developing a multicultural community resource with Touchstone-Leeds for racially minoritised communities with mental health issues in the late 1990's and returned to the project in 2001 as a Service Manager. At this time Mark worked with the late Lennox Thomas and Colleagues from Nafsiat to development culturally sensitive ways of engaging racially minoritised communities.
In the early 2000's mark worked with the Assertive Outreach Team in Leeds and was involved in the service's initial launch in 2001. During this time Mark's work focused on engaging people diverse backgrounds, often minoritised due gender, race, social and economic status, and was concerned with the intersectional context of individuals' experiences of mental illness.
Mark maintains this interest in the lived experiences of people from those communities in the UK and the impact on individual mental health and well-being and has gone onto organise a serious of conferences, in his work with LBU, for health and social care practitioners in mental health services working with communities.
Further, areas of experience in staff development and training, his specific interests focus on developing skills in stress management and resilience in the workplace, and the use of supervision in staff development. This extends to using psychodynamic approaches to engaging students and staff in personal and professional development courses, such as Interpersonal Skills development and developing Reflexive Practice.
Mark has trained in the Foundations of Transcultural Psychodynamic Psychotherapy with Tavistock and Portman, and previously studied Freudian Psychoanalytic studies at master's level. He is keen to use this and his broader knowledge of health and social care to further his approach to teaching and facilitate learning.
More recently, following his contribution the Black Identities + White Therapies publication Mark is involved in research focusing on the experiences of racism reported by racially minoritised students on professional academic programmes within practice environments.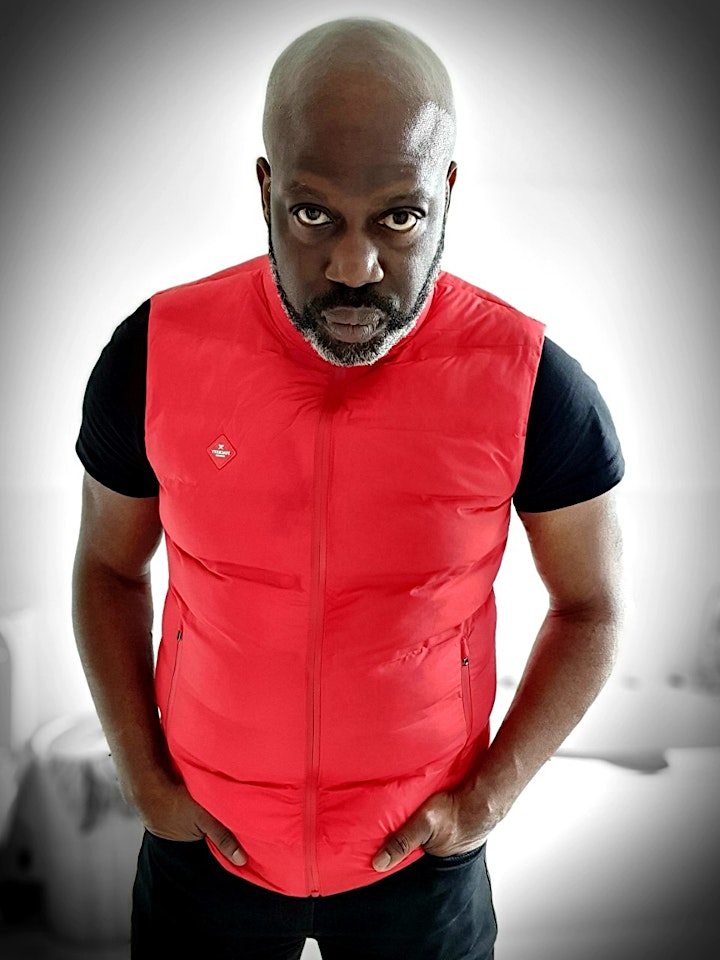 KEYNOTE: TWIN TRIBES – OUR INTERSECTIONAL IDENTITY Workshop with Dr Dwight Turner
As per the chapter in this excellent book, my work often centres around helping students and professionals, as well as our clients, understand their intersectional identities. This 90 minute workshop will be an exploration of just what that means. A brief presentation will first of all take centre point on just what intersectionality actually is, followed by the chance for participants to actually explore the different identities that they all hold through a series of questions which will unveil for them the differing levels of privilege and otherness that we each hold in turn. This will then be followed by a chance to explore the meaning of this exploration in groups before we have a general discussion to actually look at just how these identities may be worked with in a clinical setting.
Dr Dwight Turner
Dr Dwight Turner is Course Leader on the Humanistic Counselling and Psychotherapy Course at the University of Brighton, a PhD Supervisor at their Doctoral College, a psychotherapist and supervisor in private practice. His latest book Intersections of Privilege and Otherness in Counselling and Psychotherapy was released in February 2021 and is published by Routledge. An activist, writer and public speaker on issues of race, difference and intersectionality in counselling and psychotherapy, Dr Turner can be contacted via his website www.dwightturnercounselling.co.uk and can be followed on Twitter at @dturner300 .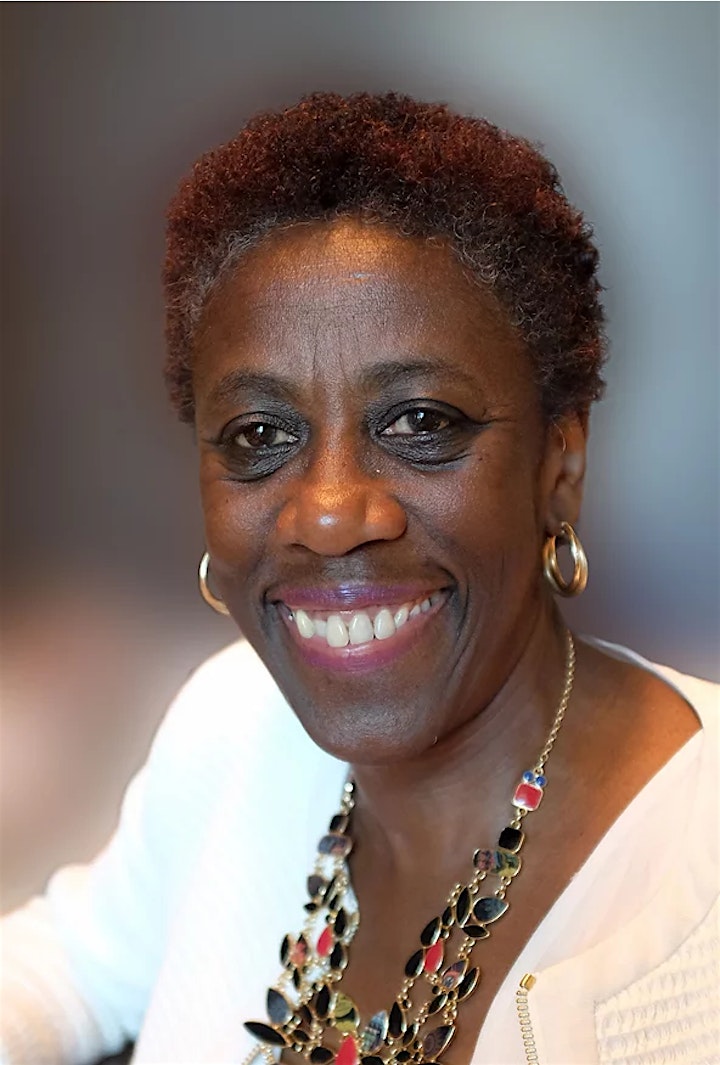 Racial Wounding in Supervision Workshop with Charmaine McCaulay
The issue of racism in a white-dominated society can be blatant or so subtle that it is hard for a white person to perceive. Matters which may be extremely wounding to persons of colour can easily pass below the radar of the average white person's perception.
This is a live role play between a white supervisor and her black supervisee bringing her client who is also a person of colour. We will demonstrate how the interplay between a white supervisor and a black supervisee can reproduce the dynamics of a real-life interaction between persons of colour and members of the dominant white community. No holds barred.
You will have the opportunity to see what few white persons perceive, but perhaps is obvious to a person of colour. We will pause along the way with questions for both people of colour and white people to comment on what you see, hear and feel playing out within the supervision session. Dramatic evidence of embodied racism in real time.
Charmaine McCaulay
Charmaine McCaulay is an accredited integrative body therapist, who considers the client to be addressed as a whole person. This means that each individual is seen as a composite of feelings, thoughts, emotions, and even the intangible aspect called the 'soul' or 'spirit. Charmaine specialises in race and racism and works with the various ways we are psychologically, emotionally, physically, and spiritually wounded by race and racism. Charmaine feels uplifted and energized to do this work, doing it with love and dedication.
Website | https://www.kokorotherapy.co.uk/introduction-to-racism-in-real-time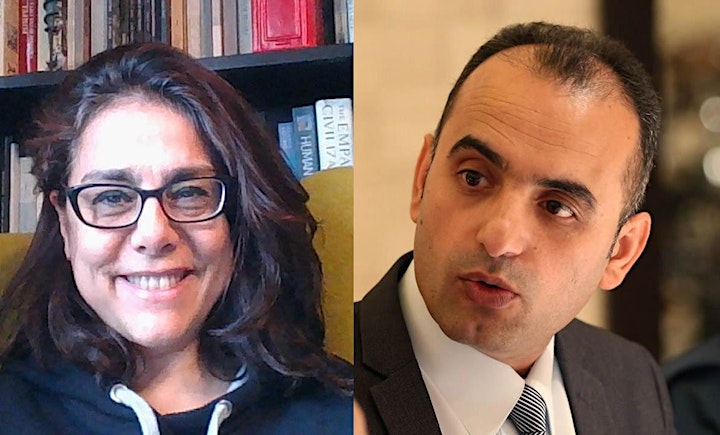 The Cultural Complexity of Training Counsellors Abroad: The Case of Afghanistan Workshop with Ali Ahmad Kaveh and Lucia Berdondini
In this workshop, the team of colleagues from Afghanistan and UK, who co-constructed a training course in Counselling for Afghan practitioners over a period of 4 years, will dialogue about the complexity of this experience. It will be an opportunity to discuss and explore themes such as strengths and challenges in intercultural collaborations, ethical dilemmas and lessons learnt. Questions and interventions from the audience will be more than welcome, in the hope of using this space as a reflective practice experience.
Ali Ahmad Kaveh
Ali Ahmad Kaveh is a former lecturer of Herat University (2003-2022) currently living in Vancouver, Canada. He is pursuing his Ph.D. at Shanghai University focusing on the challenges of integration of Afghan refugees into Canadian society and culture. He is also studying the mental health of Afghan university students and also the recent Afghan refugees in Europe and North America.
Lucia Berdondini
Lucia joined UEL in November 2015, as Lecturer. She is currently Associate Professor and Course Leader of the DL MSc Humanitarian Intervention. She is also teaching on the BSc (Hons) Counselling.
Lucia is a BACP Accredited Gestalt Psychotherapist since 2003 and she has been working with a variety of clients, individuals and groups, adolescents and adults. Her area of interest are psychosocial intervention in countries in war and conflict; existential therapies; intercultural counselling.
Website | https://www.uel.ac.uk/postgraduate/courses/msc-humanitarian-intervention-distance-learning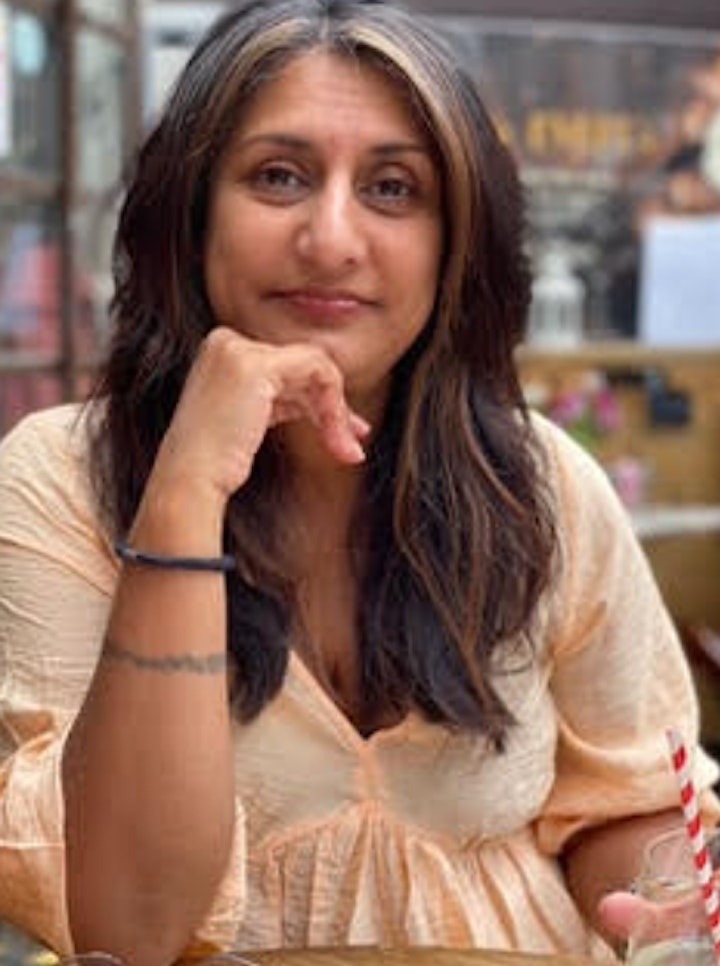 An Experiential Workshop for Teachers, Tutors, and Supervisors of Colour to Explore the Impact of Holding Authority in a System Built on White Privilege Workshop with Neelam Zahid
Psychotherapy training has long reflected the structural oppressions of the wider world such as racism, white privilege, and white supremacy. Over time, psychotherapy training is beginning to address these discriminatory structures through the integration of training and education about difference and intersectionality, making it more accessible to students of colour. However, not enough consideration has been given to psychotherapists of colour in authority who are operating within a system which is structurally built to oppress them.
This experiential workshop aims to provide a safe space for teachers, lecturers, and supervisors of colour to understand and process the impact of holding power and authority in a structurally racist system. This workshop will reflect on teaching and supervising both white students/supervisees, and students/supervisees of colour.
Participants will be invited to:
Reflect on what racial trauma is being activated through teaching and supervising.
Explore how this racial trauma impacts their relationships with students and supervisees
Understand and start to process how holding authority impacts them
Understand and start to process what gets activated when teaching/supervising specifically on issues of race and racism.
Neelam Zahid
Neelam Zahid is an Integrative trained Counsellor, Psychotherapist and Supervisor accredited by the BACP. Neelam has been working as a psychotherapist since 2003 within higher education and now in her own private practice in South London. Neelam also holds several different teaching roles at the Minster Centre in North London.
Over the years, Neelam has delivered several transcultural workshops for psychotherapists and trainees and has contributed to The Handbook of Transcultural Counselling and Psychotherapy (2011, eds Colin Lago) and Black Identities + White Therapies: Race, Respect + Diversity (2021, eds Colin Lago and Divine Charura).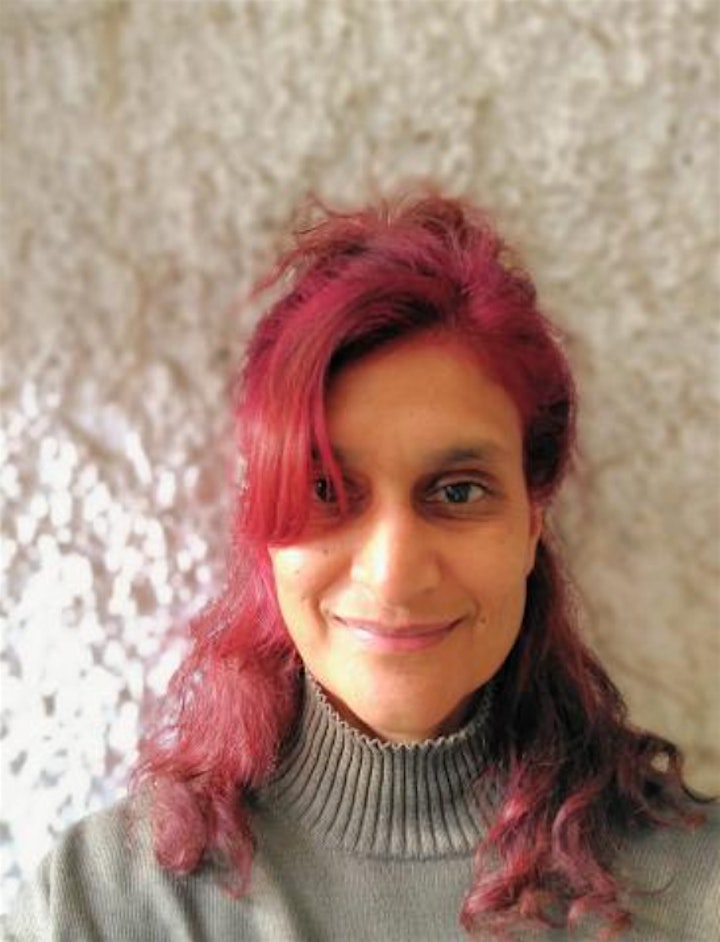 Workshop with Vedia Maharaj
By the end of this session you will be familiar with
The meaning of the term 'indenture'
The history of Indian Indenture
The treatment of people in that system
The development of a new identity /acculturation/ deculturation
The session will close with
questions and consideration toward race in therapy training
The reworking of the institutionalised mindset of therapy trainers
Vedia Maharaj
Vedia Maharaj is a clinical supervisor, trainer and psychotherapist. Her theoretical approach is person centred with particular interests in complex trauma, complex loss, displacement and thinking beyond European concepts of resilience and healing. Vedia train's on a range of topics that relate to the intersection of human rights, inequality, diversity and psychotherapy. Her key client groups include adolescents and young adults, asylum seekers, refugees, people who have been trafficked and people of colour. She is a researcher of Indian Indenture histories and is committed to supporting black and people of colour therapists through her work at the Black African and Asian Therapists Network. Vedia is a contributing author to 'Black Identities and White Therapies' edited by Colin Lago and Divine Charura.
Sabnum & Abdullah
Delroy Hall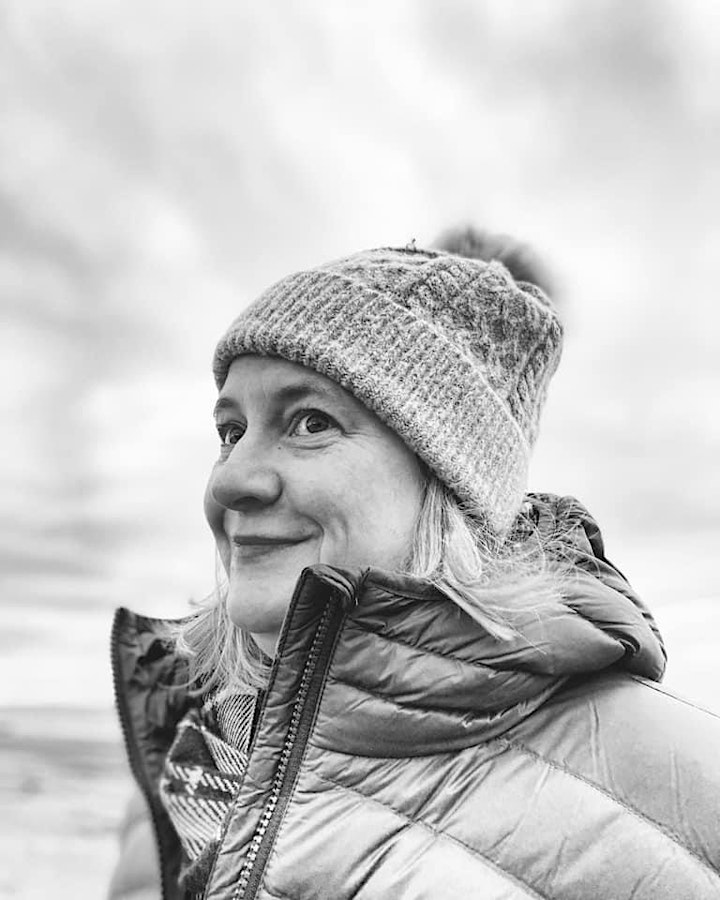 Katie Moffat
Katie joined PCCS Books in November 2016 as the Communications Manager. She works in collaboration with the PCCS team and our authors to promote our publications. If you have any queries regarding PR, sales opportunities, inspection copies and events then please get in touch with her.
Previously she worked in bookselling and the publishing industry for over 25 years. Her experience includes sales and marketing roles at Waterstones, Hodder and Stoughton and HarperCollins. Latterly, she worked at Wiley in marketing, publicity and brand management.
Katie is also a counsellor based in Edinburgh.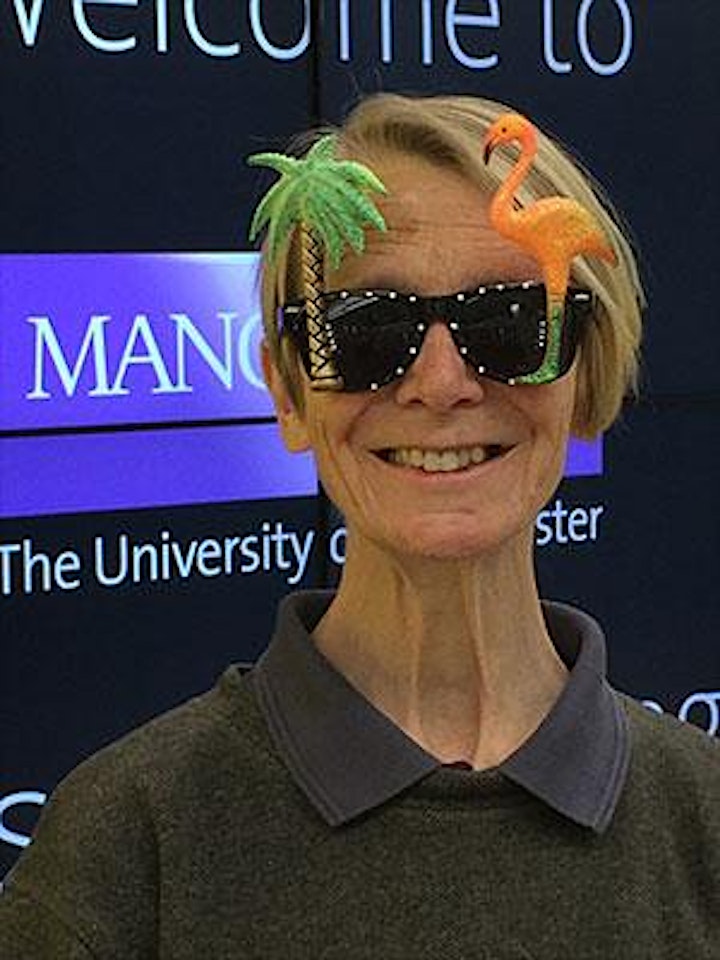 Catherine Jackson
Catherine is PCCS Books' Commissioning Editor, which means she talent-spot and commission new authors, read submitted manuscripts, and nurture authors to get their books into publishable form and then into print. She joined PCCS Books in September 2015 (lured by Pete Sanders with a cheap Indian dinner in Leamington Spa).
Previously, Catherine was deputy editor of BACP's Therapy Today magazine, which she now edits; before that she was managing editor of Bereavement Care journal, and before that, founding editor of Mental Health Today magazine.
Many, many moons ago, in her giddy youth, she worked with the radical feminist printer and publisher Onlywomen Press, and was a cartoonist, drawing for various publications, including City Limits and Nursing Times.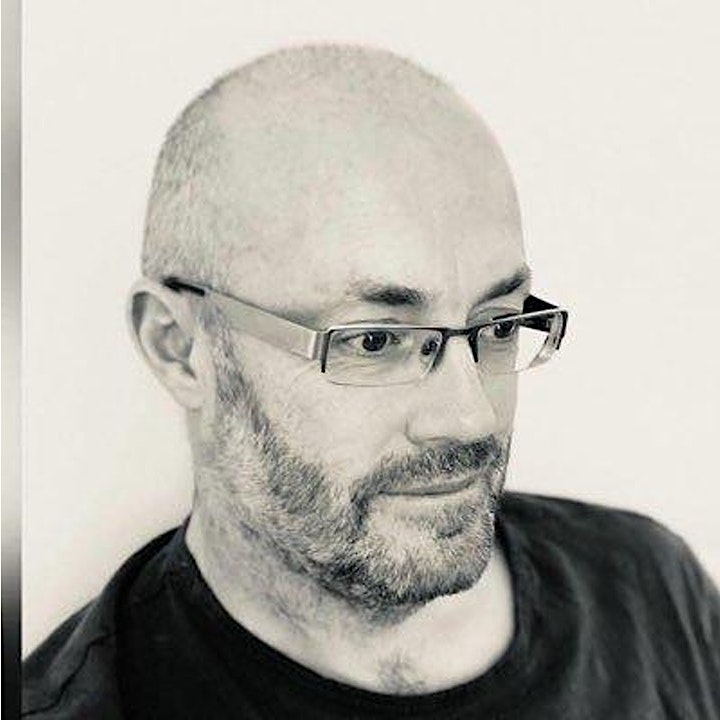 John Wilson
I have been facilitating in Counselling & Psychotherapy programmes in the UK for more than 10 years.
I am currently the director at Temenos Education and have a private practice where I offer online Psychotherapy and Supervision using video and chat communication platforms along with virtual environments. I am also the co-founder of onlinevents which has grown to be the world's largest library of online video and audio content with instant certification and a learning log.
I am also a past chair of the Association for Counselling & Therapy Online (ACTO) and have served for 6 years on the board of the World Association for Person Centered & Experiential Psychotherapy & Counselling. My passion to bring online learning into the field of Counselling & Psychotherapy has also led to the development of online experiential learning within the Temenos programme, facilitating the exposure of Temenos students to external tutors who are located in different parts of the world. Along with the inclusion of experiential learning of online Counselling & Psychotherapy for Temenos students so that they qualify with knowledge and practice in online communication and relationship.
You can read an article I co-authored about online group facilitation here:
https://www.tandfonline.com/eprint/UB2QJDKNCGUMUNUURU8W/full?target=10.1080/14779757.2019.1650807
From Fear to Curiosity Workshop with Dr. Delroy Hall
"Delroy! Are you going to continually flight into books or will you learn from experience?"
Those were the telling words of my supervisor decades ago as I was going through a torrid time training as a therapist. As therapists, we often turn to books for help and insight. They are helpful, but there is no comparison learning from lived experience.
Many of our clients, as well as therapists, struggle in relating effectively with others who do not look like them. Join Dr Delroy Hall in this workshop to explore ways can we learn how to confidently face our fears and become capable and confident in interacting with others who do not look like us.
Dr Delroy Hall
Counsellor, and Trainer
Dr Delroy Hall is a trained psychodynamic psychotherapist, a lifelong learner and currently works as a freelance counsellor, wellbeing practitioner, trainer, and independent scholar. He has a private consultancy, Delwes Consultancy, offering on-line counselling, coaching, training, seminars, and webinars sessions dealing with loss and grief, depression, anxiety, clergy stress, race awareness, cultural competency and inclusive leadership, and other tailor-made training packages to suit a variety of situations. Primarily, Dr Hall is committed to dealing with human pain while developing trust, so people can recover and thrive. He has extensive experience in leading groups, developing teams, and is committed to teaching, training, and human development.
Delroy has given lectures and presented academic papers at conferences both nationally and internationally. He has been a keynote speaker at various events and has given lectures at Harvard University and Boston College Massachusetts, USA, and Durham University, UK. He has taught at Leeds Beckett University, and while there as a part-time tutor, he was a joint winner in 2018 in receiving a Diversity Teaching award at the annual Golden Robes Awards held by Leeds Beckett University.
Since April 2020, Dr Delroy has hosted weekly Facebook sessions looking at a wide range of human matters offering hints and tips in promoting holistic self-care and wellbeing.
Delroy has coordinated mental health projects and is currently working with Birmingham Community Health Care Trust facilitating the Inclusive Leadership/Cultural Competence component on their 'Inspire' Leadership Programme. He is also lead coordinator in Sheffield working on a project on Black Male Suicide Prevention.
Outside of current work duties Delroy is the Chaplain for Sheffield United Football Club. He also keeps fit. As a former four hundred metre hurdler, ranked No 2 in Great Britain in 1979 in the under 20 age category, he is presently training to compete in various triathlon events in the UK. He is married and has twin daughters.
Website | www.delwes.com