Black in the Ivory II #blackintheivory
A FREE one-day, hybrid conference advocating for positive changes in equality and inclusion within the Higher Education sector
About this event
**** REGISTER NOW!! ****
The second annual Black in the Ivory conference hosted by the GEM network will be held on Wednesday 20th October 2021 between 1.00pm and 4.30pm. It will be staged as a hybrid event with the opening session and research paper sessions delivered in situ at the Waterside Campus that will be simultaneously streamed online.
You will be able to attend our conference either ONLINE or IN-PERSON at Waterside Campus
CONFERENCE FORMAT
Welcome and Introduction Professor Shân Wareing. Deputy Vice Chancellor - University of Northampton
Keynote Address Dr Arun Verma, Head of the Race Equality Charter - Advance HE
Paper Presentations on Race Equality and Ethnic Studies Research This segment will feature four oral presentations by academics who have conducted research related to race and ethnicity at the University of Northampton as well as professional agencies and bodies in Northamptonshire.
Professor Andrew Pilkington, Department of Applied Social Studies and Sociology & Promoting race equality and supporting ethnic diversity in the Academy: The UK experience over two decades.
Dr Nick Cartwright, Faculty of Business and Law Dominance and Subjugation: A Case Study of Race, Identity and Pedagogy in Higher Education.
Dr Emel Thomas , Faculty of Health, Education and Society Transformative Racial Dissonance: The Voices of Staff and Students on the Fringes of HE
Each paper will be between 15 -20 minutes.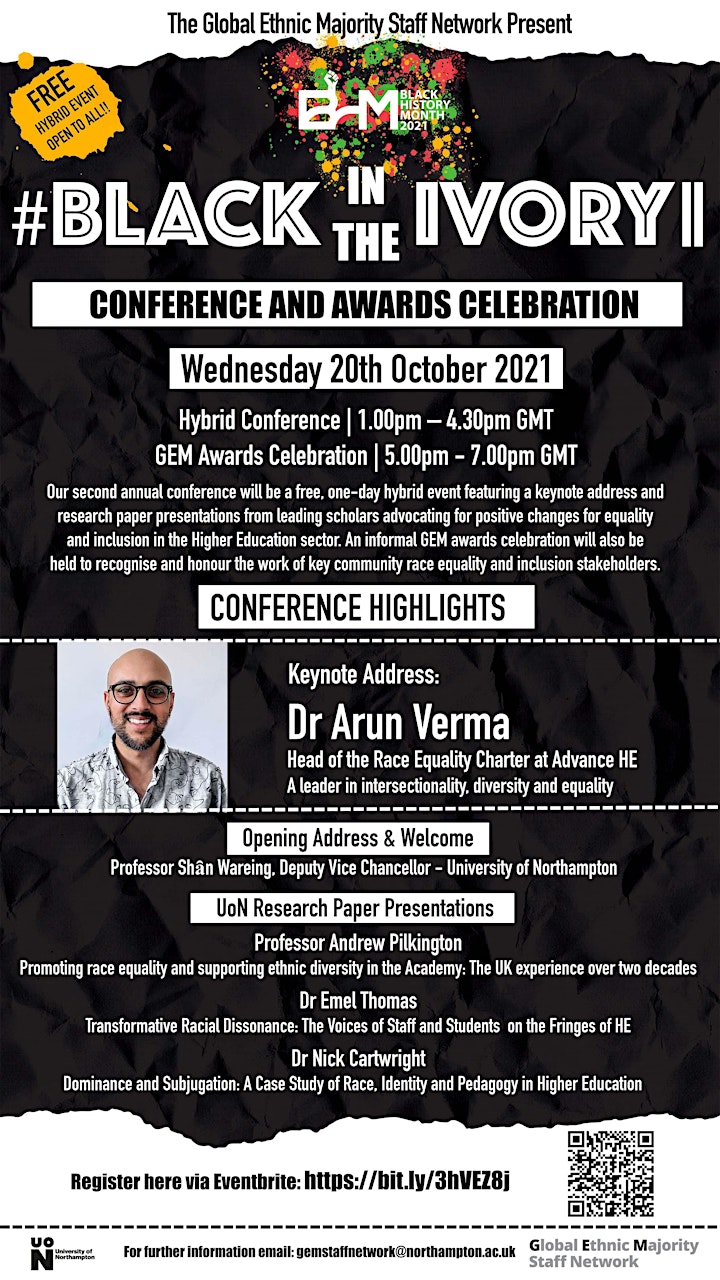 Organiser of Black in the Ivory II #blackintheivory