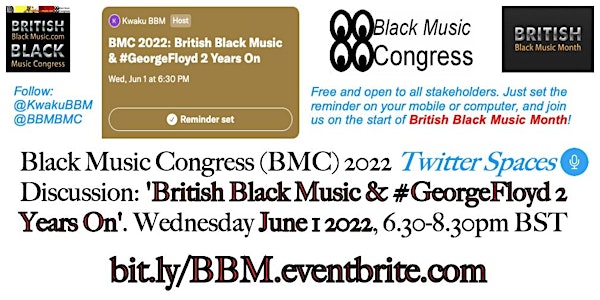 Black Music Congress (BMC) 2022 Twitter Spaces Discussion BBM+#GeorgeFloyd
Calling ALL black music stakeholders: join in a conversation on British Black Music 2 years on from #GeorgeFloyd and #BlackOutTuesday
About this event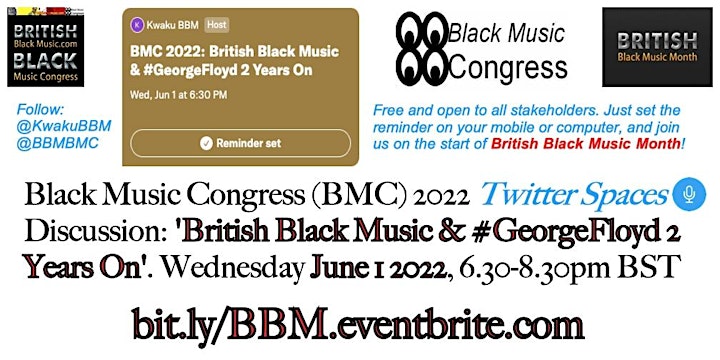 Black Music Congress (BMC) 2022 Twitter Spaces Discussion: 'British Black Music & #GeorgeFloyd 2 Years On'.
Wednesday June 1 2022, 6.30-8.30pm BST via Twitter Spaces
We go back to the old school Black Music Congress mode with this discussion, which kicks off British Black Music Month 2022.
What ever stakeholder you are, be it - a creative: singer, songwriter, musician, producer; an industryite: manager, lawyer, industry organisation representative, journalist, broadcaster, teacher; or a fan, we want you to join in the conversation that revolves around where British black music is or ought to be, two years after the shock and changes talked about following the Afriphobic murder of George Floyd, the revival of #BlackLivesMatter/#AfricanLivesMatter and allyship, and the entertainment industry's #BlackOutTuesday initiative.
Although it's good to talk, any offers of practical solutions to particular issues would be most welcome.
There will not be a panel, as we expect positive suggestions and practical solutions to come from anywhere within our stakeholder community. However, we are up for having some special guests. If you have ideas for moving forward British black music, or would like to contribute on the day, we're waiting to hear from you: Kwaku, bbmbmc@gmail.com.
This is a Twitter Spaces online event, available on mobiles, tablets and laptop computers. The URL to either set a reminder or join will be emailed to you immediately you book.
Presented by BBM/BMC (BritishBlackmusic.com/Black Music Congress).
For more info on British Black Music Month events or to book: BBM.eventbrite.com.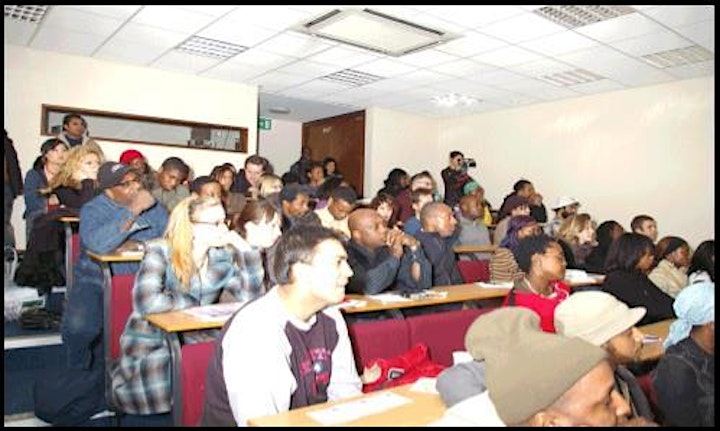 Black Music Congress 2006 at City, University Of London.
Black Music Congress (BMC) was launched by BritishBlackMusic.com (BBM) at City, University of London in 2003 as a UK-based forum for discussing black music issues, networking, and music industry engagement. Since 2020, we've been continuing the conversations and engagement online. Peep https://BBM.eventbrite.com for event details.