Description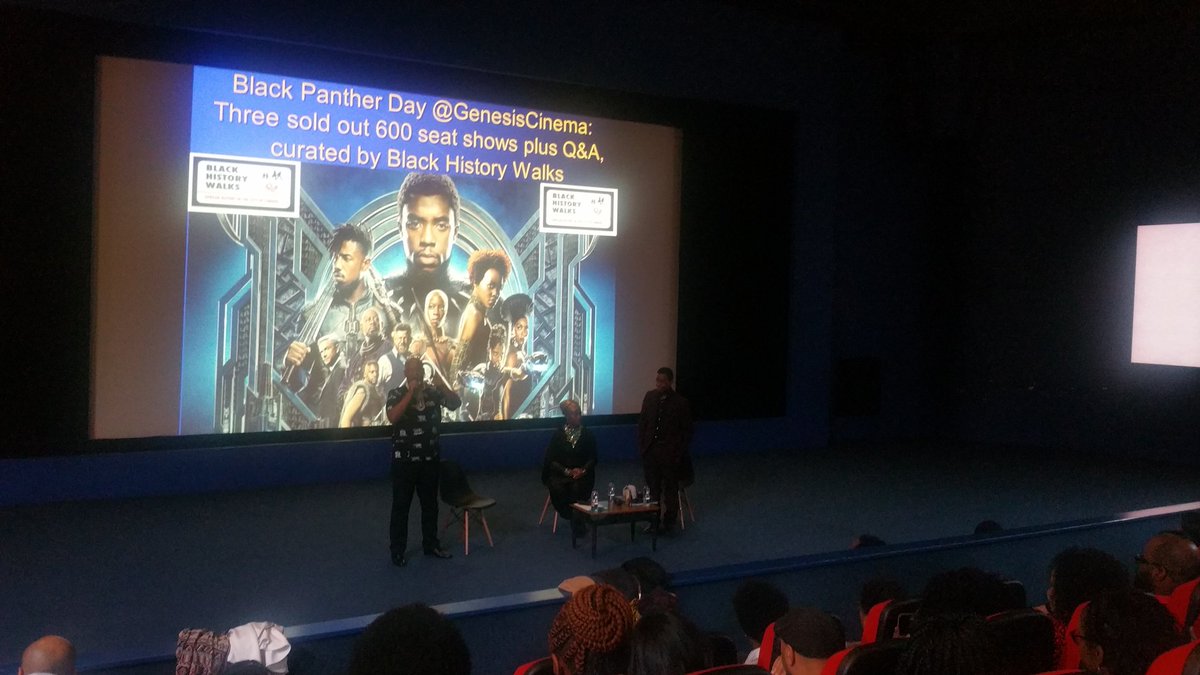 After three sold out shows, superlative praise about the 18th February event and popular demand, we are repeating our Black Panther show but with ONE HOUR of Q and A with a panel of experts. Panel Dr Lez Henry, Social Anthropologist, Dr Michelle Asantewa, lecturer in Literature and Spirituality, Dr Ama Biiney lecturer in African studies , Terry Jervis TRACE /Marvel producer/comic historian and host Tony Warner. Full bios below.
The panel and the audience will discuss the history, impact and future of this and other African superheroes.This record breaking film about a Black superhero, warrior, king set in Africa has rarely had a dedicated Q&A to explore the many themes within it. The 600 seat venue has an enormous screen and is 5 minutes from Stepney Green tube on the District line. Biography for each speaker below.
Terry Jervis has an extensive history in the comic-book business. Apart from being a collector, and helping to create the first British comic-book price guide, he has worked with industry giants Marvel and Warner/DC Comics and was based in Hollywood and London. He is in media production and is the CEO of Jervis Entertainment Media Ltd (JEM) http://www.jervismedia.com/about_us.php . In 2009 he initiated a social engagement programme with Marvel (using characters such as Spider-Man, The Incredible Hulk, Iron-Man, Fantastic Four and X-Men) to help create comics and integrated media which address literacy, social issues and instill values in young people. Terry was a keen supporter (and friend of) Reginald Hudlin who produced the animated 2010 Black Panther TV series. Terry is about to release his own black superhero series Spirit of the Pharaoh in graphic novel and animated versions.
Dr Ama Biney lecturer in African studies. She has taught courses in African history (ancient and modern); Caribbean History; African American history; post-independence African politics; the history of Pan-Africanism and the history of black people in Britain. Her publications include: "The Political and Social Thought of Kwame Nkrumah" published by Palgrave Macmillan in 2011; "Speaking Truth to Power: Selected Pan-African Postcards of Tajudeen Abdul-Raheem" compiled by A. Biney & A. Olukoshi, published by Pambazuka Press in 2010. She has served as Editor-in-Chief of the Pan-African weekly electronic newsletter, Pambazuka News, which is a platform for radical debate on African social, economic and political justice issues and the African diaspora in the Caribbean and North, South and Central America.
Dr Lez Henry is a Senior Lecturer in Criminology at University of West London. An author and Social Anthropologist, he has written several books including Whiteness Made Simple . He has lectured at The African American Studies Department, Yale University,:Department of Humanities, Howard University, University of Gothenburg: Centre for Cultural Studies, Sweden. He is a keen Martial Artist and holds a Black Belt in Hung Kuen, Five Animals Shaolin Kung Fu and also practises Kyokushinkai Karate.
Dr Michelle Asantewa holds a PhD in literature and co-presents the Amazing James Baldwin course http://bit.ly/2jjDN0u as well as the Black Women's Resistance Leaders course http://bit.ly/2zQJJnY . She is an author of several fiction and factual books.She also lectures on African/Caribbean spiritual practices. Orishas as found in West Africa/Brazil as well ancient Egyptian goddesses feature in the Black Panther graphic novel stories as do women warriors.
Tony Warner is the creator of African Superheroes Day recently featured http://conta.cc/2GyokCJ on BBC Affrca and founder of Black History Walks. He is also the presenter of movie breakdowns on Black Panther, Captain America, X Men, Superman and Call of Duty.
N.B Only adult tickets available from Eventbbrite but child tickets will be available from Genesis cinema website.

After the film you can hang around in the spacious cinema bar where you can have a bite and a drink and discuss the film in more detail In future we will also be hosting Black History of the Black Panther movie breakdown as well as repeating the highly popular African Superhero days Black Panther is directed by African-American, Ryan Coogler please check out his previous films Fruitvale Station and Creed.
2018
• 50 years since MLK was assassinated
• 60 Years since the Notting Hill Racist Riots
• 60 years since the establishment of the West Indian Standing Conference
• 70 years of Windrush
• 100 years of Women having the vote
Events for 2018 in recognition of the above http://conta.cc/2GyokCJ
Amazing James Baldwin. Course.
African Women Resistance Leaders: Political and Spiritual. Course
African Superheroes Day
Trafalgar Square Walk
Hackney Walk
Black Films and White Power :10 Years of African Odysseys. Course
Black Power Women of Brixton walk
1968 Race Relations Act: The Legacy of Black Lawyers
Medical Apartheid European experiments on Black Bodies Part 1 and 2
What were Black people doing in World War 1 ?