Event Information
Refund policy
Contact the organiser to request a refund.
Eventbrite's fee is nonrefundable.
A safe and supportive online gathering of Black women being informed and inspired to attain womb-wellness
About this event
Yes, the Black Sister's Womb-Wellness Circle is now Online to assist Black women around the world!
The next session is on:
Monday 25th October 2021
8.00pm - 9.15pm Online
Guest speaker: Anna-May
Topic: Womb-Strengthening practice for women
Come along and learn the yogic practice to help strengthen the pelvic floor muscles and womb, release blockages, ease reproductive issues, smooth the way for a better menstrual flow, and to generate strong and positive energetic vibrations in the sacrum area.
About Anna-May
An energetic Yoga Teacher who is dedicated to both the study and teaching of yoga. I started developing my yoga practice in 2001 after a lower back injury (from many years of high impact aerobics). I feel a profound spiritual connection to the practice of yoga which has helped to open my body, heart, and soul to overcome the challenges of modern everyday living.
Over the years, I have found the transformative effect of the practice on my emotional and physical wellbeing so great, that I was inspired to train as a yoga teacher after attending Jivamukti yoga classes, which helped to raise my spiritual awareness and connectivity to the 'true self'. I have a love and passion for teaching with a desire to learn from everyone and share all the aspects of my practice.
I constantly nurture and develop my practice. This has led me on the journey to gain a deeper knowledge of the chakra energy system and the benefits one can gain from understanding their healing qualities; to connect to one's true self more deeply on a physical, mental, and spiritual level. My aim is to encourage my students to a mindful practice, cultivating inner peace and self-love.
Don't miss out on these sessions dedicated to assist us with our sisterhood and healing.
Other Black Sister's Womb-Wellness dates:
Monday 22nd November 8.00pm-9.15pm
There will be a break in December 2021
Monday 24th January 2022 8.00pm - 9.15pm
Monday 28th February 2022 8.00pm - 9.15pm
Monday 28th March 2022 8.00pm - 9.15pm
The Black Sister's Womb-Wellness Circle is composed of dedicated presentations by leading health practitioners from a range of specialisms, all dedicated to restoring your health and well-being.
The Circle was created in response to the growing need for Black women to return to their serenity and balance, gain insight into personal care, health, and healing.
I created this Online platform to invite special guests to come on and share their knowledge and expertise with you, to facilitate discussion, share presentations and demonstrate practical exercises which aid healing. It's a safe and supportive space!
Topics vary each month based on expressions of interest, and have included topics such as: hormonal health, fibroid elimination, confidence and self-worth, energetic healing work, yogic practice, gut health, moving to a plant-based diet, journaling, breath therapy, acupressure, stress elimination and more.
The sessions have been a great support for many Black women, as we seldom take time out to heal ourselves and consider lifestyle changes to eliminate mental, physical and spiritual imbalances that can often get in the way of us living full and productive lives.
EACH ONE, TEACH ONE! MAKE A DATE WITH YOU!
Additional Services include:
-FREE 30 Minute womb-wellness consultation
-One-to-One Fibroid Coaching Sessions
-One-to-One Lifestyle Coaching
Visit: www.kmtrising.com for more information
Contact Imani: 07909 516 343 / kmtrisingltd@gmail.com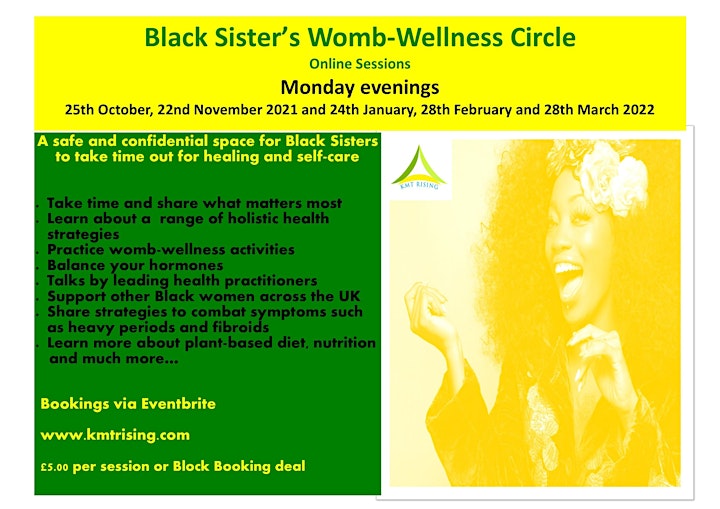 Location
Refund policy
Contact the organiser to request a refund.
Eventbrite's fee is nonrefundable.