This Halloween season the Black Sunday Film Festival returns to the Whirled Cinema for their biggest and most exciting line-up to date!
About this event
Sponsored by Starburst Magazine and Arrow Video, Black Sunday promises to be the perfect weekend to indulge in some truly awesome genre cinema, with the most diehard genre community in the world.
The 2019 festival opens with the UK Premiere of Lisa Ovies brilliant 80s inspired horror-comedy 'Puppet Killer'. Which will be followed by the Black Sunday Opening Night Party, rocking the Whirled till 2.00am.
Saturday kicks off with the UK Premiere of Anne Welles neon soaked horror-comedy An Accidental Zombie (Named Ted), followed by Short Film Block 1. Closing out Saturday is the London Premiere of comic book-obsessed serial killer feature Artik from filmmaker Tom Botchii.
Sunday opens with Short Film Block 2, with the festival coming to its close with the brilliant UK festival hit The Barge People from director Charlie Steeds and writer Christopher Lombard.
Full line up below: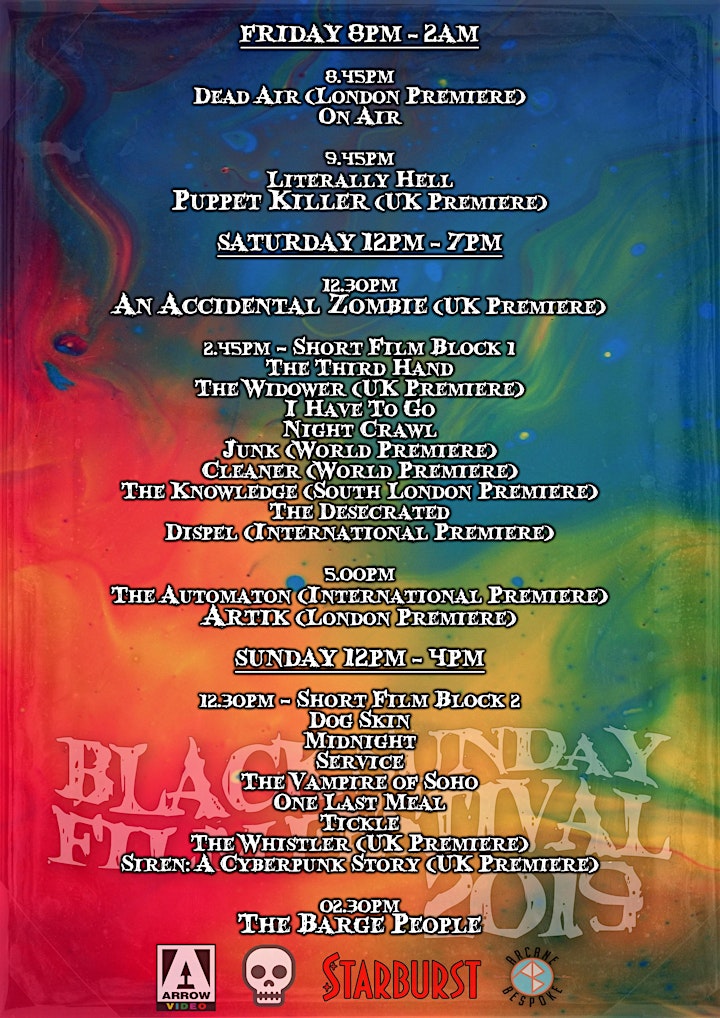 Organiser of Black Sunday Film Festival 2019
Black Sunday Film Festival was created in 2018 by indie filmmaker Scott Lyus. Running five mutli-volume events, Black Sunday landed at its current home of the Whirled Cinema for their final show of the 2018 season. 
Black Sunday returned to the Whirled Cinema in 2019 reaching new heights with a full three day event. Sponsored by Arrow Video and Starburst Magazine, Black Sunday returns to the Whirled Cinema once more in 2021 for a jam-packed two day event celebrating the best in indie genre cinema.