The Black Sunday Film Festival returns to London's favourite underground venue, The Whirled Cinema - June 26th & 27th 2021!
About this event
Black Sunday returns in 2021 bigger and better than ever, with a breath-taking line-up featuring four incredible feature films and twenty-three amazing short films.
Kicking off Saturday are short films GUEST from writer/director Finn Callan and WASH from writer/director Kiggs, followed by creature feature THE STAIRS from writer/director Peter "Drago" Tiemann.
Short Film Block 1 follows with eight incredible shorts, including EVERYTHING IS GOING TO BE FINE from director Mitchell Tolliday, BLOODSHED from writer/directors Paolo Mancini and Daniel Watchorn, LIVING AFTER MIDNIGHT from writer/director Joe Mitchell, MIND OVER MATTER from director Paul Cheung, WHO WANTS DESSERT from writer/director Venita Ozols-Graham, MEAT IS MURDER from director Max Sobol, CAGED from writer/director Mark Nugent and NIGHTFALL from director Jake Sanders.
And closing out Saturday are short films NOM from writer/director Angel Hernández Suarez and KILTER from writer/director Rob Stanton-Cook, followed by festival smash hit MY HEART CAN'T BEAT UNLESS YOU TELL IT TO from writer/director Jonathan Cuartas.
Kicking off Sunday are shorts THE WITCH HUNTERS ARE COMING from writer/director James Atkins and POSSESSIONS from writer/director Zeke Farrow, followed by festival favourite 15 THINGS YOU DIDN'T KNOW ABOUT BIGFOOT (#1 WILL BLOW YOUR MIND) from director Zach Lamplugh.
Short Film Block 2 includes eight more incredible shorts, kicking off with FEARFULLY MADE from writer/director Jamie Foreman, UNMADE from writer/director Steven Sheil, SHOW ME JACK from writer/director Sam Strong, THE CATACLYSM from writer/director Alexander Frasse, PANIC ATTACK! from Eileen O'Meara, MISCONCEPTION from director Richard Rowntree, 2COLOURS from writer/director Shelley White and WHERE THERE'S SMOKE from writer/director Bea Santos.
And closing out the festival are two secret screenings. First up a SECRET SHORT FILM PREVIEW, followed by a SECRET FEATURE FILM SCREENING!
This year's event is of course socially distanced and due to reduced capacity only weekend tickets are available. However as a celebration of the live festival experience, tickets are completely FREE for 2021!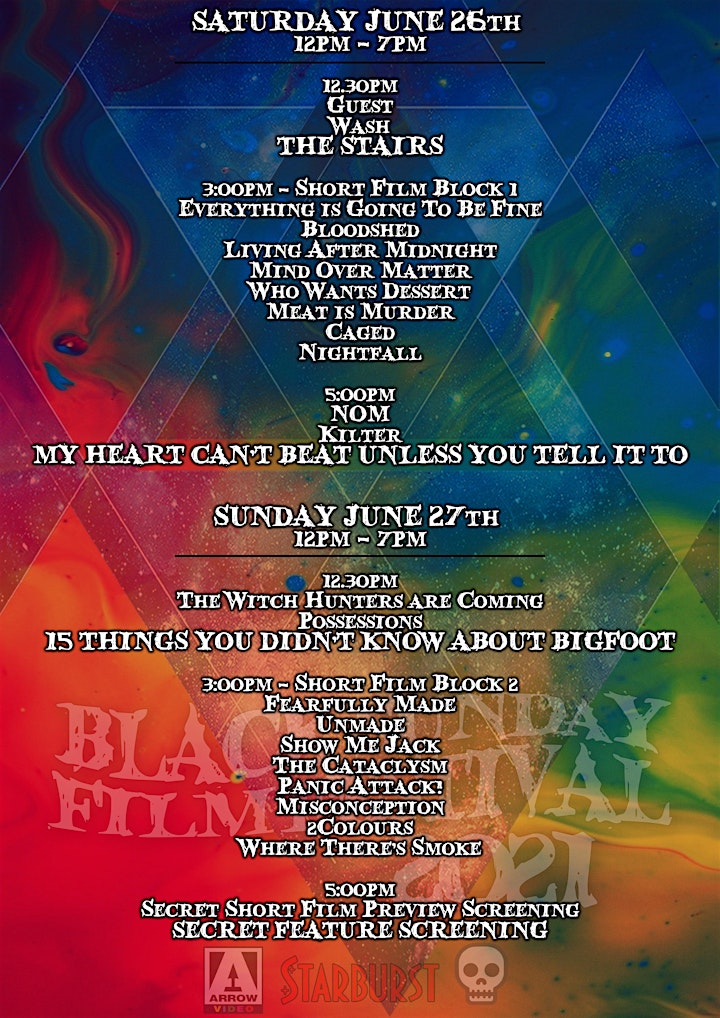 Organiser of Black Sunday Film Festival 2021
Black Sunday Film Festival was created in 2018 by indie filmmaker Scott Lyus. Running five mutli-volume events, Black Sunday landed at its current home of the Whirled Cinema for their final show of the 2018 season. 
Black Sunday returned to the Whirled Cinema in 2019 reaching new heights with a full three day event. Sponsored by Arrow Video and Starburst Magazine, Black Sunday returns to the Whirled Cinema once more in 2021 for a jam-packed two day event celebrating the best in indie genre cinema.