Location
Ace Hotel London
100 Shoreditch High Street
London
E1 6JQ
United Kingdom
Refund policy
Contact the organiser to request a refund.
Eventbrite's fee is nonrefundable.
Black: The Literary Salon – Love and Desire Bared | Launching Thursday 27 February 2020
About this event
Postponed: In light of the urgency of the situation unfolding in Nigeria, we are postponing the Writing Stories, Making Histories panel and will be donating all funds from ticket sales to date to the Feminist Coalition which has been at the forefront of organising the #ENDSARS protests. We are also happy to provide refunds, and will update once a new date has been decided.
Black: The Literary Salon is a quarterly celebration of the best in Black writing from across the world. Our third salon will be on the theme Writing Stories, Making Histories, and will be taking place virtually once more, allowing us to connect writers, critical thinkers and readers from across the Black world to share and reflect on key issues and themes in their work.
This edition invites our panel and audience to consider what it means to write stories and the ways in which the writing of stories is also the prelude to making histories. Each speaker will speak to how they engage and evoke the past in their work in order to provoke the future archive that's been fabricated in the present.
Panashe Chigumadzi returns to moderate, and is joined by writers Emma Dabiri, Fola Fagbule, Feyi Fawehinmi and Ayesha Harruna Attah.
Named as one of the BBC's Broadcasting Stars of the Future, and an Observer Rising Star (2019), Emma Dabiri is a television presenter, social historian, and author of Don't Touch My Hair. Her writing collapses the boundaries between history and narrative, philosophy and tradition, cosmology and science, the political and the personal. Her focus on the lived gendered experience of race and belonging, refraction through the reality and symbolism of Black hair is a perfect fit for Black: The Literary Salon.
Fola Fagbule and Feyi Fawehinmi co-wrote Formation: The Making of Nigeria from Jihad to Amalgamation, which tracks the unlikely series of events and characters that led to the creation of the modern Nigerian nation. Both Fola and Feyi have their professional roots int he finincial sector, but share a passion for breaking down myths and unearthing history, culminating in their debut book on the untold story of Nigeria's history.
Ayesha Harruna Attah explores untold and overlooked aspects of African history in both her fiction and her non-fiction writing. Her novel, The Hundred Wells of Salaga, combines broad historical themes of slavery and imperialism with a fascinating and evocative depiction of daily life in pre-colonial Ghana. Set during the "scramble for Africa", Ayesha's writing centres Africans with its focus on the often-overlooked internal slave trade, and the internal struggle for power within Africa. Her commitment to expanding our understanding of Africa and its history, and her centring of Black lives, matches the ethos of the salon.
Black: The Literary Salon is brought to you by Black women who believe that Black authors and critical thinkers play an essential role in building up Black communities in a sometimes-hostile world. We are self-funded and put a lot of work into bringing our speakers together so that they can explore issues deeply and deliberately in a nourishing space. If you believe that intellectual labour should be paid, we ask you to pay a minimum fee of £5 so that we can pay our participants and continue our mission to build a community of engaged writers, thinkers and those who support them.
Previous Salons
Black: The Literary Salon launched on February 27th with a panel on Love and Desire Bared, with authors Olumide Popoola, Irenosen Okojie, and Diana Evans held at the Ace Hotel in Shoreditch.
See what you missed HERE
For our second salon, Black: The Literary Salon went virtual, covering Masculinity, Maleness and Selfhood with authors Elnathan John, Paul Mendez and Thando Mgqolozano, moderated by Panashe Chigumadzi.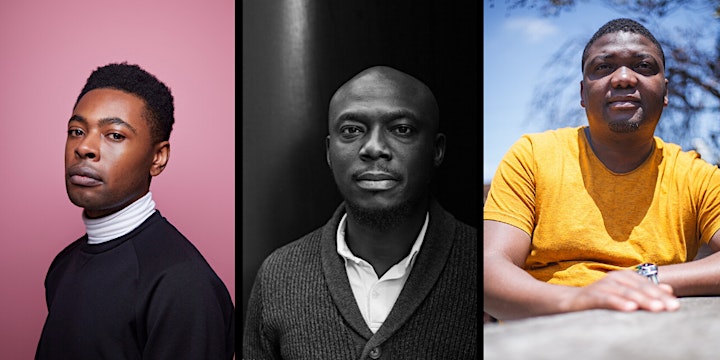 About Black: The Literary Salon
Cassava Republic Press in partnership with A + F Creative have curated three salons featuring four voices all united by a potent theme that will be a springboard for stimulating conversation. These salons will be hosted at London's Ace Hotel across 2020 and will provide a space dedicated to writers, readers and thinkers who are interested in and committed to uncompromising and unmediated spaces for the exploration of writing and ideas from the Black world.