Black Women Pause - "Sharing her-stories"
About this event
To honour Black History Month, our theme will be "Sharing her-stories". Please bring along something related to a Woman of Colour/of BAME origins who has supported or inspired you- whether that is your grandmother, a teacher, or Deputy Mayor Asher Craig.
A photo, a memento, some lines from a poem or song.
We are excited to share these with each other.
"Your ancestors did not survive everything...
For you to shrink yourself
To make someone else more comfortable." Nikita Gill, Ancestors
A safe online space for Black, Asian, and Minority Ethnic women, promoting emotional wellbeing, self-help tips, and information.
Facilitated by Rethink Mental Illness , Community Access Support Service & Nilaari Agency.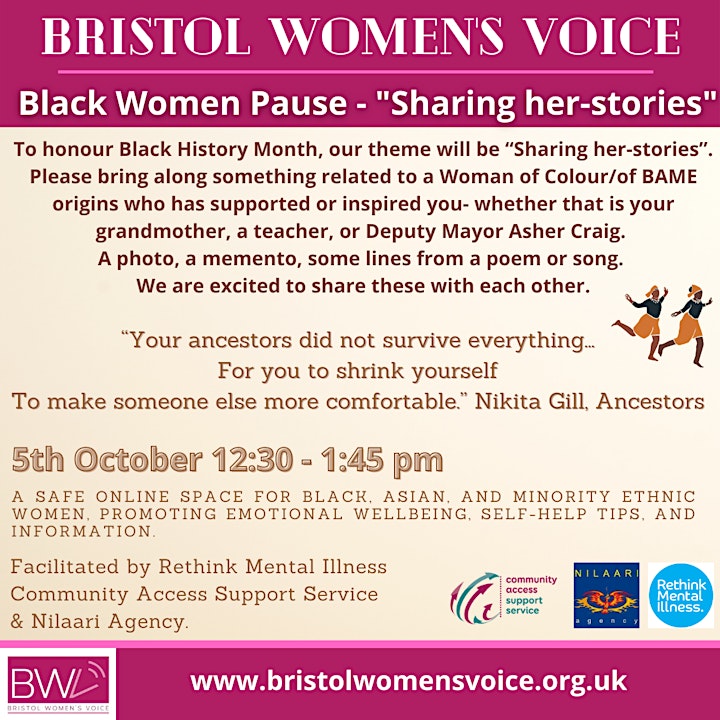 Organiser of Black Women Pause - "Sharing her-stories"
Bristol Women's Voice (BWV) is a powerful voice for women working to make women's equality in Bristol a reality.
We make sure that when key decisions are taken in Bristol, women's voices have been listened to and their ideas and concerns acted upon.
We will bring together women to share ideas, exchange experiences, support campaigns and events and celebrate success so that together we can make Bristol a showcase for women's involvement, empowerment and equality.