Event Information
Location
Dark Sugars
124 - 126 Brick Lane
London
E1 6RU
United Kingdom
Description
No Fly on the WALL and TRiBE present the Black Women's March Mingle at Dark Sugars Cocoa House!
Drawing on the success of our previous Black Women's Summer Mingle, we have devised another networking event for self-defining black women.
We are a truly remarkable community of creators, inspirers, and changemakers and the Black Women's March Mingle gives us the chance to gather, share, network, and build.
Join us for an envigorating keynote speech by our keynote speaker, Kelechi Okafor, as well as an evening of networking, advice, and solidarity.
Tickets include a £5 voucher to be used in-store on the night on any treat of your choice. There will also be a raffle to win a session with Kelechi herself at her studio in London.
More about the speaker:
Kelechi is an actress, personal trainer and an instructor of Pole dance as well as Twerk. In September 2016, she opened her own studio as a way of highlighting the faces and bodies that are often erased within mainstream fitness culture.Kelechi uses her classes and the workshops that she facilitates as a vehicle to move women towards an unbreakable relationship between their mind and body.
Some may refer to Kelechi as a "twerk and fitness guru", which she wholeheartedly embraces, but ultimately Kelechi sees herself as a professional Baby Girl and a Benz Punany Womanist. Inextricable descriptions of her insistence on carefree black womanhood.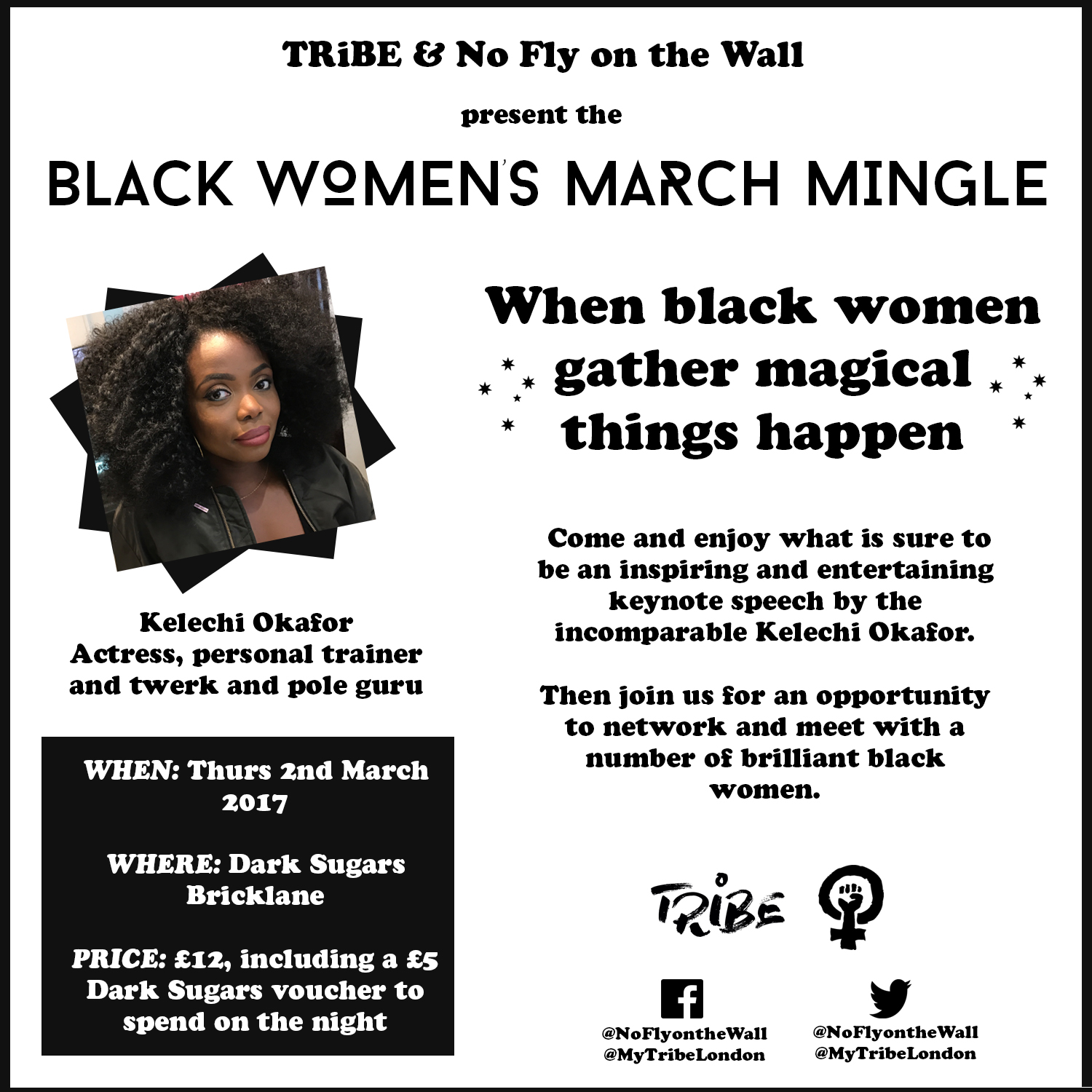 ** Please note tickets to this event are non-refundable. Should you purchase a ticket (or tickets) and find you are no longer able to attend please arrange to pass the ticket on or get in touch so we can assist you with doing so using our network and social media channels **
~ Please note that Dark Sugars has two locations. Our event will take place at the larger space on 124 - 126 Brick Lane.~
---------------------------------------------------------------------------------


**** This event is for self-defining black women ONLY ****
No Fly on the WALL is an Intersectional Feminist platform centring the voices of Black British women and black women living in the UK. As well as providing thought-provoking and woke content on our website, we also run workshops and masterclasses, and hold events and gatherings via our No Fly on the WALL Academy with the aim to strengthen the black community and uplift the voices of black women and other marginalised groups of society.
For more information, visit: www.noflyonthewall.com
Tweet us at @NoFlyontheWALL
TRiBE is a London based charitable organisation that was born out of a need for both work and social environments that reflect the diverse world we live in. They aim to create an environment where there are no obstacles to a fulfilling career and personal life due to race or gender; where all of the young women they work with are able to explore, excel and thrive in everything they put their mind to.
For more information, visit: www.thisismytribe.org
Tweet us at @MyTribeLondon
We look forward to welcoming you! #BWMingle
Date and time
Location
Dark Sugars
124 - 126 Brick Lane
London
E1 6RU
United Kingdom