The Black Youth Development Initiative (BYDI) is focused on "Getting Our Youths Off Streets to Employment". #YouthsLivesMatter.
About this Event
The aim of this initiative is to inspire social change and develop black leaders in the UK. The strategy is divided into short term and long term goals designed to take advantage of available resources to discover, develop and deploy new black leaders in the UK.
Venue: Online | Time: 4pm - 6pm | Ticket: Free
We will be live from 3pm with Afrobeats by DJ Mekus till 4pm when the seminar will be kickstarted. The party will continue after the Q&A at the end of the seminar.
Format: Session 1 - Speakers | Session 2 - Q & A | See topics in the flyer
The series of seminars and youth focused conferences is powered by HetoGrow Capital (HetoGrow.com) and the Professionals in Accounting and Commerce (PAClondon.org.uk) in conjunction with the Central Association of Nigerians in the UK (CANUK) (CANUKonline.com).
To attend this free event please click the Register button now as space is limited.
Login details
Join Zoom Meeting
https://us02web.zoom.us/j/84032492791?pwd=cGtSTHZ0aWxsR3U1WlVIdFlkaUswQT09
Meeting ID: 840 3249 2791
Passcode: 401178
One tap mobile
+442039017895,,84032492791#,,,,*401178# United Kingdom
+441314601196,,84032492791#,,,,*401178# United Kingdom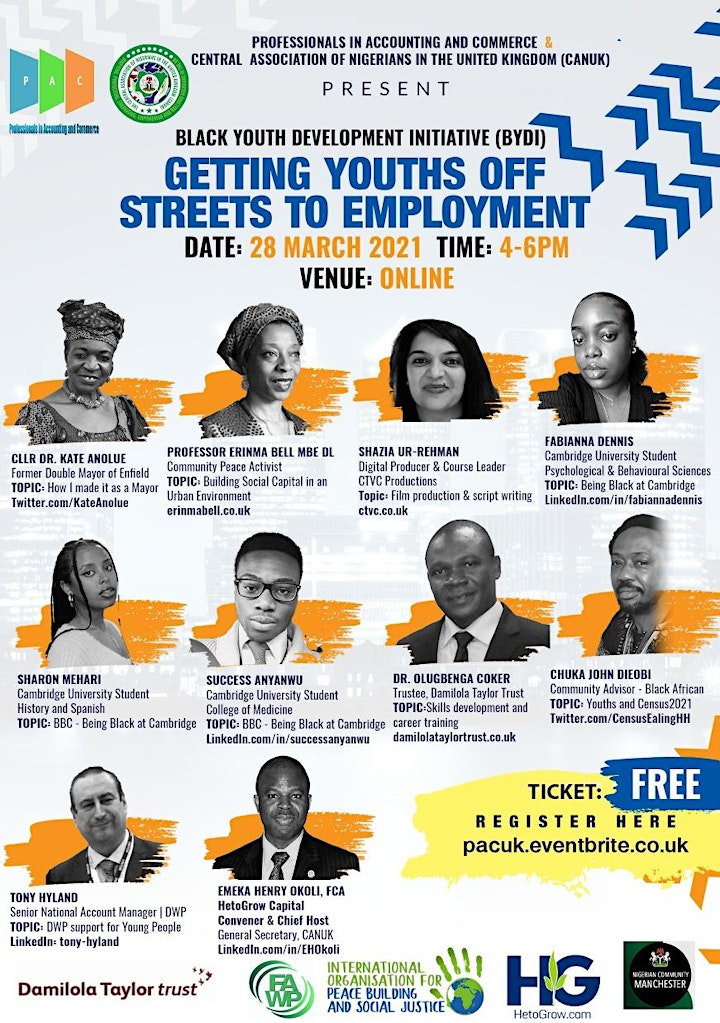 About the Speakers
Cllr. Kate Anolue
Kate, a mother of four, was widowed when her youngest was eighteen months.
She worked for NHS for 40years, and has over 30 years hospital/community midwifery experience.
She has a wealth of knowledge in many social and health issues that are prevalent in the communities, and champions' causes like health, children and young people, single parents and vulnerable groups.
Kate has over 14 years' experience in Local Government which included Mayor of Enfield in 2012. 1n 2019 Kate became the first Nigerian/African to be Mayor twice in same Borough and introduced for the first time in Enfield the Young Mayor and Deputy Young Mayor, one of the outcomes of her 'Catch Them Young' project
Key Achievement: Gaining Law Degree whilst working full time as a midwife and bringing up her four children. This achievement inspired and encouraged Kate to go into politics.
In 2007, she was conferred with Honorary Freedom of Borough of Enfield for her service in the community.
In 2008, conferred with Chieftain Title in her homeland Nanka, Anambra State, Nigeria, as 'Ada Jere Mba Tulu Ugo', meaning 'our daughter that went to foreign land and brought us glory'
In 2013 she launched TenderCare Health Initiative, working with single young parents, supporting women experiencing domestic violence, teaching antenatal and postnatal care.
In 2015 she launched "FAWP" (Forum for African, African Caribbean and Asian Women in Politics) which aims to inspire and empower women from BAME in political awareness.
In 2016 launched "Catch Them Young" which aims at inspiring young people into politics and leadership.
In 2017, Awarded Honorary Doctorate for Global Leadership from Academy of Universal Global Peace (AUGP) USA.
Kate has received many awards and in 2019 was named as one of the Greater Londoners by BBC London for her service to the community.
Kate dedicates much of her achievement to God, her late mother for teaching her the act of humility, the two men in her life, her late father, and her late husband, for the remarkable role they played in her life, both men believed in gender equality and education for girls.
Kate Anolue The Autobiography is available in Amazon.
Professor Erinma Bell, MBE
In 2003 Erinma became a co-founder and CEO of her own formidable charity known as CARISMA - Community Alliance for Renewal Inner South Manchester Area. Known now as CARISMA Services Ltd. This is a front-line community based group set up to offer life-chances for people in the community by giving them positive alternatives other than violent street, gun and gang crimes www.carisma.me.uk. Erinma employs successful models, which 'build social capital'; educate on social intelligence as well as cultural intelligence and competency - amongst grass roots individuals, community groups and key stakeholders, - employing methods that offer transformative solutions to those who seek to promote social cohesion within their communities to bring about peace and conflict resolution. This successful model enabled a 92% decrease in gun and gang crime in Manchester. Erinma continues to lead on work around issues such as Restorative Justice, Peace and Conflict Resolution as well as Peace Making, Peace Keeping and Peace Building within an urban environment.
In 2007 CARISMA was awarded The Queen's Golden Jubilee Award for 'voluntary service by a group in their community. The MBE Award for her group.
In 2007, the then Prime Minister Gordon Brown, recognized Erinma's efforts, as Chapter One of his book 'Britain's Everyday Heroes'. In 2008 the Crown awarded Erinma with an MBE in recognition of her services to the community and in 2011 she was made Deputy Lieutenant of County of Greater Manchester as a representative to Her Majesty the Queen.
Her passion for community peace has seen her travel widely nationally and internationaly to share her stories and experiences with others seeking peace in communities across the world.
Erinma has produced a Peace Toolkit which is available via the website www.carisma.me.uk. The aim is not for you to follow exactly in her footsteps, rather, it is for you to listen to the messages and observe the models being put forth and use them to create peace within your immediate environment.
Erinma is also a Trustee at EMERGE 3Rs; The Methodist Church Manchester Circuit; We Stand Together; as well as a Director of Trinity CE High School; CDM Uk; Out Of Africa Events; 9PointsTv and Erinma Bell Ltd and is President of Bubble Enterprises. Erinma is on the CrimeStoppers North West committee and Chairs the GMP Force HQ Independent Advisory Group. Erinma is also a Justice of the Peace – Magistrate. Erinma currently forms part of the Home Office Windrush Engagement Team as an Ambassador.
Erinma has a sculpture of herself, which is made from 50 recycled guns as a tribute to her work to reduce gun and gang crime in Manchester. The sculpture was unveiled 2016 in Manchester Town Hall and is the first female statue to go on display in the Town Hall in 150 years!
Erinma has received numerous awards and recognition for her work, recently she received the prestigious Variety "Legends of Industry Award" for her outstanding achievements in Peace Activism and charitable work (2019); Is recognised as One of the 50 Most Influential Women in Greater Manchester; recognised as One of the 100 Inspiring Women in Greater Manchester and recognised as one of the Top 100 Nigerians in the UK (2014) as well as being listed as one of 250 Most Influential People in Greater Manchester. She is a local Ambassador for Moss Side; and an International Rotary Peace Fellow. Erinma has recently [June 2020] be elected as a Roving Ambassador [UK] of the State of the African Diaspora.
Lastly Erinma has a secret passion for Nigerian fashion, textiles and clothing. Hence she created her own brand known as Nu-Being Designs and they specialise in bespoke clothing. Check out the website at www.nubeingdesigns.co.uk also available on Etsy as NubeingDesinsStores.
Chuka John Dieobi
2021 Census Community Advisor for Ealing, Hillingdon and Hounslow - Black African - London C area
Like most Christians, Chuka's first knowledge of the census was as described in the Bible - before the birth of Jesus. 
Prior to working with the ONS, Chuka spent his time working in the Energy sector. He is keen to increase Black community participation in the coming census as this will ensure an adequate representation of this Key Population group. 
Chuka developed an appetite for running during the lockdown and is hoping to compete in the London Marathon this year.
Shazia Ur-Rehman
Digital Producer & Course Leader at CTVC. For over 10 years, Shazia has produced short-form content for a number of leading charities, schools and youth organisations including the Prince's Trust, the Roundhouse and the BFI Film Academy. As an experienced documentary filmmaker and trainer she has also delivered countless workshops, teaching filmmaking to people of all ages and abilities. Shazia likes to gift teapots to friends and family.
CTVC is a multi-BAFTA-winning and Grierson nominated independent production company producing content that raises important ethical and moral issues, from the perspective of all faiths and none. Broadcasting across all networks, both in the UK and internationally, our television, radio, education and online platforms aim is to get people thinking and talking.
Established in 1978 by Lord and Lady Rank, CTVC is a registered charity which receives a grant from the Rank Foundation; a grant-giving charitable trust whose mission is to improve the lives of young and disadvantaged people and their communities, across the UK.
Tony Hyland
Tony Hyland is a time served Senior Civil Servant and is a lead on Employability/Skills for DWP, and has a wealth of experience across all roles in Government, including the development of Employer Covenants for Care Leaver's and Domestic Abuse, as well as Kickstart and a whole raft of other initiatives to support young people into work. He works with and advises Ministers of State on the work of the DWP National Employer and Partnership Team ( NEPT), and leads work on securing employment opportunities in the Growth sectors for the most vulnerable in our communities.
He is also an award winning mentor for young people as a part of the National Mentoring Consortium (NMC) and is a published author and widely performed playwright. He has also worked with Nigerian artists both here in the UK and in Nigeria itself. https://www.tonyhyland.org.uk/
+ More Speakers.
Event Host - Emeka Henry Okoli
General Secretary, CANUK and Treasurer, PAC. Henry runs HetoGrow Capital and has over 20 years experience as a Chartered Accountant mostly in investment banking financial control and fund services; particularly fund accounting and administration.
I am proud to convene and host #BYDI. It is designed to inspire social change and develop black leaders in the UK through a series of seminars, conferences and training programs designed to develop future black leaders.
To find out more about #BYDI, partner with us or sponsor the next event, connect with me on Twitter/EHOkoli or LinkedIn.