A party to celebrate the publication of Blackstar Theory: The Last Works of David Bowie, by Leah Kardos. Put on your red shoes.
About this event
Blackstar Theory: The Last Works of David Bowie takes a close look at David Bowie's ambitious last works: his surprise 'comeback' project The Next Day (2013), the off-Broadway musical Lazarus (2015) and the album that preceded the artist's death in 2016 by two days, ★ (pronounced Blackstar). The book explores the swirl of themes that orbit and entangle these projects from a starting point in musical analysis and features new interviews with key collaborators from the period.
To celebrate the UK release of the book, published by Bloomsbury, we're having a launch party at London's "private members' club for the surrealistically distinguished" – Vout-O-Reenees! There'll be readings and a Q&A with the author, conducted by Arsalan Mohammad (creator of the podcast David Bowie: Album to Album), a signing of the book and a Bowie disco where you can dance the rest of the night away (the venue is open til 1.30am).
The event is free, but spaces are limited so RSVP is essential. You can also purchase a book (£20) with your ticket and collect it on the night.
Covid safety precautions: we trust that all attendees will have either had a recent vaccination or else pass a negative lateral flow test on the day of the event.
[to find the venue – closest tubes: Aldgate/Tower Hill – look out for a sculpture on the left side of the Roman Catholic Church of the English Martyrs of a beret-wearing cat sitting on the moon...]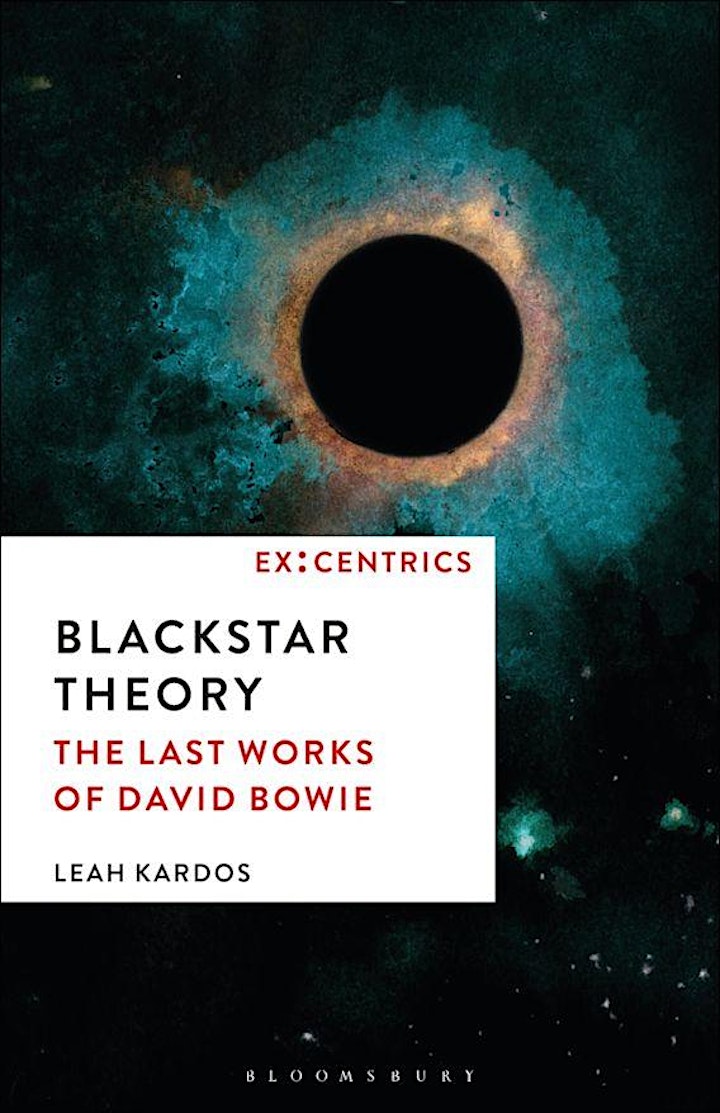 What people are saying about Blackstar Theory:
"This is one of the most intelligent studies of David Bowie's music that will ever be published. It illuminates the interconnected web of meanings that are discoverable in his work in ways I have never encountered before. Leah Kardos shows with genuine illumination that the music of the late Bowie tackles big ideas such as the nature of identity, creativity, chaos, transience and im/mortality and provides us with signposts that take us back to the very start of his extraordinary life and musical career. The book is a major achievement."
– Keith Ansell-Pearson, Emeritus Professor of Philosophy, University of Warwick. Author of Nietzsche contra Rousseau (1991), A Companion to Nietzsche (2006), Nietzsche's Search for Philosophy: On the Middle Writings (2018), and many more.
"Leah Kardos deftly uncovers the patterns in David Bowie's "late style," seeing the mortality, morality, and self-consciousness hiding in plain sight. While musicological analysis is at the heart of her endeavor, she is nevertheless attuned to the places in his epic career where there are fissures and unexpected correspondences with other forms of art. Blackstar Theory is a feast for any Bowie fan—rabid or casual—and performs the closure that many of us were seeking."
– Shelton Waldrep, Distinguished Professor of English, University of Southern Maine, USA. Author of The Aesthetics of Self-invention: Oscar Wilde to David Bowie (2004) and Future Nostalgia: Performing David Bowie (2015).
"A star-gazing telescope of sorts, Blackstar Theory provides an illuminating view of the last great works of a dying star. Intimately connected to the music and art of David Bowie, Leah Kardos elegantly crafts a respectful conduit for readers to share in her examination of the meanings generated by Bowie's work. As an in-depth scholarly guide and probing navigational tool, Blackstar Theory is a must-read for anyone wishing to engage with the constellation of meanings generated by Bowie's late music and art."
– Lisa Perrott, Senior Lecturer, Waikato University, New Zealand, and series editor of New Approaches to Sound, Music and Media (Bloomsbury). Author of David Bowie in Music Video - New Approaches to Sound, Music, and Media (forthcoming, 2022).
Leah Kardos is a musician and writer interested in the arts of record production and exploring interdisciplinary approaches to creativity. Critical and musicological study of the music of David Bowie is an area of special interest. In 2016 she co-founded Visconti Studio with Bowie's legendary producer Tony Visconti at Kingston University, where she is employed as senior lecturer in music. In 2019 she created the Kingston University Stylophone Orchestra, the only ensemble of its kind in the world. Their debut album, Stylophonika, will be released on 28 January 2022 on Spun Out of Control records.