Description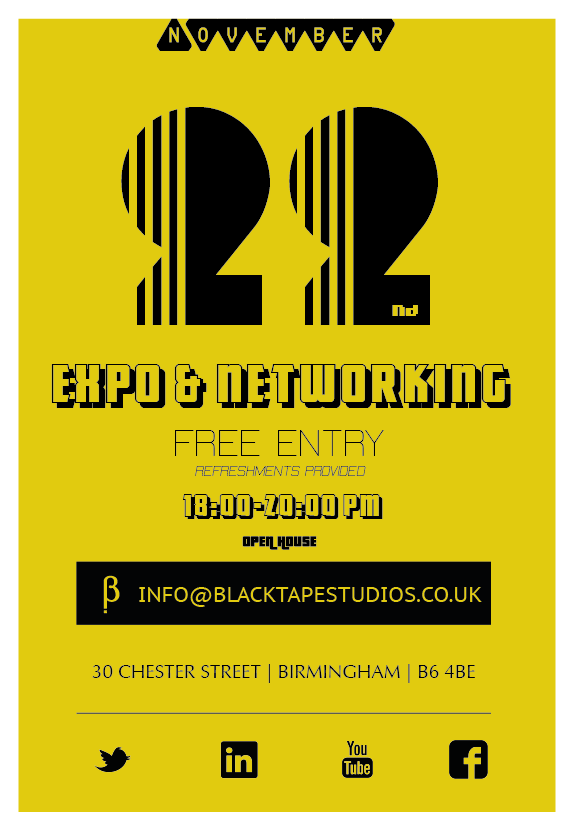 Welcome to Blacktapestudios Open House Week.
Blacktapestudios are a new membership organisation that create and provide bespoke co-working environments for creative entrepreneurs and individuals.
We have just opened up our first #SPACE in Birmingham's City Centre. This is a perfect opportunity for curious minds to network and get involved in a project designed to evolve the creative environment in the West-Midlands.
Have a one to one with the trustees involved in the project where you can get support with your upcoming ideas and also get your hands on £1000 as part of our #CREATIVEDROP giveaway.
SATRUDAY 22ND NOVEMBER, EXPO & NETWORKING
The main exhbit will be from 6:00pm till late on Saturday the 22nd November.
Final Adgenda
18:00pm Registration
18:15pm Introduction
18:30pm Making The Space Short Film
18:40:pm Open Networking
19:15pm One to One's with the Directors
19:45pm Presentation by ENStartups
19:50pm Creative Drop Introduction & Closing Presentation from our team
20:00pm Event Closed - Open Networking till 22:00pm

The following are available all evening:

Enjoy Our choice of refreshments

Drop-in Movie corner

Membership Sign-up

Business Loan, Grants & Funding Sign-up with EnStartups

Chill out area to relax and meet professional new people


Lets Stick together.
With love from Blacktapestudios